A loft conversion is an excellent addition to any home, but finding effective storage solutions can be quite difficult. Loft conversions are typically small, awkwardly shaped spaces, making it almost impossible to incorporate standard storage pieces. So, to make the most of your new room, we have devised a list of different storage solutions which are both practical and visually appealing.
5 different storage solutions you need to know
Many of us use our lofts as a hiding place for Christmas decorations, old photo albums and general just-in-case items that we probably could've thrown away years ago. However, a loft has the potential to be a stunning bathroom, bedroom or living area. With this in mind, many homeowners now realise how advantageous a loft conversion can be, which is why we continue to deliver high-quality loft conversions in Bedford and the surrounding areas. Although the results are a success, many people fail to plan storage solutions beforehand, making it difficult for the room to resemble what they had envisioned. Planning how you wish to store your belongings beforehand will save you a lot of time and stress once the conversion is complete. Our top tip for loft conversion storage is to be creative and think outside the box. If your loft is considerably small, you will not want to fill your valuable floor space with bulky chests of drawers or bookcases. Instead, you should opt for storage which embraces the room's proportions and works to your advantage.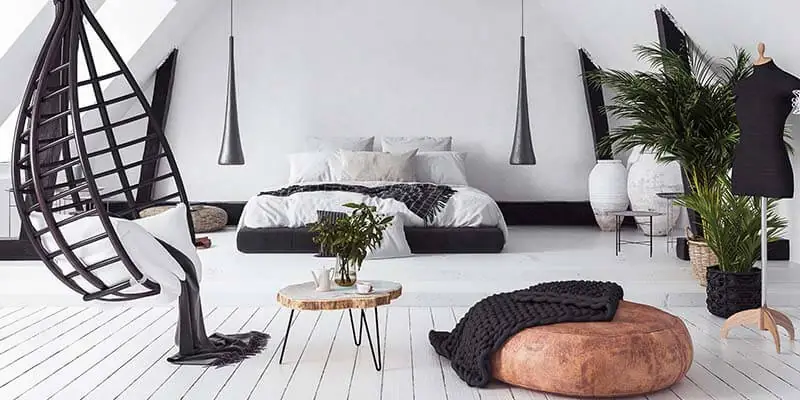 1. Build around the bed
If you have decided to transform your unused loft into a stylish bedroom, then you are going to need a lot of storage for your clothes and other personal belongings. Taking inspiration from this eclectic chapel conversion, you can store your items effectively by building shelves, cupboards and drawers around the bed itself. Realistically, the wall behind your bed is not going to be used for any significant reason other than potentially being a feature wall, so we highly recommend using the space for storage. You can use the shelves around the bed to display some of your most treasured items, such as family photos or indoor plants and decorative ornaments to make it look more attractive. For added convenience, you can even add small lights to the exterior of the shelving (as shown in the image below) – ideal if you enjoy getting cosy in bed in the evenings and reading a book. Furthermore, you can add in plug sockets, which will create a perfect charging station for all your electrical items.
As storage around the bed will cover quite a large surface, you don't want it to be too overpowering and be the centre of attention. For this reason, we suggest using shelves and drawers that are fairly neutral in colour, such as black or white. By doing this, you can then focus on decorating the rest of the room and drawing attention to the most important feature, the bed. There is a generous selection of brightly coloured, patterned and plain bed covers at Dunelm, so you are guaranteed to find something which will match your chosen colour scheme and decor style.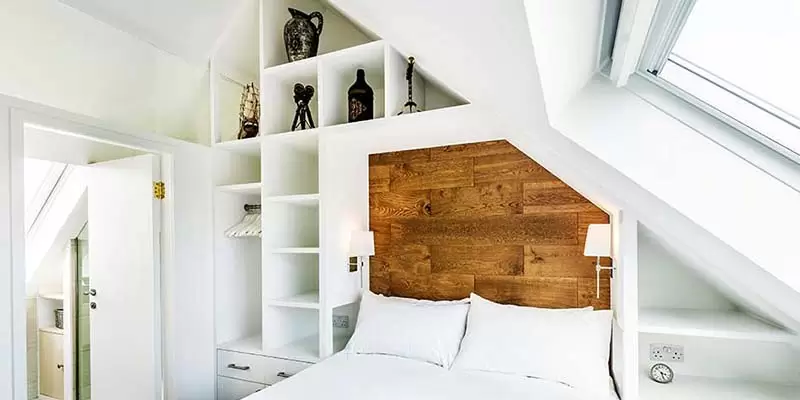 Photo credit: Homebuilding & Renovating
2. Wall-to-wall
Similar to building storage around the bed, wall-to-wall storage makes the most of unused wall space and can create an interesting focal point. The image below shows how useful this storage solution can be if you have decided to convert your loft into a home office. Even if your loft isn't an office, then don't be disheartened as you can still use this innovative storage idea. While having certain items on display may enhance the aesthetic and add to the overall decor of the room, we understand you may not want all of your belongings to be exposed. Luckily, you can use storage cube boxes which will fit perfectly inside squared shelving units and effectively keep your items hidden away. If you want to add some character to your wall-to-wall storage and draw attention to certain items on display, why not use integrated lighting? Adding LED strip lights or spotlights to your storage will make it appear more visually pleasing, but you can also use colour changing options to create mood lighting.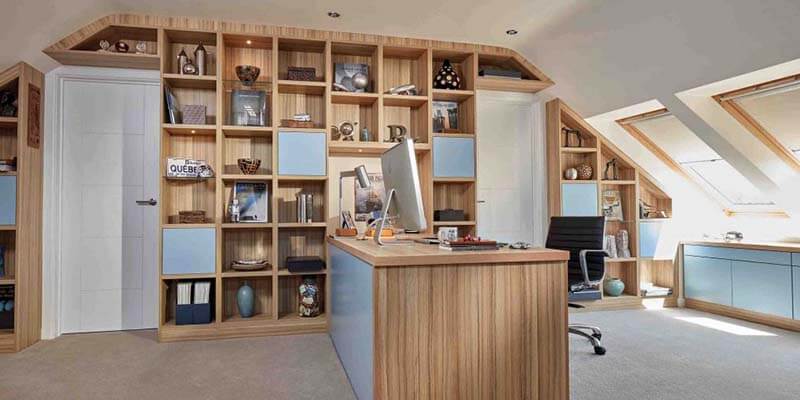 Photo credit: Neville Johnson
3. Consider fitted furniture
As previously stated, lofts are generally quite awkward in shape, and traditional furniture pieces may not always look great. Instead, you should consider customised storage, which is guaranteed to fit your loft like a glove. Fitted wardrobes have become an increasingly popular interior design trend for lofts for many reasons. The most obvious benefit of fitted furniture is, of course, their ability to optimise space. Unlike the around-the-bed and wall-to-wall storage mentioned before, fitted furniture will not protrude from the walls at all, giving you the ultimate space-saving storage solution. As fitted wardrobes are designed and tailored to your specific requirements, so you can customise your storage however you please. Whether you want a shoe rack, longer rails for more clothes, or a perfectly sized mirror so you can see your outfit before leaving the house, all you need to do is tell the designers, and your dream storage solution will be created just for you. Another reason why fitted furniture is so popular for loft conversions is the minimal maintenance they require. Unlike standard wardrobes that have irksome gaps which are susceptible to collecting dust, fitted furniture will sit perfectly within your walls. As a result, you eradicate the need to get the feather duster out to clean the top of your wardrobe or trying to fit the hoover nozzle underneath to remove amass of dust. Finally, fitted furniture in your loft conversion is also an excellent investment as it can add value to your home.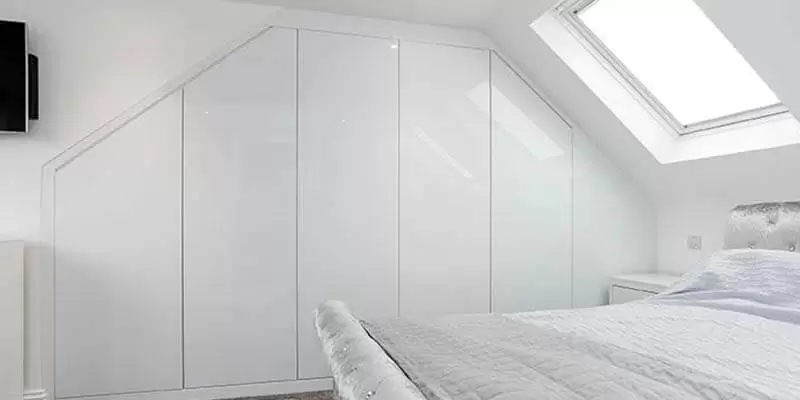 Photo credit: Hammonds
4. Use the eaves
The eaves of your loft can make the room difficult to work with if you can't find a suitable use for them. Luckily for you, they are a surprisingly good space for storage. Many of our loft conversions in Aylesbury used under-eave storage, and the results were undeniably impressive. Building storage into the eaves can be as simple as creating an enclosed space with a handy access hatch. This works best in lofts which have been converted into living areas or bedrooms as you can conceal items which you don't typically use everyday, but still have easy access to them. On the other hand, you could get a little more creative and build a recessed shelf. The shelf would be perfect placed next to a bed as it is an effective alternative to a bedside table. You could even combine this solution with idea number three from our list and have under-eaves drawers created, as pictured below. This ingenious solution creates the perfect space for smaller items you may want to be stored in your room, such as shoes, tops and socks etc.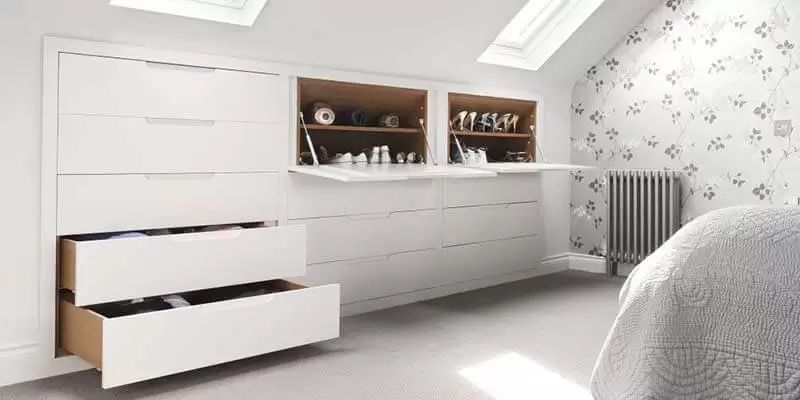 Photo credit: Barbara Genda
5. Invest in multi-purpose furntiure
Multi-purpose furniture can be used throughout your entire home and is perfect for smaller rooms where floor space is minimal. Opting for multi-purpose furniture also improves the versatility of your loft conversion as the room can be used for more than one reason. For example, if you have converted your loft into a living area, you can easily turn it into a bedroom at night with a sofa bed. Another creative furniture piece you could use is a floating desk. Combining the features of a traditional cabinet and desk, you can easily fold it away when not in use, leaving the room feeling spacious, but nonetheless practical. For something a bit more fun and quirky, you could even transform your loft converted games room into a tranquil space to socialise and eat with family and friends using a pool dining table.
Making the most of your loft conversion
Having completed many successful loft conversions in Milton Keynes, we know exactly what storage works best. We hope our creative solutions have given you an idea of how you can make the most of the new space in your home without wasting valuable space or compromising visual appeal. If you want more inspiration, feel free to take a look at our gallery full of beautiful loft conversions that feature effective storage.