If you've recently had a loft conversion completed, you might be wondering what you could use the extra room for. Many homeowners and landlords look at it as an easy way to create a extra bedroom, which in turn could lead to more value in the property or monthly rental fees.
However, if you're going to convert your loft into a new bedroom, you'll need to know how to arrange bedroom furniture so that you can maximise the space available to you.
Although loft conversions are a great way to create more room, some lofts are small, which can lead to a rather cosy but small bedroom so getting the layout right is really important.
The Different Uses of a Loft Conversion:
We've already gathered that a lot of properties have the lofts converted to create a second, third or even fourth bedroom. So what other rooms can you use a loft for once the conversion is complete?
According to the guys over at Building Materials.co.uk the most common uses for a loft conversion include the following:
Bedrooms
Home Office Space
Bathroom
Home Gym
Leisure Room
Annexe for a Rental
Home Office:
If you were looking to run a small start-up from home, then a home office would be a great use of the newfound space. As lofts are placed high up on buildings, you'll find yourself away from the day-to-day hustle and bustle of family life, allowing you to focus solely on your work and projects.
Add a few items of furniture from local stores to help support local businesses and you'll be laughing. A great place to look is home office furniture is with Furniche Home.
Bathroom:
A loft conversion could also be a great opportunity to install a new ensuite and washroom for a master bedroom. With the large space available you could even look at installing a full-scale wet room, allowing you to easily step to and from showers without steps or shower doors.
Just as you would when learning how to arrange bedroom furniture, it's important to get the layout of your new bathroom correct. Consider placing Aloe Vera plants on shelving as they help provide some colour and deodorise the air naturally.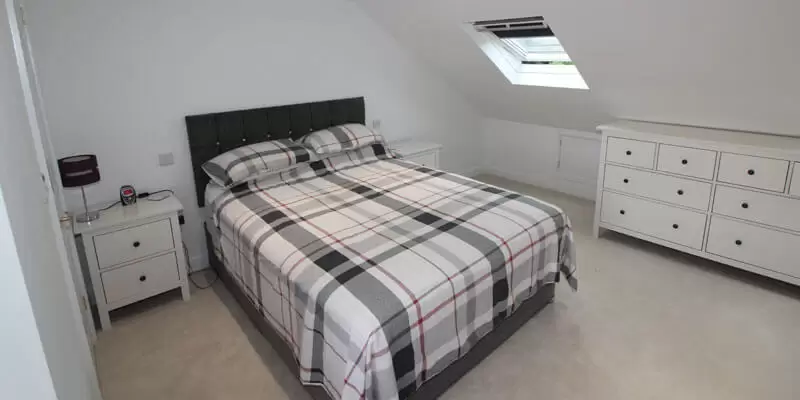 Home Gym:
Who doesn't want to have their own gym in their home? No-one.
Loft conversions provide the perfect amount of space for your very own gymnasium. Simply fit it out with the basic gym equipment such as a treadmill, weights bench, free weights and a cardio area and you'll be laughing.
Leisure Room:
If you have young children, a leisure room could be exactly what you need as a parent. Leisure rooms or "break-out" rooms provide space for young children to relax and play.
You can decorate it to suit their favourite TV characters and purchase a number of toys and educational items to help them develop at a steady rate.
Some owners prefer to convert their leisure rooms into a home cinema when the break out room is no longer needed. Home cinema and entertainment units can be easily tailored for specific measurements and designs.
Annexe for a Rental:
If you're a landlord, then this is a fantastic option well worth considering.
Not only will it increase the total value of your property but it will also give you the opportunity to bring in larger rental fees each month, boosting your investment income.
How to Arrange Bedroom Furniture Correctly . . .
If like the majority of the UK you're going to create an extra bedroom with your loft conversion, you'll need to know how to arrange bedroom furniture.
So first . . .
What items of furniture are you going to have in your bedroom? Consider absolutely everything that you're going to place in your new bedroom, including existing items and anything that you may have on order.
Traditionally, bedrooms are simply used for sleeping and nothing else. However, more recently bedrooms have become a central hub for relaxing and unwinding. Most modern bedrooms tend to include:
Bedframe
Storage
Wardrobe
Televisions
Desks
Lighting and Plants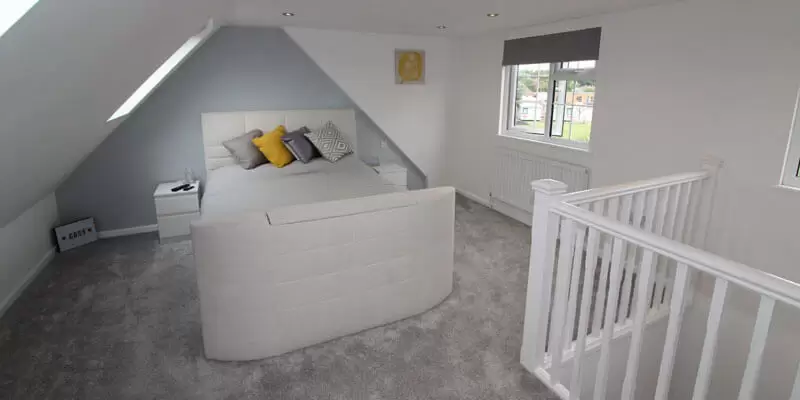 Bedframe:
If you're like 99% of the people in the UK, then you probably have your bedframe located in the centre of the room, pressed up against the rear wall?
Depending on the layout of the conversion and room design, this isn't necessarily a problem. However, with a simply little tweak, you could find yourself sleeping easier and relaxing more.
Your bedframe should be in a position that allows you to see the entire bedroom, if possible at an angle. However, the room will need to be of a significant size to do this.
Storage and Wardrobes:
General storage and wardrobes are two completely different things.
Storage furniture tends to house season items and things that aren't used on a daily basis. However, clothing storage such as wardrobes needs to be well positioned and designed so that you can get the most out of your space.
Furniche Home design and build custom sliding wardrobes in Milton Keynes and fitted storage solutions. We also encourage our customers to consider purchasing a fitted unit as it provides you with more space within the conversion itself.
Televisions and Desks:
As we mentioned previously, modern bedrooms are becoming a central hub for a lot of things. Many people enjoy reading, watching television and even working in their bedrooms.
When it comes to arranging your bedroom furniture correctly, it's all about saving space and creating a positive environment for you to sleep in. Ideally, you don't want to have any electrical items within two feet of your bed.
Research shows that electrical items can impact the quality of your sleep, disrupting the 9 hours of recommended sleep each night.
If you do have a television in your bedroom, consider getting it wall mounted. This saves space and prevents wires from building up behind units and storage cabinets.
Lighting and Plants:
People won't want to have them, but plants are a great addition to any new bedroom. Place lavender plants around the room and in other bedrooms as their natural fragrance help you deodorise the room and improve your sleep patterns.