A loft conversion can bring you a whole host of new opportunities, allowing you to add a little extra space to your home and incorporate a whole new room. With the current circumstances requiring most of the UK, and the world, to stay at home and work from the dining room, there is no better time than the present to convert your loft into a functional and welcoming modern loft office. However, there are a few things in which you will need to consider before you go full force ahead with your plans. This includes the loft layout, the conversion type and how you wish to decorate the room.
Designing A Modern Loft Office
One of the most important things to consider when having your loft converted is what you are going to use the room for and what else can be incorporated into the room. For example, will you be incorporating a toilet into your home office? Additionally, it is important to consider whether the function of the room will remain the same, or whether there is potential for the loft to change over time. While a home office is extremely functional for those continuing to work from home or those running a business from the house, you may want to convert your loft into a bedroom or playroom in future months when your working arrangements change.
However, if a home office is going to become a permanent fixture of your home, then there are a few ways in which you can decorate, plan and layout your loft conversion to suit your working needs. To lend you a helping hand, we have come up with a few ideas on how to start planning your home office and a few considerations to keep in mind:
Particularly if you have a smaller loft space, or you are splitting your loft conversion into two rooms, you will want to deeply consider the space you have to work with. While it may appear that there is little room for all the things you wish to incorporate, there are a few smart solutions that you can keep in mind. For example, you will need to use the wall space to your advantage, as this will allow you to store all of your books and notes without taking up valuable space or making the room feel cluttered.
One of the easiest ways to achieve this is to install floating shelves. These can be installed anywhere in the room that suits you best and can be found in home improvement stores such as IKEA at various prices, styles, finishes and sizes. You can even make a masterpiece with your shelving such as place triangular shelves in the corners of the walls that function as both storage space and artwork. Good Housekeeping has a range of floating shelve decorative ideas to give you inspiration for your home office.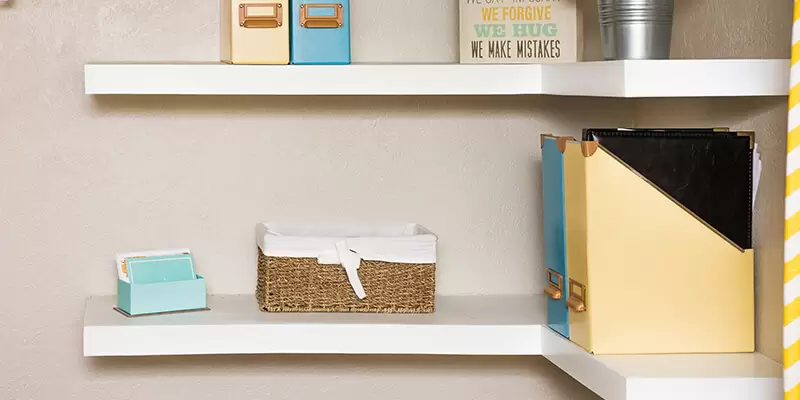 Staying on the topic of smart storage ideas, another storage solution is to install bespoke wardrobes. By installing bespoke features, it allows you to design a wardrobe that perfectly fits in with the layout of your loft. Whether it has a sloped roof or a tight corner, bespoke wardrobes are made to measure, ensuring that you can fully utilise your space. Not only can you take full advantage of every corner of the room, but you can also fully customise your bespoke wardrobe to fit in with your personal style and its use. Take a look at your array of options when choosing a fitted wardrobe:
Interior
The inside of your wardrobe is fully customised to your needs, with shelving units and much more to store away your office work. You can incorporate a range of open shelves or drawers inside the wardrobe for easy access and enhance organisation. In fact, Next Luxury has a range of stunning office wardrobe ideas where the desk is actually incorporated into the wardrobe. This allows you to transform the room into an office during the day, and fold it away in the evenings for a relaxing chilled room.
Exterior
While the interior of the wardrobe is important for organisation, the exterior can completely transform the ambience of the room. A bespoke wardrobe allows you to fully customise the exterior from the colour and finish to the design. There are an array of colours in which you are able to choose from, whether you opt for a light and neutral white, beige or light grey or decided to go for something more vibrant to bring a hint of character to the room. We highly recommend taking a look at Ideal Home for some inspiration! Once you have some ideas, why not contact the team about our stunning wardrobes when installing your loft conversion in Milton Keynes and the surrounding areas? Our team has years of experience in offering high-quality conversions with the addition of a bespoke wardrobe to elevate your space.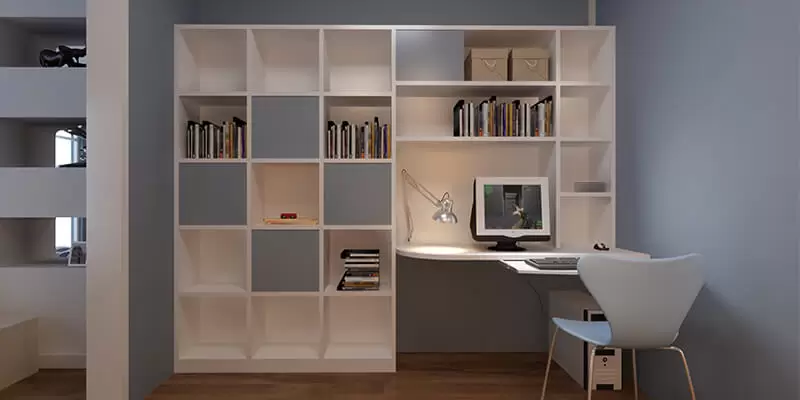 If you do not plan to have your home office for much longer and are looking for an option whereby you are able to enjoy your peace and quiet while working but can easily incorporate multiple functions for the room, then it is important to think about the space that you have before decorating. It is extremely easy to decorate a room to ensure that you are not limited to its use, such as incorporating an ensuite so that you can transform the room into a stunning master bedroom. The only thing that you will need to try and stay clear of is creating distractions in the home office; this could include anything from a TV to a crafts station. As things return back to normal and you head back into the office, you can rearrange your home office into another useful room by following the advice and top tips over on A Tidy Mind!
Natural light has the ability to turn a cluttered and claustrophobic room into a bright and airy space, potentially even making the room feel bigger. This is not the only benefit that you gain when adding natural light into the home, you can also take full advantage of the following benefits:
Vitamin D boost
Decreases seasonal depression
Improves sleep
One of the best ways to get natural light into your home is through windows, and with a wide range for you to choose from, finding the perfect windows to match your conversion and style couldn't be easier. A popular choice for many homeowners looking for more light is to install VELUX windows; these are windows that are slanted on the roof and allow natural light to enter the entire room.
The type of loft conversion that you have will also determine what type of windows you can install. The amount of room that you currently have in your conversion will determine what windows you can add to your design. For example, a hip to gable loft conversion will provide you with the option to install a VELUX window on one side of the loft and a stunning balcony or bay window on the other. You can find out more about the different types of loft conversions and how to identify which one is best for you property over on Which?. Alternatively, please feel free to speak with our team about our range of high-quality loft extensions in Milton Keynes and the surrounding areas.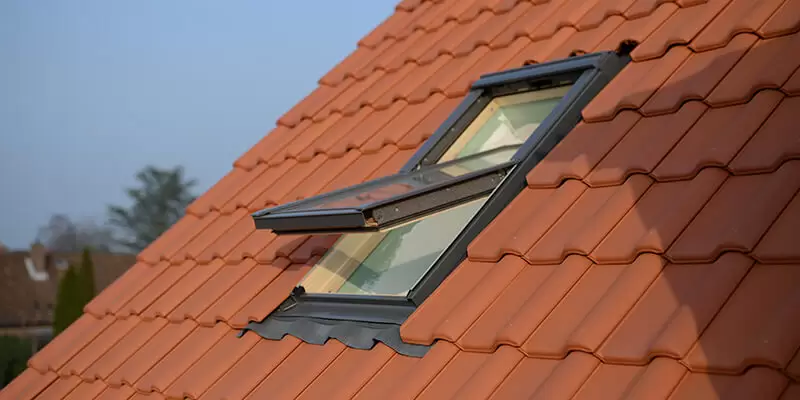 The colour can set the tone of the room, making it one of the most important features to consider when designing your decorations. While you may not notice, colours can have an effect on our emotions and how productive we are, so it's important to think about what colour scheme not only suits your style but can act as a motivator to work hard. Some of the best colour schemes for a home office include the following:
Off-white
Light blue
Light grey
Light purple
Brown/yellow
When painting your loft, always think pastel colours, as light colours will provide you with a spacious and inviting feel. We would always recommend painting the walls a light colour such as cream or a light grey and then use features in the office such as your chair, desk or lights to integrate some colour. Dulux has a few ideas on how to colour scheme your home office for a tranquil yet productive space.
While you may have some grand ideas to turn your loft conversion into the home office of your dreams, sometimes you can feel a little stuck for inspiration, especially when trying to create a space that epitomises your style and encourages you to get out of bed and head to work. To lend you a helping hand and to give you some ideas on how you can design your very home office, here are a few sites that we recommend you visit:
Designing Your Dream Home Office
There are many things that you will need to consider before piecing together your home office, but with thorough research and planning, it couldn't be easier to find the perfect solutions to storage, decorations and layouts. A loft conversion is a perfect place to have a home office, and by thinking about how you want to design your office before contacting the team, it means that you are able to incorporate storage solutions and much more into your project. If you are interested in knowing more about how you can design your perfect loft extension, please feel free to contact the team for more information.