If you are looking to buy a house for the first time or just want to relocate, there a number of steps you can take to find the perfect property. Using search engines, asking the right questions and being open-minded are all key to finding your dream home. With our help, we guarantee your search for the perfect property will be stress-free and successful, so keep reading to find out what you need to do!
The Ultimate Guide On How To Find The Perfect Property
Finding your perfect property is a huge investment, so it is important not to rush the process and do a lot of research. You probably have a dream home pictured in your head, but it's important to remain practical and open-minded in your search. Unless you are building the property yourself, it's unlikely a house will perfectly match the dream home you've been envisioning. However, if a property has potential, you can easily make changes to the interior and exterior further down the line if needed.
Investing in a new property can be a very daunting, especially if you are a first-time buyer, so remaining calm throughout your search is necessary. Even if you are finding the process time-consuming, it is always best to remain optimistic instead of rushing into a decision out of desperation. It is important that you do not get disheartened if your search is taking longer than expected as, on average, home buyers will view at least 8 houses before choosing the right property for them. We hope this guide will act as your property finding companion and help you make the best decision.
Use Reliable Property Search Engines
One of the most popular methods when it comes to finding a property is to utilise the various search engines available. Online property websites allow you to browse through thousands of properties and filter them according to your preferred budget, locality, unity type etc. The convenience and effectiveness of these websites have meant many people now prefer online property search over traditional estate agents. There are so many websites to choose from, so we have listed the top 5 property websites in the UK and a little information about each one so you can make an informed decision of where to begin your search for the perfect property.
Being the UK's number one property portal and largest property marketplace, signing up to Rightmove is a great starting point. Boasting the largest inventory of properties, you can be sure to find what you're looking for on Rightmove.
Zoopla is the UK's most comprehensive property website which will help you make better-informed property decisions. Not only will you be able to find your perfect property, but Zoopla also enables you to research the market efficiently. This is done by combining hundreds of thousands of property listing with market data, community tools and local information.
With the aim of providing potential buyers, sellers and landlords with an exceptional property search service, On The Market displays thousands of new properties every month 24 hours or more before they appear on Rightmove or Zoopla. The extensive range of articles on the website are also excellent sources of advice, ideas and insights to make your search process more manageable.
Operated by Zoopla, Prime Location helps house-hunters in the middle and upper tiers of the market find their next home. The site attracts over 5 million visitors a month and advertises from over 16,000 estate and letting agents – including all the leading national chains!
Established in 1996, Home has developed a great reputation for helping home buyers and tenants to effectively search an array of properties. The site has links to over 475,000 properties for sale and over 185,000 properties for rent across England, Wales, Scotland and Nothern Ireland.
Research The Area
If you are relocating to a new city or town, it is imperative that you do some research beforehand. Do you want to live in the middle of the hustle and bustle of a big city or would you prefer the more laidback lifestyle of a rural area? This is something you need to consider carefully as you need to think long term. While the idea of living in the capital may seem exciting at first, you may find you outgrow it within a few years and want to live in a calmer area. Put simply, you need to move somewhere you will grow into rather than outgrow.
Crime rates in the local area should also be looked at before making any sort of permanent decision. You can easily view the crime statistics of any are from Police.co.uk by typing in a postcode or place name. If moving somewhere with a low crime rate is of high importance to you, take a look at ADT security services article detailing the safest places to live in the UK.
If possible, you should also try and talk to the occupants of the neighbouring houses that are near your property of interest. Getting to know your neighbours beforehand will give a good indication if you will be happy living there. If you think your neighbours may be problematic, it is best to avoid that particular propety. Speaking to the neighbours will also give you a realistic idea of what it would be live to live there. By asking them what they like/dislike about the neighbourhood will help you make a better decision.
Another factor you should include in your research is to find out what is being built or planned within the area. Using your local council's website to see a list of all of the opposed planning permission requests, you can easily see applications that have been rejected and accepted. This will help avoid any nasty surprises once you have moved into your home.
View More Than Once
If you think you have found your new home online, viewing the property is an absolute must! You do not want to be one of those unfortunate home buyers who think they have found their dream house and dive straight in with no viewings. This will more than likely lead to lots of expensive defects that could have been avoided if you viewed the property. Viewing the property more than once will allow you to give it a thorough inspection and identify any problems before making the move official. When viewing any potential property, you should always look out for the following:
Mould and dampness
Cracks and other imperfections on the walls and ceiling
Fully functioning windows
Fully functioning plumbing (you can check this by turning the taps on and off and flushing the toilet)
Working heating (switch a radiator on or take a look at the boiler)
Fully functioning door locks
Think Outside The Box
It is unlikely that you are going to walk into a property and absolutely love every single thing about it. Especially when you are walking into a completely blank canvas, you will automatically want to make your own mark on the house and personalise it to suit your preferences. By using your imagination, you can envision what your future home may look like after some all-important changes. For example, if the property you are viewing has a loft which you can't see yourself using, think about how you can make the most of that space and consider a conversion. We offer a number of loft conversions in Milton Keynes, dormer conversions in Aylesbury and Velux conversions in Buckingham which promise to be the ultimate home improvement. At DJ Moore Lofts, we pride ourselves on having an excellent reputation when it comes to our conversion services. We endeavour to give every client a bespoke service, which is why our conversion projects will always give you the opportunity to put your own twist on it and give your home something entirely unique.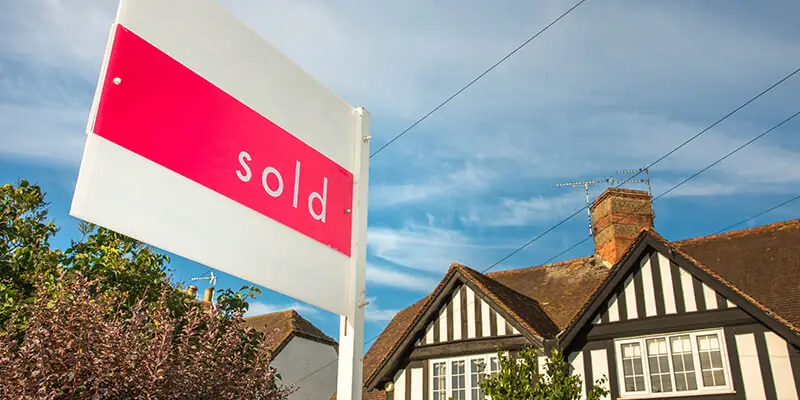 Find The Right Estate Agent
Choosing an estate agent is an important, but sometimes tricky process. Some estate agents may offer you low fees or give an impressively high property value, but be cautious as these can be warning signs in disguise. For the best results, we highly recommend picking an agent that is experienced in selling the sort of property you are looking for. If you need a helping hand finding the right estate agent for you, comparison sites such as Which? are worth looking at.
If any of your friends or family have moved recently, you should also talk to them and see if there is a particular estate agent that they would recommend. You may also be able to find out which ones to avoid by doing this too.
Although estate agents can help make your property search easier, it is important to remember that no one is 100% confident on what will happen to house prices. Similar to the stock market, property is an asset with an unpredictable value, but what is guaranteed is it's a great investment.
Don't Be Afraid To Ask Questions
Our final piece of advice is to ask as many questions as possible. Even if you think it may be self-explanatory or irrelevant, it is always better to ask anyway for peace of mind. You will potentially be living in the property for a number of years, so taking your chance to find out as much as possible before the move-in date is crucial. Although estate agents are obliged to disclose any pertinent information they have about the property which may influence the prospective buyer's decision, there is no harm in asking questions you feel are important. Questions you should consider asking are as follows:
How long has the property been on the market?
How many offers has the property had so far?
Why are the vendors moving?
What is included in the sale?
Have any major works been conducted? (If yes, ask if you can look at the relevant planning and building control consents)
Has the property repeatedly changed hands?
How much does the property cost to run? (Utility bills and council tax etc.)
Is there an allotted parking space/resident's permit?
How old is the boiler and when was it last inspected?
Sign On The Dotted Line
Once you have conducted your search and hopefully found your perfect property, all that is left to do is make it official! When this is done, you can start making the house a home and getting yourself prepared for a refreshing new start in your dream property.