Everybody who has a small bedroom dreams of a bedroom that supplies enough room for a king-sized bed, a walk-in wardrobe as well as a huge flatscreen TV. Unfortunately, this is not always possible as you need space in your home for other rooms and if your bedroom takes up the entire top floor, then that's not going to make a practical home.
Can I Still Decorate The Same In A Small Bedroom?
To a certain extent, of course, you might not be able to have a bed as big or a huge wardrobe in a small room as opposed to a master bedroom but you can still decorate it and make it how you want as you would with any bedroom. And if you're struggling to find enough room in your bedroom to include all of your favourite and necessary items of furniture, then not to worry after extensive research we have devised a list of tips for you to follow in order to decorate your bedroom nicely while making space at the same time!
So if you want to maximise your bedrooms capacity while making it unique and comfy, then keep reading!
Floating Shelfs
Not only are these practical and easy to install, but they're known for making a room seem more airy and light. They are great at breaking up your room and making it look as though it isn't busy or clustered with furniture and decor.
They're also a great form of out of the way storage, if you are someone who continually clutters their room up with loads of trinkets and decorations, then this could be ideal for you. Picture frames, old toys, cards and plants can all be sat on your floating shelf to keep them out of the way of the main design and main areas of your room.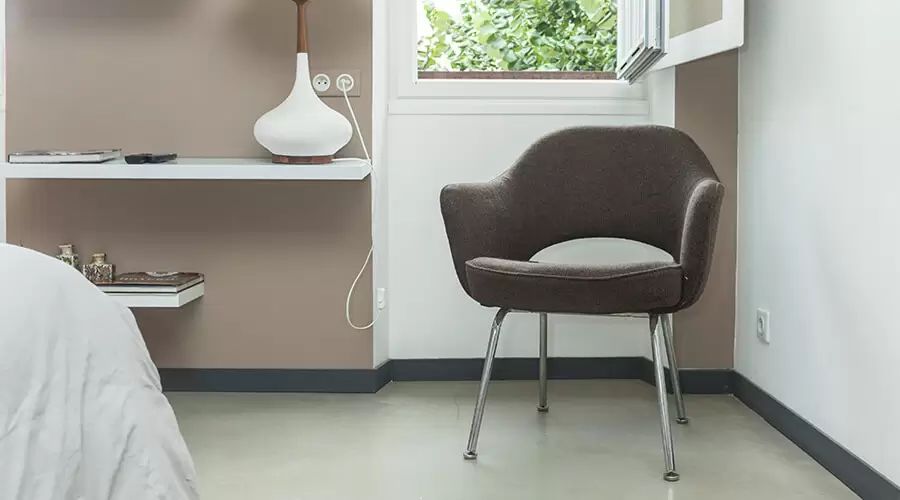 Double Duty Furniture
Double duty furniture can be one of the easiest and most cost-effective ways to create space in your room, not only are you paying for 2 furniture items in one, but you also save copious amounts of space for the rest of your room. A good example would be a sofa bed, if you have you have guests round for the day or evening but don't want to spend time in your living room or kitchen, then why not spend the time in your loft conversions Milton Keynes?
What is usually a bedroom with a bed, desk, wardrobes and shelving units can now be a recreational room as you transform your bed into a sofa for you and your guests to sit on. This method can save vast amounts of space as having both a couch and bed would be sure to take up a considerable chunk of the floor space in your room – and sofas and beds are both expensive so buying them seperately could cost a lot more. Take a look at some of these sofa beds.
Spend The Money On A Wardrobe Wall
Although they are costly, they definitely do the job when it comes to optimising storage space. Wardrobe walls can be purchased from many places; they often include hanging space for your clothes, along with storage space underneath the central wardrobe as well as other storage doors that provide storage space for your other belongings that are not clothes.
By investing in a wardrobe wall you and eradicating the problem of not having anywhere to store all of your belongings, there is storage space for all items, and you can have it all in one place as opposed to cluttering up your room. So although they are a lot of money, they will make decorating your room easier as well as provide copious amounts of storage space.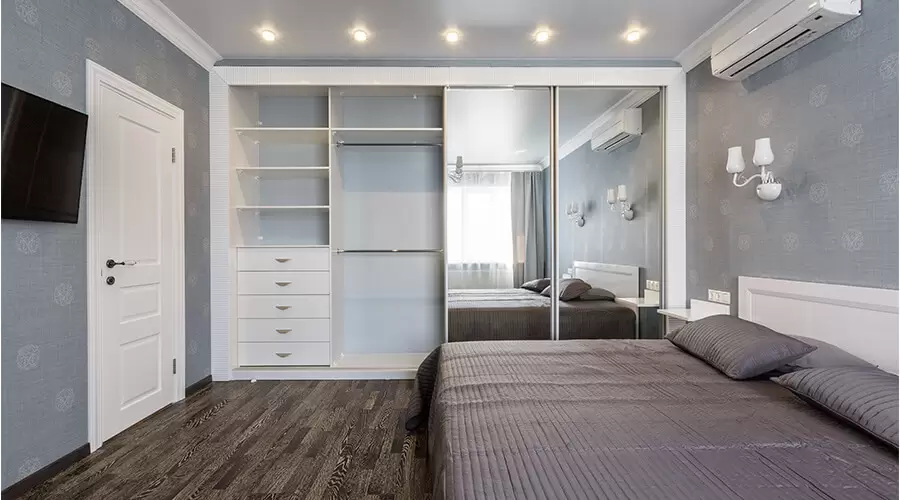 Under Bed Storage Space
One of the other easiest ways to store your belongings in your small bedroom can be with under bed storage boxes. These boxes can be brought on wheels and can be brought in various different shapes, sizes and depths to suit the space available under your bed.
By storing things under your bed you make it easier to decorate as the boxes should not be visible, and you also eliminate the need to spend money on large furniture units if they're not currently within our budget. Under bed storage boxes are affordable and are available in a variety of designs to suit you, here's some we found.
Place A Shelf Above Your Bedroom Door
If you want to disguise some of your decor and make it unnoticeable to your guests, then what better way to do it than by putting it above your bedroom door? Nobody looks up there as it is entirely out of eyesight so it can make an excellent trick for storing things that you don't want clogging up your room.
We found some versions of these online and did some research to see what other people were using their above door storage shelfs to store, and we found that a lot of people are using them to store towels so they can grab one right before they have a shower.
Make Or Buy A Floating Nightstand
A nightstand all though tiny can make a big difference to your room, although they sometimes offer small storage options within themselves, sometime sit isn't enough, and you don't have enough space to put your stuff. With a floating nightstand, you can put your main items on top and then it leaves extra space underneath for whatever you need it for. Whether it be a small set of drawers, books or storage boxes, you have then optimised the space in order for you to use it for other things – which is vital when decorating your room.
So Save Space When You Decorate!
So when you next decide to decorate your room then make sure to keep these tips in mind, not only does this give your room a sense of individuality by adding your own unique touch but you can also make room for other things you wish to have in your room. If you're interested in loft conversions Bedford then do not hesitate to contact us for more information. We hope that this article was helpful, if it was then why not share on social media?