Working with a small space may seem tedious and problematic as you assume your interior design possibilities are limited. However, we are here to confirm that is this is absolutely not the case! So, if you want to know how to make the most of out of a small bedroom, then you have come to the right place. With our innovative tips and ideas, you can easily transform your small personal space into a spacious haven.
The Ultimate Guide On How To Make The Most Out Of A Small Bedroom
Having completed many successful loft conversions in Milton Keynes, we know how to make the most out of a small space. By using our effective design techniques below, you can effortlessly breathe new life into your snug room and make it feel spacious. Although planning out a small bedroom can be challenging at times, it is important to be open-minded and see it as an opportunity to bring out your inner interior designer! If you a designing your bedroom from scratch, or simply want to make a few changes to make it feel bigger, it is always worth doing some research. House Beautiful, Pinterest and Freshome are all great sources of inspiration that will help you visualise your perfect room. Printing images out from these websites, along with any others you can find, and creating a mood board will be very beneficial. By collating all of your creative ideas into one visual document, you will have a better understanding of what you want the end result to look like and how you can achieve this. So, without further delay, here are our top tips for making the most out of a small bedroom.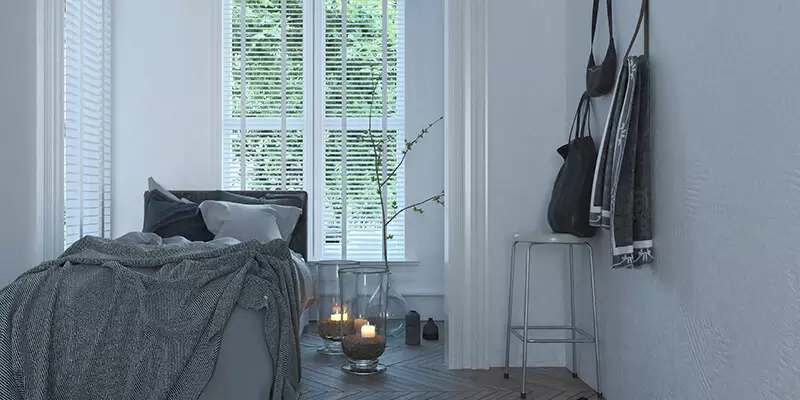 Keep It Simple
When it comes to small bedrooms, one of our biggest pieces of advice is to keep it simple. Filling your room to the brim with furniture in an attempt to keep all your belongings neatly stored away will just make your room look cluttered and more compact. Instead, you should adopt a minimalist approach and remind yourself that less is more. That being said, we know the difficulties that come with wanting to fill your room with all the things you love, but being limited for space. For this reason, you should invest in multi-purpose furniture. The most important piece of furniture in your bedroom is, of course, your bed. However, if your bed is quite big, it can take up a lot of valuable space and leave little room for storage. An effective solution is to opt for an ottoman bed. Acting as both a bed and a storage solution, you can use the floor space of your room more effectively. If your room is particularly small, you may think you can't have a big bed, but with an ottoman, the bigger, the better as it means more storage for all your belongings.
With the aim of being as minimalistic as possible, you will want to avoid bulky furniture at all costs. This means you might want to remove your wardrobe entirely and instead display your clothes on a clothes rack. Not only will using a clothes rail save you space, but you can also creatively display your clothing – making it all the more easier to find the perfect outfit in the mornings!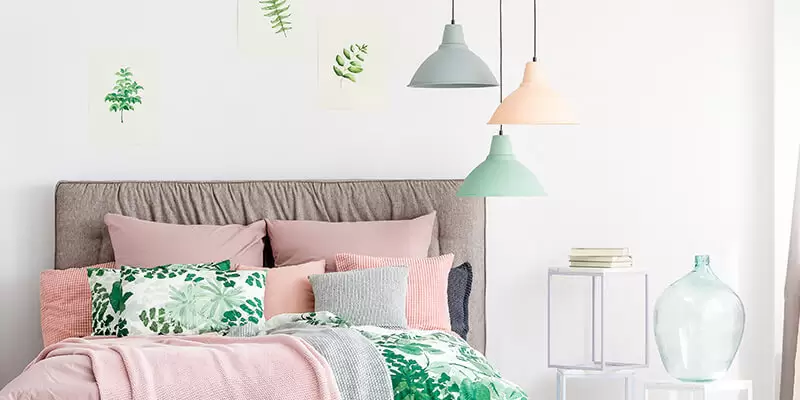 Lighting
It is common for most bedrooms to feature one or two bedside tables with a lamp on, as it provides effective task lighting. However, if you are limited for space, you may not have the option of having a bedside table. If this is the case, you will be happy to hear we have a solution for you. Instead of a standard bedside lamp, you can creative with your lighting and have wall-hung lights instead. Fairy lights will also work well as they can be placed anywhere in the room without taking up space. As well as artificial lighting, natural light is also something you should consider when revamping your small bedroom. To make the most of the daylight, we suggest positioning your bed as close to the window as possible. By doing this, you can eradicate the need to turn on a lamp when reading a book in bed and instead use the light pouring in from your window.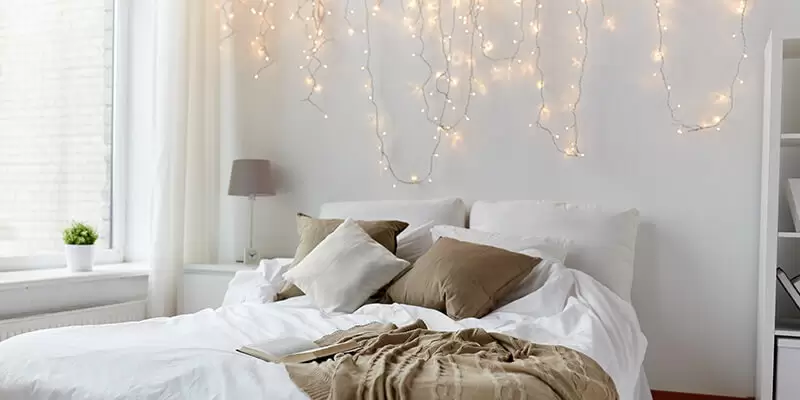 Create The Illusion Of Space
Although you may not be able to change the size of your bedroom physically, there a whole host of ways which you can use to manipulate the eye into thinking the space is bigger than it really is. One way in which you can do this is by hanging drapery as close to the ceiling as possible. Hanging the curtain rod 4-6 inches above the window frame, if possible, will make the window appear elongated, and therefore create the illusion of more space. Following the do's and don'ts of hanging curtains will ensure you are using your available space to your advantage and maximising the benefits that curtains can provide.
An innovative hack which is loved by interior designers worldwide is the use of mirrors to make a room appear bigger. Mirrors can effectively reflect both natural and artificial light, brightening up the entire room and thus making it seem larger. For the most effective results, you need to think about mirror placement and size. Just because your room is small, that does not mean your mirror has to match. Although placing a large mirror above your headboard will make the space feel a lot bigger, it may not be the best option if you want your room to create good Feng Shui. In Feng Shui, it is believed that placing your bed beneath a window allows your Chi energy to escape as you sleep. For many people, a mirror creates a 'window-like' effect, so it may be beneficial to avoid having a mirror above your bed. Instead, you should place your mirrors on opposing walls to your window so they can reflect as much light as possible.
According to Dulux, colour choice is a very important factor in room design, especially if you are working with a small space. When deciding on a colour scheme for a small bedroom, pale shades work best as they create the illusion of more space. So if you like the look of an all-white bedroom, then you should definitely implement this colour scheme for your own room. Admittedly, too much white could look a little washed out and lacklustre, but it is important not to be put off by pale, neutral shades. You can easily add character to your room with bold coloured accessories or opting for warmer neutrals.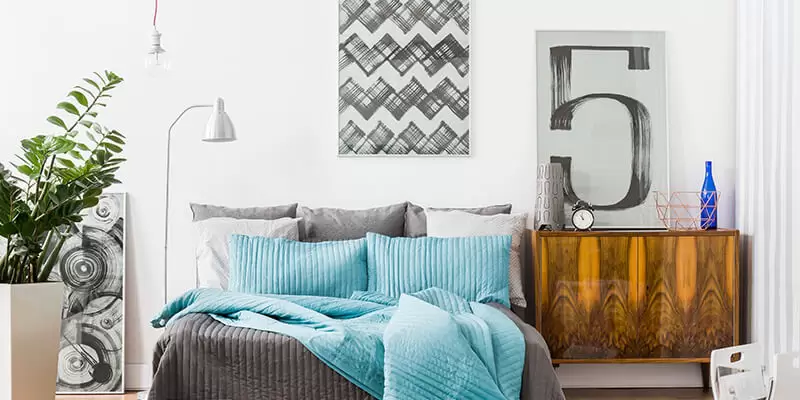 Finishing Touches
Even though your room may be small, there is always room for some personalisation. Adding small ornaments, plants or artwork is an excellent way to make your bedroom feel more homely without taking up too much valuable space.
For wall art, we highly recommend taking a look at what Fy has to offer. Offering art prints, canvases and posters from thousands of handpicked artists, you are guaranteed to find artwork that suits your bedroom aesthetic perfectly. If there is a particular area of your room you wish to draw attention to, then you can do just this by hanging up a piece of eye-catching wall art. Adding wallpaper to create a feature wall will also have the same effect.
Incorporating plants into your bedroom will not only give your room some attractive features, but you will also reap a number of health and wellbeing benefits. Indoor plants are renowned for purifying the air, relieving stress, and some even help you sleep better! You will have to consider carefully what plants you include in your bedroom as some will thrive while others may deteriorate, depending on the amount of natural light in your room. If your room does not get a massive amount of sunlight during the day, then we suggest opting for low-light houseplants. These types of plants will thrive even when there is minimal sunshine – a few of our favourites are: Peace Lilies, English Ivy and Philodendrons. Alternatively, if your bedroom is susceptible to a lot of sun exposure, plants such as parlor palms and pothos would be more suitable.
Small ornaments are also a great addition to a small bedroom as they make the entire space look complete and can showcase your interests. For example, if you're an animal lover, you can find a generous selection of animal ornaments from Next. Most of their ornaments are neutral in colour, so you don't have to worry about them clashing with your colour scheme. Alternatively, you could have a look at ornaments from John Lewis as they offer a huge variety of decorative accessories in various, colours, shapes and styles.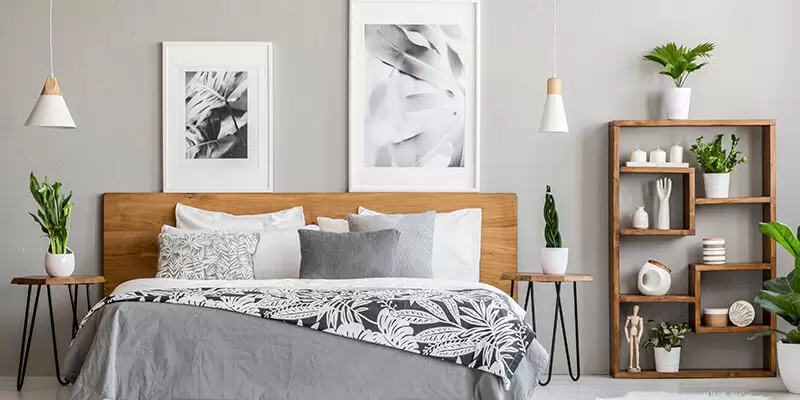 From Small To Spacious
We hope our useful tips have inspired you and highlighted that there are endless design possibilities when working with a small bedroom. As home improvements are our area of expertise, we offer a range of services to reflect this. As well as conversions, we also offer loft extensions in Bedford and the surrounding areas which promise to ease for mind from the stress of small-space living.