Your bedroom when you were a child could be altered by your wild imagination, but it was always important that you had a bedroom that you could spend hours on end playing in. So kids bedroom ideas are an important factor when your child is spending the majority of their time in there conjuring up make-believe adventures.
Are These Kids Bedroom Ideas Difficult To Do?
Some children's bedroom ideas are very complex and would have to be carried out by a professional designer or decorator, so it would make no sense for us to cram copious amounts of difficult, expensive bedroom designs.
So therefore in this article, we have included a variety of both affordable, simple bedrooms alongside extravagant more challenging to create bedrooms to make this article suitable for all audiences.
#1 Underwater
If your child is a massive fan of Disney's The Little Mermaid, then an underwater themed bedroom could be the bedroom design to keep them entertained for hours.
An underwater themed bedroom could be just what your little mermaid or merman needs to complete their adventure. Coat your walls in deep blue paint to mimic the ocean, or have a professional decorator arrange crashing waves on the walls of your child's bedroom.
This bedroom works perfectly in loft conversions Milton Keynes as loft conversions bring in large amounts of light which will brighten up your underwater abode, so it's not dull and dingy.
Have a look for unique niche items to make your underwater bedroom as original as possible; we found this children's bed that you're sure to love, check out this clam bed from This Is Why I'm Broke.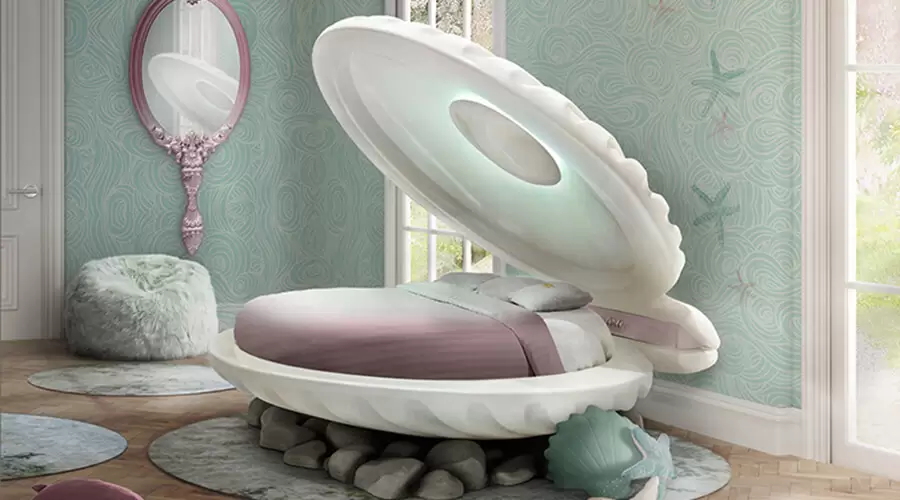 #2 Forest/Jungle
Recreate the Jungle Book with this thrilling themed bedroom, begin with painting the walls a deep green to mimic the murky jungle plants. Paint your own tropical shrubs and plants or purchase wall stickers to brighten up the shrubbery.
This is the perfect for your child to swamp their room with cuddly toys, tigers, elephants, hippos, giraffes and many more animals you can find hidden deep within the heart of the jungle.
Choose oak or dark wooden furniture to imitate the huge trees located in the forest and use animal print bedding and pillowcases; we love this cheetah print bed set we found from Wayfair.
#3 Race Car
Put your children in the driver's seat (figure of speech) in their own F1 race car themed bedroom. Paint your child's walls a distinctive red or their favourite colour to match their race car, then you or a designer can paint a finishing line somewhere within the bedroom to represent finishing the race.
There are plenty of racecar themed decoration option you can pick up for this theme bedroom, things such as lamps, tables and chests of drawers are all easy enough to pick up for a reasonable price.
We found this race car bed that we love, it's price equates to £249.95, but it comes with realistic race car noises and lights up headlights. It's also available to have a personalised number plate ordered for an extra £10 to personalise your child's car – and it's from Toyz World.
#4 Princess
Although mainstream a princess's themed bedroom is one of the most affordable and easy to create bedrooms. Begin by coating your walls in a pink or purple colour, or you can paste princess' wallpaper up with crowns or wall stickers of a princess' castle.
A typical princess bedroom is accompanied with pink or purple accents, but if your child is slightly older, then you may want to go a little more subtle and opt for a lighter pinks or a white and gold princess themed room.
Furniture in your room could include sofas, a table and chairs, a vanity table or a desk – there are princess themed versions of these items of furniture available, such as this pink princess vanity desk available from Wayfair at £171.99.
#5 Circus
If you child loves crazy designs, then this one is going to be perfect for loft conversions Buckingham. Roll up, roll up to the circus bedroom of dreams, every circus starts with wonderful decorations so hang red or orange bunting around your child's room.
Choose a circus bed canopy to mimic the circus tent to hang above where your child sleeps, candyfloss, lions, tigers, clowns and flaming hoops are all regular occurrences at the zoo so why not incorporate them into your child's circus room!
We found these inexpensive clown wall stickers on Icon Wall Stickers that we love, but they also have a variety of different circus themed stickers like elephants balancing on buckets and seals balancing balls on their noses.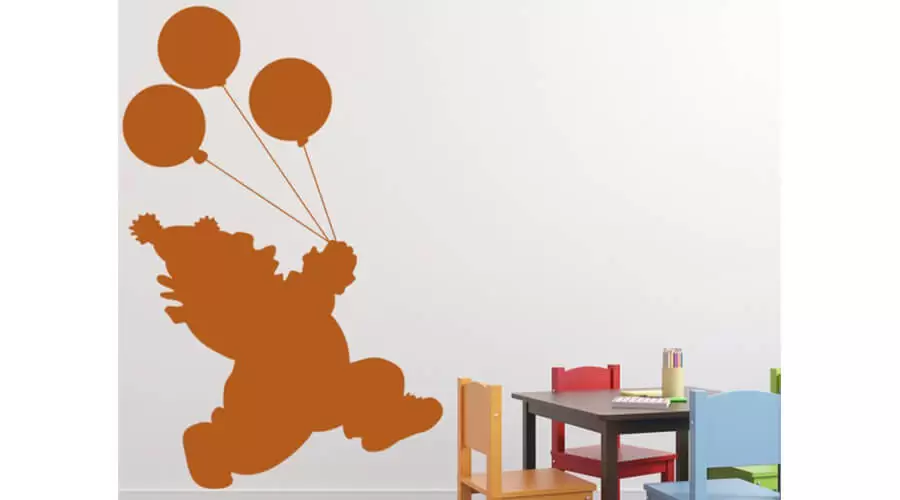 #6 Pirate Ship
Take sail on the rough oceans in this adventure themed pirate bedroom! Wall stickers can be bought online, stick things like parrots, treasure chests on your walls as they're the typical aspects of a pirate.
Just like the underwater themed bedroom, you can paint your bedroom blue to match the ocean, if you're decorating your child's bedroom to a pirate pad on a budget, then you can make some homemade decorations to boost your pirate theme.
If you have an old bit of rope why not tie it up and drape it across the ceilings to look like rigging on a pirate ship! Alternatively, you can easily create the feel of an overseas adventure room with your own treasure chest and a tape or painted "X" on the floor.
Finally, we found this incredible pirate ship bed from Wayfair that will provide your child with hours upon hours of fun sailing across the ocean from the comfort of their own bed!
#7 Ballerina
And the final bedroom design we have is for the dance lovers; a ballerina themed bedroom is perfect for practising at home or aspiring dancers.
If your child is already a dancer then why not hang an old pair of ballet shoes or dance shoes on their wall and paint it a colour of their choice, you can team this with ballerina or dancer wall stickers to complete your dance-themed bedroom. Paint the words "dance" above your bed or above your bedroom door for extra decor; there are plenty of dance-themed furniture items – we love this ballerina wallpaper from WallPaperWebstore.
Summary
So there you have some of the best children's bedroom designs to date! It's important that your children use their imagination to their full potential and having a bedroom like these can help encourage them to partake in make-believe imaginative games.
We hope thi article was helpful, if it was then why not share on social media?