Loft conversions are an exciting home improvement which will ultimately give you more space; this is invaluable if you have a large family and living conditions can feel somewhat cramped at times. Preparing your home for a loft conversion is key to a successful transformation, so keep reading to find out what you should do before the conversion process begins.
The ultimate guide to preparing your home for a loft conversion
In UK households, there are four main types of loft conversions – it's important to know what these are so you can make an informed decision on what will best suit your home.
Dormer loft conversion
This type of conversion is the most popular as it does not require any dramatic changes and accommodates for conventional window installation. A flat roof dormer conversion is a structural extension that projects vertically from the slope of your existing roof, creating a box shape. This box shape may not be the most aesthetically appealing option, but in comparison to other conversion types, it is relatively inexpensive, suitable for most UK house styles and generally falls under permitted development.
Mansard loft conversion
Ideal if you own a terraced house, a mansard loft conversion raises the party wall (the wall shared with your neighbours) and is typically found at the rear of the house. Many people opt for a mansard conversion as they blend effortlessly into older properties and provide more headroom than other types of conversion. However, it should be noted that construction can be time-consuming and planning permission is almost always required.
Hip to gable loft conversion
A hip to gable loft conversion effectively straightens an inwardly slanted end roof in order to create a vertical wall, perfect for detached and terrace homes. They are becoming increasingly popular not only are they aesthetically pleasing, but they can also be combined with a rear dormer loft to provide maximum space.
Roof light loft conversion
A roof light conversion does not require altering or expanding the existing space, but instead adds windows and reinforces the floor to transform your loft into a comfortable and practical living space. This is one of the most budget-friendly conversion types available, but unfortunately does not open up and more useful space.
If you are unsure of what you can transform your loft into, take a look at some online inspiration that will showcase the endless possibilities of a loft conversion. Once you have reviewed all your options and decided on the most appropriate conversion type for you and your home, you can begin to make the necessary preparations. For top quality service, use loft conversions Bedford – the team's extensive knowledge and dedication are guaranteed to transform your unused loft into the room of your dreams.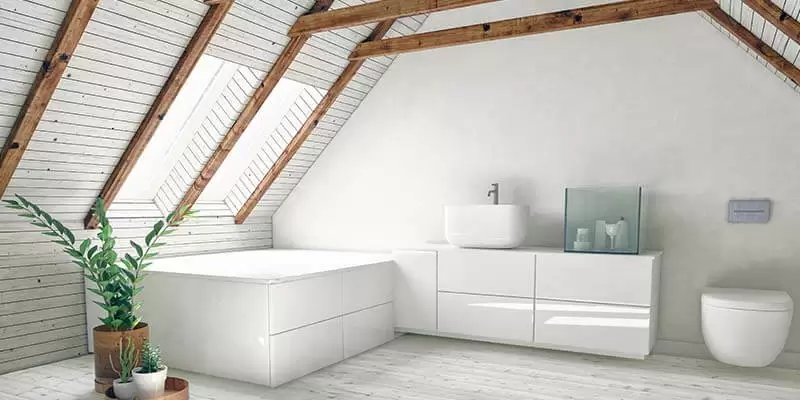 Planning permission
Before any work can take place, you need to clarify whether you need to obtain planning permission or not. Generally, most loft conversions can be carried out without planning, but you still need to adhere to building regulations.
An architect or builder will be able to confirm if you need planning permission or not, but for your benefit, we have listed the conditions you must comply with if you want to avoid the lengthy process of obtaining planning permission.
The total area of the overall space does not exceed 40 cubic metres (terraced houses) or 50 cubic metres (detached or semi-detached houses)
The conversion does not reach beyond the outermost part of your existing roof slope at the front of the house
It does not go higher than the highest part of the roof
Materials are similar in appearance to the existing house
There are no verandas, balconies or raised platforms
Side-facing windows are obscure-glazed e.g. frosted or patterned
Side-facing window openings are 1.7m or more above the floor
Your house is not on designated land, for example a national park or World Heritage site
Roof extensions, with the exception of hip-to-gable, are set back as far as practicable – at least 20cm from the original eaves
The roof enlargement does not overhang the outer face of the wall of the original house
Keep it clean
If you currently use your loft for storage purposes and it is full of Christmas decorations, books and photo albums, now is the time to have a clear out. Having a cluttered space will make it practically impossible for tradesmen to work efficiently and, let's be honest, your loft is probably overdue a good clean anyway!
When clearing out your loft, and during the conversion process itself, it is a good idea to hire a skip. A skip is the most convenient way to dispose of your belongings, building materials and any other waste, so arranging this prior to the conversion will be very beneficial to everyone involved. There are many different skip sizes to choose from, so take into account the scale of your conversion project and choose the most appropriate one.
Loft conversions are known for generating a lot of dust, so it's important to cover all your valuables with dust sheets and keep them looking pristine.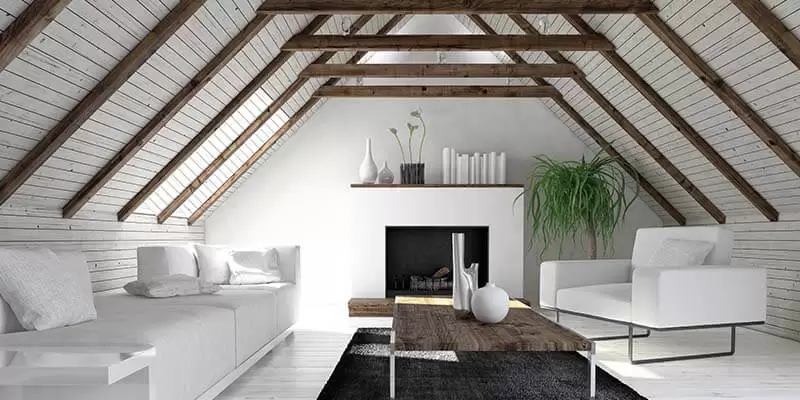 Think about interior design
If you want to be fully prepared for your loft conversion, you need to visualise the end result and think about the design aspect. If you plan on using your new space as another living area, bathroom or bedroom, you will need to consider what furniture you are going to buy. Shopping in advance gives you the opportunity to order the necessary items and get them delivered as soon as possible. If you have the room, you should store any new furniture pieces in your home beforehand, so you can start moving everything in as soon as the conversion is complete.
One of the most important features of interior design in your loft conversion is storage. Your loft may not be very spacious, so factoring in storage solutions is essential if you want to make the most of your new and improved space. Instead of buying storage, you should consider incorporating it into the design of the conversion and make the most of built-in alternatives.
What else do you need to know?
Preparing yourself is just as important as preparing home for a loft conversion, so knowing as much as possible beforehand will benefit you immensely. In terms of cost, there is no set price for a loft conversion as it depends on the type you opt for, the location, size and several other factors.However, as a rough guide, a loft conversion can cost anything between £15,000 to £55,000. A loft conversion costing around £15,000 will typically include:
Added insulation
A couple of skylights
Reinforcedmnt of the floor
A staircase to the loft
Electrics, lighting and heating
Fire safety measures to comply with Building Regulations (such as fire doors and smoke alarms)
If you are planning splash out on your conversion, you can opt for a ready-made room which will cost you around £55,000. With this option, your new addition to the home will be fabricated off-site and then craned into position.
Another factor you need to take into consideration is the time your conversion will take to complete. As with the price, there is no set answer, but generally, it takes between 4-6 weeks. Below is a detailed breakdown of what happens during this time:
Weeks 1 and 2
In this early stage of the conversion process, it is all about preparation. It is here that all materials and equipment are organised to ensure work is carried out safely and efficiently. You may notice scaffolding will be installed and deliveries of materials will arrive but there will little impact to the interior of your house. By the end of the second week, work will have been carried out to secure and support the structure of the roof, depending on the type of conversion.
Weeks 3 and 4
At this stage, there is more of a focus on the interior of the conversion, with floor joists and the loft floor being installed. Insulation, ventilation and internal stud walls will also be added. If you opt for a dormer or roof light conversion, the external roof works will be completed and windows will be installed during these weeks too. For mansard and hip to gable conversions, this work will remain ongoing. If the conversion is fairly small and straightforward, work may be completed in week 4.
Weeks 5 and 6
For bigger conversions, these last couple for weeks will be used, and the loft is fully plasterboarded and plastered. This stage also sees the completion of carpentry works, including skirtings, doors and fitted cupboards. Electrics and plumbing features are also installed and finalised before the final stage of decorating.
Transform your home with a loft conversion
There are endless possibilities when it comes to a loft conversion, so it is entirely up to you how you use it to benefit you. Whether you want to transform it into another bathroom to accommodate for everyone getting ready in the mornings, or want to create another living area to spend time with family and friends, converting your loft might just be the perfect finishing touch to create your dream home.