It's no secret that there are many benefits of Loft Conversions. Here at DJ Moore Lofts, we are famous for our high-quality Loft Conversions, and we know how to implement their benefit into every home. In our new article we will be covering the following topics:
Adding Extra Space
Increase Home Value
Quick and Easy Process
Variety
So for more on 'Top 4 Benefits of a Loft Conversion', read our article!
Loft Conversions Benefits
Adding Extra Space
If you have a Loft Conversion, then you should know the huge amount of space they add to your home. They can be used for all kinds of things and perfect for anyone looking for an extra bedroom without extending their home.
Adding Value
If you are thinking of selling your home for more than you purchased it, then a Loft Conversion is a great way of adding value to your home. They can add up to 20% more value to your home, and they are an amazing investment.
Quick and Easy Process
When considering getting a Loft Conversion, everyone always looks out for the best company, right? Choosing a highly reputable company that always delivers is a great way to ensure the process of your Loft Conversion will be quick and easy. We have one acronym when it comes to choosing good quality companies: FMB. The FMB accreditation is only handed out to the best in the business. If you notice a company has an FMB accreditation, this means you will be working with a fully qualified and financially stable firm.
Variety
There are many Loft Conversions available, and we offer our Velux Loft Conversions in Milton Keynes, along with our Hip to Gable Loft conversions in Milton Keynes and finally our Dormer Loft Conversions in Milton Keynes, at the best prices. With a wide range of Loft conversions available, finding one that perfectly matches your home and needs is very simple!
For a broken down, bitesize version of our list, look at our infographic below!: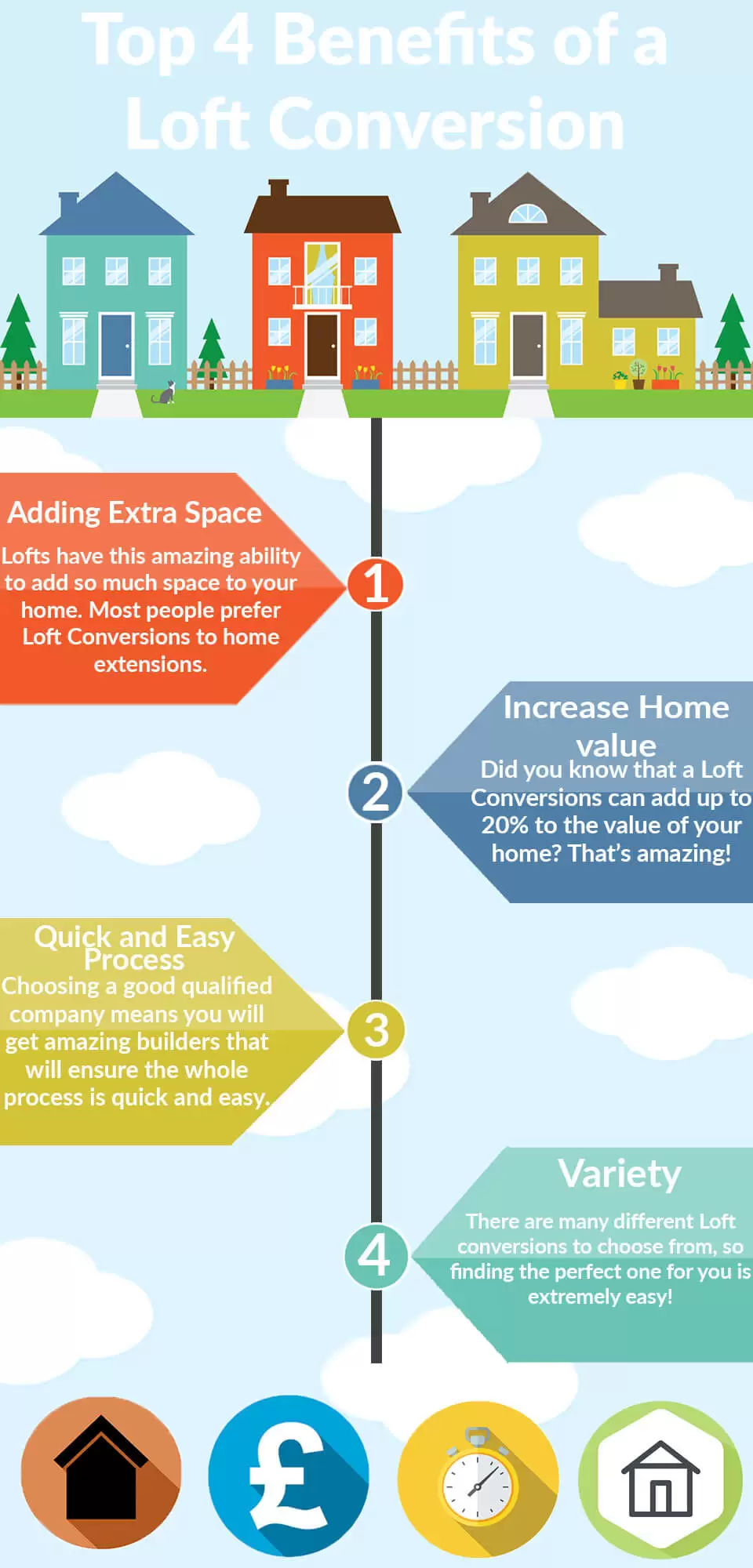 In conclusion there are many advantages when it comes to Loft Conversions and they are always an amazing addition to any home!