If you are asking yourself, how do I begin upgrading my bathroom? Then you have come to the right place! We understand your bathroom is a sanctuary for relaxation and peacefulness, so making it look fresh, clean and luxurious is crucial. With our innovative ideas, you can transform your bathroom to give it an entirely new and improved look.
Upgrading my bathroom: The ultimate guide
Unlike your living room or kitchen, your bathroom can easily be neglected as it is not a place where you entertain guests or spend time with the family. However, it is still one of the most used rooms in your home, so it deserves the same amount of TLC. Whether its a freshly tiled floor or a shiny chrome tap, there a number of ways you can upgrade your bathroom to improve its aesthetics and functionality. If your bathroom is quite small, an awkward shape, or you just don't know what you can do to transform the space, there are a plethora of images online that will inspire you. Country Living and Architectural Digest both have excellent articles which are guaranteed to give you creative bathroom renovation ideas.
If you want an entirely new bathroom and there is currently some unused space in your home, why not convert it? Many of our loft conversions in Milton Keynes have been successfully transformed into spacious, luxurious bathrooms, which you can see in our gallery.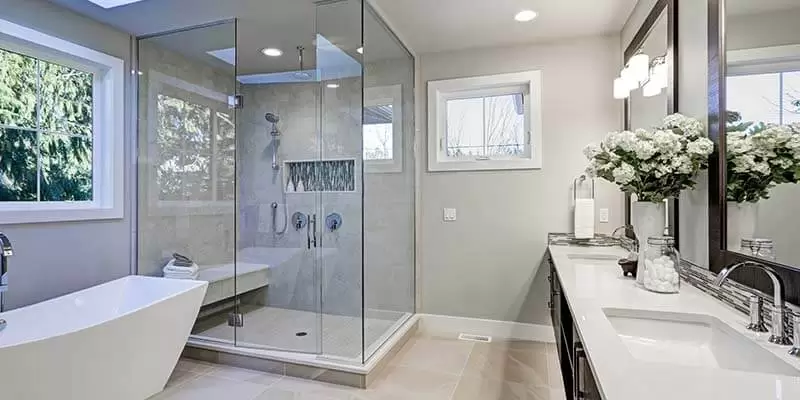 Storage solutions
The last thing you want your bathroom to be is cluttered, so having sufficient storage is essential. Your bathroom has to accommodate everyone in your home, which means there are a lot of items you need to store there. From toiletries and towels to shower supplies and toilet roll, you need to have a designated space for everything. Fortunately, there are a plethora of solutions available in a variety of shapes, styles and colours, making it easy to find storage which complements the rest of the room.
Mirrored bathroom cabinets are an excellent feature in any bathroom as they are multi-functional and visually pleasing. A mirror is an absolute must for any bathroom as you need to see yourself while you brush your teeth, get ready for the day or when applying your nightly skincare routine. Concealing storage behind the mirror is an excellent way to save valuable floor space without compromising style or practicality. Illuminated Mirrors offer a generous selection of stylish and modern cabinet mirrors which feature built-in LED lights and Bluetooth. The internal shelves of each cabinet are ideal for storing daily essentials such as medication and oral/facial care products.
Another way which you can use space effectively in your bathroom is by opting for an under basin vanity unit. Sitting comfortably under your sink, it is in the ideal location for your morning routine as all you need to get ready is easily accessible.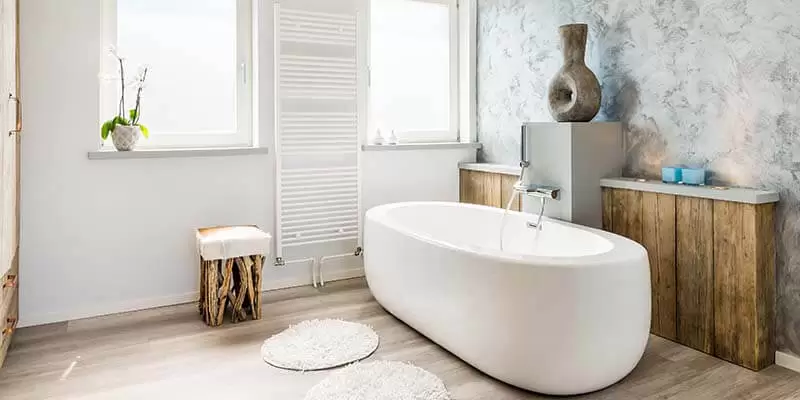 Underfloor heating
There is no denying that getting up early in the morning can sometimes be a struggle, and walking into a bathroom with an icy-cold floor makes the whole process even more unpleasant. To make your morning routine more enjoyable and give your bathroom an ultra-modern feature, we suggest installing underfloor heating. There are many benefits of underfloor heating systems which make it the optimum bathroom improvement. Aside from giving you comfortably warm feet on chilly mornings, underfloor heating is also 25% more efficient than conventional radiators. Radiators warm the air around it, causing it to rise to the ceiling and then falling back to the floor when it cools down. This leads to a lot of hot and cold spots and means you have to wait a long time for the room to heat up entirely. By turning the floor of your bathroom into what is essentially a giant radiator, you can benefit from significantly improved heat distribution. Underfloor heating is also a great option if you are hoping to decrease your carbon footprint as their high energy efficiency has led to their installation in many eco-homes.
Freestanding bath
If you want to make a strong design statement in your bathroom, then a freestanding bath is just what you need. Having become increasingly popular in recent years, freestanding baths are now one of the most sought after bathroom features thanks to their chic aesthetic and the super comfortable bathing experience they provide. Freestanding baths are often a favourable choice as they are synonymous with luxury, but there are many other advantages of installing one in your bathroom. For example, the various styles mean you can easily find a bath that will match the rest of your decor. The installation process of a freestanding bath is also fairly straightforward, and as it does not need to fit between walls, you can get creative with the placement. If you want your bath directly under a skylight in the middle of the room then you can do exactly this – the possibilities of freestanding baths really are endless!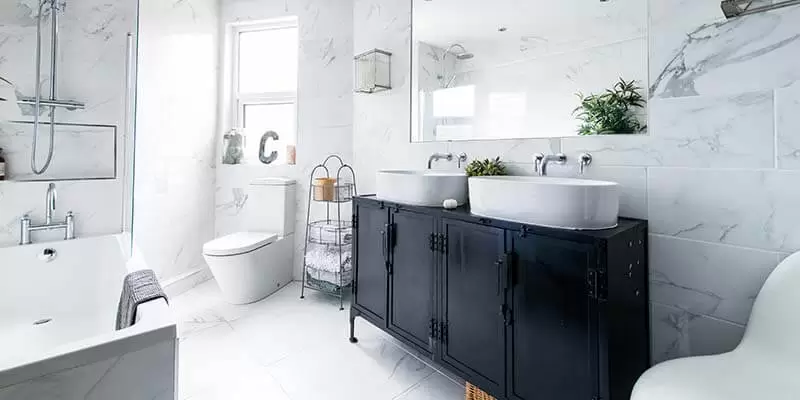 Colour scheme
One of the simplest ways to upgrade your bathroom is to switch up the colour scheme. If your bathroom is looking outdated, you'll be surprised at what a difference a fresh coat of paint can make. According to the Big Bathroom Shop, there are six future proof bathroom colour schemes:
Black and white
Monochromatic grey
Mocha and neutrals
Blue and yellow
Earthy green
Duck egg blue
If none of these schemes appeals to you, why not consider a classic nautical theme? Inspired by the seaside, a nautical theme generally consists of blue and white furniture and accessories mixed with driftwood and wicker. Live Laugh Love have a generous selection of nautical decor that will perfectly complete your bathroom.
Alternatively, you could pick a more contemporary scheme and use copper to bring more warmth and beauty into the room. The versatility of copper makes it a favourite choice for many interior designers, so why not take it upon yourself to incorporate it into your bathroom. Using a combination of traditional artisan techniques and modern innovation, William Holland transform functional bathware into works of art.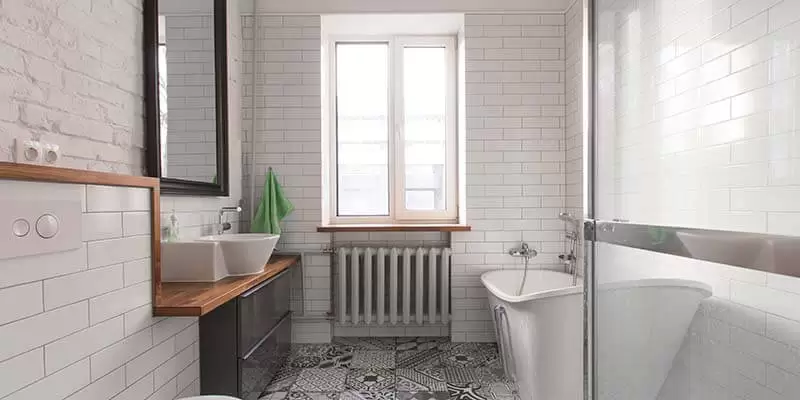 Finishing touches
Whether your dream bathroom is rustic and industrial or minimalistic and luxurious, you want it to feel homely at the same time. To do this, you need to decorate accordingly and use quirky accessories to complete the space. Although finer details such as a toilet roll holder or toothbrush tidy may seem like insignificant features of a bathroom, they actually give you the opportunity to get creative and make the room feel more personalised.
If you are an animal lover, you could use this elephant toilet roll stand or these bear tealight holders. Alterntively, if you want something a little more generic, you can simply decorate with wall art.
Relax. Soak. Unwind.
Once you have upgraded your bathroom, you can now treat yourself to a deluxe bathing experience and make the most of all your hard work. Whether you decide to soak in a hot bubble bath using your favourite bath bomb or wash away the day in a prestigious walk-in shower, we guarantee you won't ever want to leave your blissful bathroom.