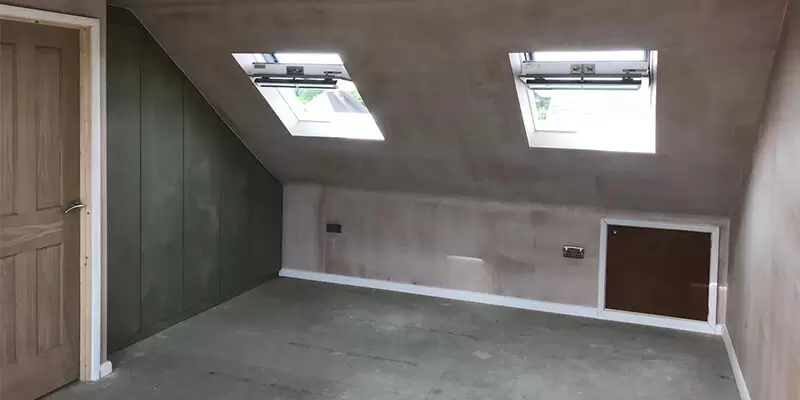 Velux Loft Conversion
Loft Type:Velux Loft

Area:Bedford
About The Project
A lovely family located in Bedford required more space within their home but were unsure about how to go about it. After speaking with the DJ Moore Lofts team, the client decided that a loft conversion with Velux windows would offer them a large space with added natural light. From here, the team devised a plan and arranged to begin the project at a date and time that best suited the client.
What We Did:
Due to the style of the home, our team needed to structure the new staircase in a manner that maximised space within the master bedroom. This, therefore, meant careful planning to ensure that it was in line with the original staircase. By doing this, the team could make sure that the existing layout was not affected too much and that the client could benefit from the mass gain in space within the loft. To do this, the team had to pinch 150-300mm from the front box room to have the head height over the existing stairs.
Once the front box room wall was repositioned, it gave the team space for the new stairs to lead up to the new second-floor conversion. The new conversion is a great size, making a perfect master bedroom with a stunning ensuite that is also of a good size. Once the ensuite and master bedroom had been constructed, the team installed a beautiful bathroom suite that had been supplied for by the client.
The new bedroom now consists of two Mk04 Velux windows and a 1200mm wide Juliet balcony to the rear dormer. By incorporating this into the design, it allows for a brighter room through natural light, making it feel spacious and larger. The dormer was completed with antique brown plain tiles to match the existing roof.
The loft looks fantastic, and the client had asked the team to complete a couple of extra tasks for them, which included replacing all the doors in the home with new oak doors, as well as building a fully bespoke fitted wardrobe in the loft room. The wardrobe was completed with plain doors and push-to-open handles. The client then decided to paint the doors the same colour as the walls, which created a stunning seamless finish to the room.
This project is yet another great example of the many benefits a loft conversion can provide a family and their home. If you are interested in utilising wasted space, and want to know more about how DJ Moore Lofts can transform your home, contact the team today for more information.
What The Client Said
" We are so pleased with the outcome of our loft conversion, and couldn't have asked for a better company to have worked with. They were very quick in their response time, and extremely helpful in making sure that the loft was exactly how we envisioned it. The wardrobes were a brilliant touch, and made for the perfect finish to our lovely new space."
John Doe January 2020
Pictures Throughout The Project