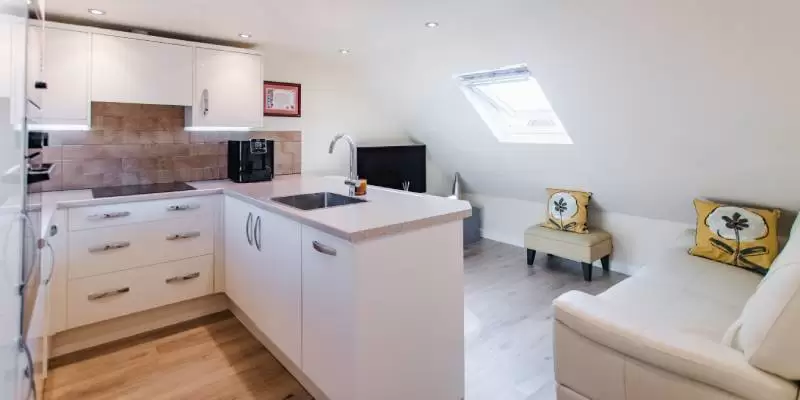 Dormer Conversion Apartment
Loft Type: Rear Flat Roof Dormer
Area: Wootton, Bedfordshire
About The Project:
Here we have built an absolutely amazing space for a wonderful family in Wootton, creating a spacious one-bedroom flat in their loft! You may be thinking, how is this possible in a single loft? But thanks to the magic of our team, we have been able to squeeze in a bedroom, bathroom and open plan lounge kitchen, all made possible by simply adding one of our rear flat dormer loft conversions in Bedford!
What We Did:
Our clients were looking to create a mini home in their loft to accommodate a family member moving in with them, so they were keen to create a welcoming, usable space that they could call their own. To achieve this, we worked with them to ensure that the build focused on making the space as big as possible and met their requirements.
To maximise space in the bedroom, we opted for making the bathroom slightly smaller. The client sourced a bespoke shower screen, and then the bathroom was complete with clever illusion tiling. Together, this helped create a lovely bright space that, although is small, is certainly practical! The bedroom was also built bespoke to ensure that there was plenty of room for clothing and extra storage.
The lounge/kitchen area was made the heart of the apartment and took a little extra work to get right. Working closely with our client's kitchen and bathroom company, we helped create a room that accommodates a sofa and even a breakfast bar that doubles up as a table. The kitchen has everything needed to be a self-contained, independent space.
For the dormer itself, we installed three grey uPVC windows to match our client's existing home, along with two MK04 Velux windows at the front. These five windows are perfect for making the space bright and airy.
Through this excellent conversion, we have been able to give the family exactly what they were looking for. We were thrilled to hear that they were over the moon with the new addition to their home!
Pictures Of The Finished Project