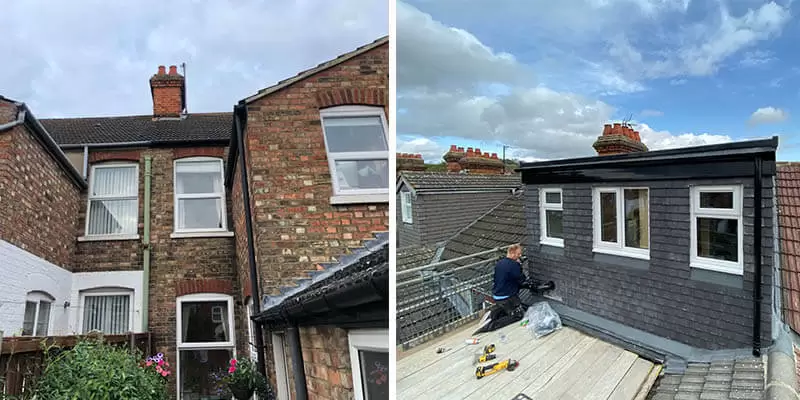 Flat Roof Dormer Loft Conversion
Loft Type: Dormer Loft

Area: Bedford

Duration: 6 Weeks
About The Project
The DJ Moore Lofts team recently completed a Dormer Conversion on a gorgeous Mid Terrace Victorian property. Our client regularly works from home and was looking to gain more space by creating a bigger office. Their goal was to create a room that was centred around their main piece of equipment, a sound booth.
What We Did:
As the sound booth was the focal point of this project, it was imperative that the team designed a conversion to the client's specification, which incorporated a small window. The window was installed at a slight angle to help minimise sound bouncing off the glass.
The team then added a rear dormer to the property, equipped with roof tiles that matched the loft space. Due to the layout of the property, we were able to position the new loft stairs over the existing set, meaning that there was no need to sacrifice living space to accommodate a second set of stairs. In opting for this loft conversion type, clients can enjoy a fully-functional loft space without causing any impact on their existing property layout. This encourages a natural flow through the house, seamlessly incorporating the second floor with the new loft space. Along with the office, which could also be used as a spare room when needed, we built a small yet stunning en-suite.
To complete the build, five windows were installed, which created a bright and airy atmosphere. Two of the windows were MK04 Velux Food Windows, which were fitted to the front of the property. The remaining three windows were placed at the rear of the UPVC dormer – one on the landing to maximise natural light, along with another in the en-suite.
Not only did the client request for conversion to be based around their sound booth, but they also wanted to maximise storage. With this in mind, our team fitted a bespoke wardrobe, which was designed to feature deeper compartments to give plenty of storage space. To accompany the wardrobe, personalised floating shelves were installed above the desk for both practicality and decoration. The last storage solution fitted was a small area hidden in the front eaves, which the client used to store away their suitcases and Chrismas tree.
To finalise the project, we also took care of all the interior decorating. This allowed the team to hand over a complete build to the client, ready for them to have their carpet fitted.
What The Client Said
" We are over the moon with the end result, Dan and his team have truly worked wonders. From start to finish, they had been in constant contact, and no matter what question we had, they always helped us out. We cannot recommend DJ Moore Lofts enough."
John Doe January 2020
Pictures Throughout The Project