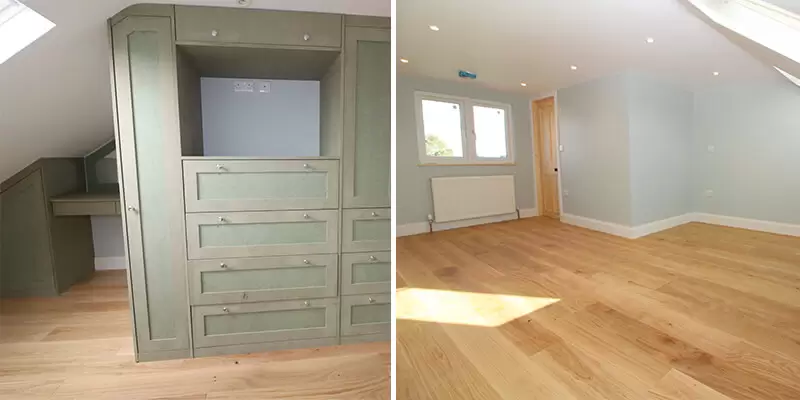 Dormer Conversion, Leighton Buzzard
Loft Type: Dormer Loft

Area: Leighton Buzzard

Duration: 6 Weeks
About The Project
While DJ Moore Lofts are proud of all the hundreds of loft conversion they have completed, this Dormer Loft Conversion in Leighton Buzzard stands out as a favourite from 2019. This lovely family in the centre of Leighton Buzzard were looking to create one large master bedroom with an en-suite in their loft space. They also asked DJ Moore Lofts to reroof the home.
What We Did:
To achieve the client's needs, the team built a rear flat roof dormer, installing three UPVC windows to the rear and two MK04 Velux windows to the front. While this was being completed, the team also acquired D Haynes Roofing to complete the front roof in new slate which produced stunning results! The iron-grey cladding installed on the loft conversion compliments it perfectly!
In the new loft space, we installed a lovely en-suite with a stunning shower and fitted bathroom, along with an electric Bluetooth mirror. We fully tiled the bathroom and also created a gorgeous feature wall with a spacious soapbox, too.
Further to this, we laid a solid oak flooring and built bespoke fitted wardrobes and dressing area for them. The wardrobes contained nine drawer units as well as a unique space for a television. We even included a dressing table with custom cut mirror glasses fitted to the sloping area of the wardrobes.
After the DJ Moore Lofts team had completed their work, the client decorated the space with stunning farrow and ball colours that beautifully compliment the oak floor. They used our recommended painter to paint the wardrobes and hallway, getting on so well that they are also having the outside of their home painted!
The build was completed in six weeks and finished while the client was away. They were thrilled to return home to a stunning conversion ready to use!
Louisa Tomlinson
" All in all, we had a great, stress-free experience with DJ Moore Lofts and would not hesitate to recommend. We LOVE our new bedroom and bathroom!"
John Doe December 2019
Pictures Throughout The Project