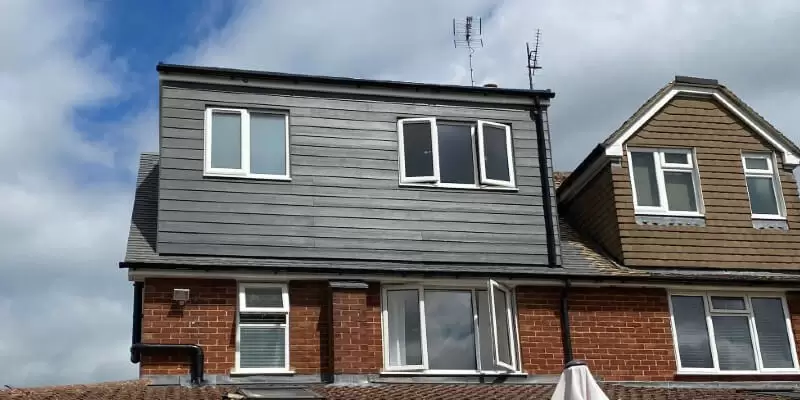 Dormer Loft Conversion
Loft Type: Hip To Gable Loft
Area: Aylesbury
About The Project
The team have been working on a property in Aylesbury, which is designed with a stunning 1930s hip roof. With the help of our team, the roof has now been fully converted into a new master bedroom with an ensuite for the family. This was made possible through a hip to gable Loft conversion with a rear flat roof dormer.
What We Did:
We started the project by removing the side section of the roof and building the build of the front section of the new roof. From here, the team were able to start on the rear flat dormer.
The client requested for the outside of the roof to be replaced with a new tile, so we helped them to choose a new plain design that beautifully complimented the appearance of the loft conversion. Once the roof has been complete, it gave the team a watertight area to work on the complex interior structural work. The rear dormer itself was finished in a new Hardie plank iron-grey cladding, which is currently the most popular flat roof dormer finish amongst our clients.
The bedroom is large and bright thanks to MK04 Velux roof windows, along with a dormer UPVC window. The bathroom/ensuite is also a great size and was complete with a large window to maximise natural light, as well as a fanfics shower and gorgeous tiling.
With the new headspace created by the hip section of the roof being removed, the team were able to get the stairs up and over the existing set by moving the front box bedroom wall by around 200mm. This helped the stairs flow over the existing set perfectly, making them look as if they were an original feature.
To complete the project, we changed the existing doors to new oak doors, then removed the panel stairs to new style spindles to match the oak handrail.
Overall, this is a great example of what a hip to gable loft conversion can create and shows how much space is wasted in your unused attic!
Pictures Throughout The Project