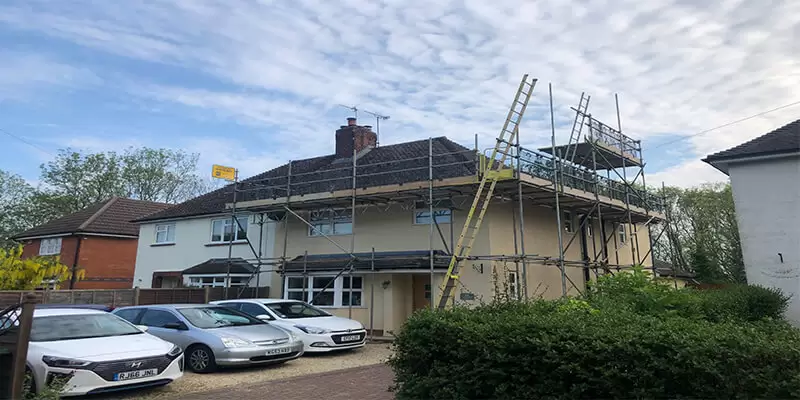 Velux Conversion
Loft Type: Hip to Gable
Area: Winslow
Duration: 8 Weeks
About The Project
DJ Moore Lofts were recently contacted by the Alman family who were in need of some more space in their home in Winslow. They wanted to convert their loft to create extra living space, installing two large bedrooms as well as a decently sized bathroom. With this in mind, we began designing and planning a Hip to Gable Loft Conversion.
What We Did:
As the loft contained a water tank, we had to work around this when installing the three new rooms. To achieve this, we repositioned the water tank to a new airing cupboard allowing us extra space meaning we could fit a double shower, full vanity, toilet and basin into the new bathroom. The client was thrilled with the size of the bathroom and never expected to have such a beautiful full-sized bathroom in their loft.
We finished the rear dormer with Iron grey cladding as requested by the client for a sleek, clean finish. We also installed 2 UPVC dormer windows which enhanced the fresh, open feel of the new rooms. For the new Gable end wall, we matched the existing walls seamlessly using a colour render to ensure the walls blended perfectly. The front roof was rebuilt with 2 Mk04 Velux Windows, refelted and tiled back in with the existing roof plain tiles.
For easy access to the two bedrooms and bathroom, we installed a new set of stairs over the existing stairs through an old airing cupboard. Not only did this mean that they blended seamlessly into the house, it also meant that the clients did not lose any space from the rooms on the second floor. To create some extra storage space we then built in a storage cupboard on the landing above the new stairs.
This was another exciting and successful project and is a great example of how a hip to Gable conversion can add a massive amount of useable space to a family home.
Mr Alman
"DJ Moore Lofts were so helpful and attentive during the whole process and fulfilled our vision completely! We now have a whole new floor to our home and my family are much more comfortable."
John Doe 10th November 2019
Pictures Throughout The Project