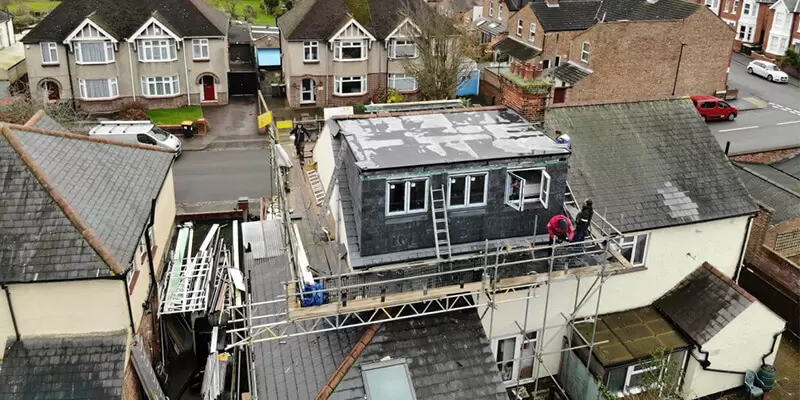 Dormer Loft Conversion
Loft Type:Rear Dormer Loft

Area:Bedford
About The Project
We recently completed a rear slate dormer loft conversion in Bedford for Mr and Mrs Mallows. The lovely family lived in an older property based in central Bedford and were hoping to enhance their living space. They were looking to add two bedrooms and a bathroom, with the intention of moving their business to the larger bedroom while keeping the other as a spare bedroom for guests. After visiting their home for an initial site survey, we concluded that a rear flat roof dormer would be the best route, ideal for maximising space.
What We Did:
Having scheduled work to commence at a time and date that was most convenient for Mr and Mrs Mallows, we began the project by tackling the stairs. This is often the trickiest aspect of loft conversion planning as the new stairs must be strategically placed in a manner that minimises the amount of living space that the client needs to sacrifice. Luckily, in this particular project, we were able to fit the new stairs up and over the existing stairs without having to move the front box room wall. In doing this, the family did not have to lose out on any space in their current layout, while still gaining a whole new floor.
Once the stairs were complete, we could continue with the main build of the conversion. The dormer itself was built by our reputable team, and then we enlisted the expertise of D Haynes Roofing to complete the slating on the exterior of the conversion. As the client was pleased with the progress and appearance of the new dormer, they opted for completing the build by fitting the same slate to their front roof. This created a beautiful finish which blended seamlessly with both the property and other homes in the area.
The full project was completed in just six weeks, and the clients were over the moon with their results. In fact, they have since recommended us to another family in the same area, who we will be beginning work with shortly.
What The Client Said
"We couldn't be happier with our finished loft conversion, it completely exceeds all of our expectations! The DJ Moore Lofts team were fantastic throughout, always so professional and made sure that we were updated at every stage. We were so eager to recommend them to all of our neighbours!"
John Doe March 2020
Pictures Throughout The Project