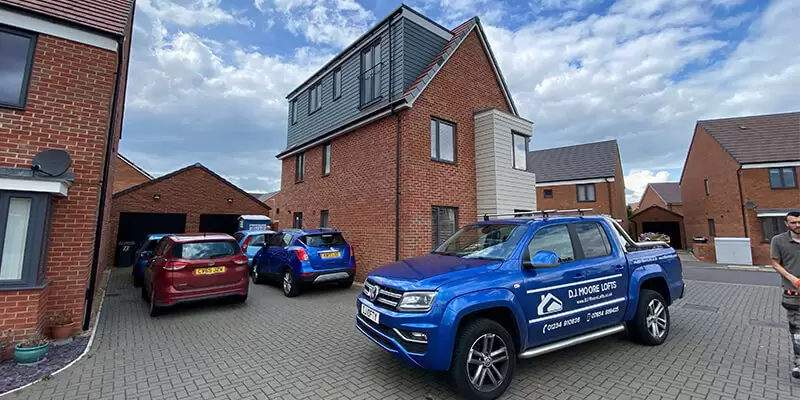 Two Pitched Roof Dormers, Wootton
Loft Type:Dormer Loft Conversion
Area:Bedford
Duration: 6 Weeks
About The Project
The DJ Moore Lofts team completed a stunning dormer loft conversion for a client in Bedford. They were looking to create an additional living space to allow them to relax upstairs while their older children used the downstairs bedrooms.
What We Did:
After taking all of the client's requirements into consideration, the team have built a large space with minimum impact below. To achieve this, the team had to remove an airing cupboard to give us the space for the stairs on the existing landing, which was the only impact that the clients home endured! The result allowed us to get the new stairs up and over the existing stairs, which would then lead up to 2 large bedrooms and an ensuite.
The client was always planning on using the 2nd bedroom as the main lounge area, so they decided to have the Juliet balcony installed on this side of the conversion, which gave them a stunning view from their home to enjoy while relaxing. Once complete, the couple then placed a TV and sofa in the room to complete the relaxing and homely ambience.
The large bedroom has an ensuite included, along with some stunning bespoke wardrobes made in-house and finished by our decorator, who also fully painted this project. By having our in-house team complete the wardrobes and painting of the room, it allowed the client to thoroughly enjoy their new space using just one contract, rather than having to complete the project with multiple companies in staggered stages. Not only was painting completed for the client, but we also recommended our carpet filter too!
To provide natural lighting into the room to make it feel brighter and enhance their space, the team installed three MK04 Velux roof windows, along with three UPVC Dormer windows and the 1200 wide French doors with black metal railings. The dormer was finished in Evening Blue Hardie plank cladding to match the existing area.
Overall, this loft conversion is a fantastic example of the space that can be created with hardly any impact on the existing 1st-floor landing, while still adding another two bedrooms at a fraction of the cost in comparison too moving.
What The Client Said
"We choose D J Moore Lofts as we had seen their work on various properties around us. From the first meeting to the end we were fully informed at every stage of the build. All the workers were very friendly, helpful and professional. Work took a little longer due to The Lockdown, but we were made to feel safe at all times.
We now have an amazing spacious two room loft conversion that has exceeded our expectations. We would recommend D J Moore 100% and their excellent customer service. A very happy customer"
John Doe July 2020
Pictures Throughout The Project