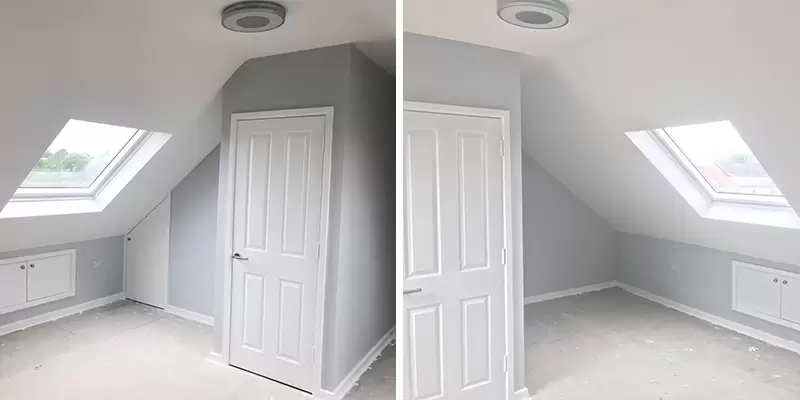 Velux Conversion
Loft Type: Velux
Area: Bedford
Duration: 4 Weeks
About The Project
For this project, DJ Moore Lofts built a lovely but straightforward Velux conversion for a client who was looking for some extra living space. They were hoping for a spare room that could be used as an area to enjoy their hobbies. The loft was the perfect space!
What We Did:
The home we were working on was only a couple years old but was perfect for a loft conversion! As the existing loft featured high ceilings at around 3.5m tall, this allowed us to create a large Velux conversion for the client. The existing stairs located in the centre of the house also aided the process massively, and we did not need to move any existing walls or rooms to create the necessary space for the new stairs and hallway. This layout creates an entirely natural look for the stairs which flow naturally up to the newly created room.
For this conversion, we installed 2 x SK06 Velux windows to provide a flurry of natural light and ventilation to the new space. The total completion time for the project was four weeks, providing the family with that extra space they required with little disruption and time. They are thrilled with the transformation, and DJ Moore Lofts are gearing up to begin another conversion on a home a few doors away this new year.
Mr Wright
"We are over the moon with our new space! The whole process was simple and everyone who worked on our home was a pleasure! "
John Doe December 2019
Pictures Throughout The Project