Converting your loft brings endless opportunities to your home, and furnishing your new space is undoubtedly one of the most exciting stages. However, due to the lower and often sloped ceilings, finding furniture to slot seamlessly into your room can take a little more research.
Having spent more than a decade specialising in bespoke loft conversions in Milton Keynes and the surrounding areas, we've made it our mission to arm our clients with all the advice they need to take full advantage of their new space. One option we regularly discuss is investing in a bed exclusively designed to accommodate a loft. With this in mind, read on to discover our top seven low ceiling loft bed ideas!
Low Ceiling Loft Bed Ideas | A DJ Moore Lofts Guide
A low loft bed is exactly what it says in the name – a bed that is low to the ground and usually doesn't have any space underneath. The loft part comes from the fact that they are ideal for lofts as they are low and flat, allowing them to fit in loft conversions with ease. When looking for your loft bed, you will only need to search for low beds, which usually only contain a frame and has no legs and no, or minimal, storage underneath.
Depending on the loft conversion, a low loft bed may be ideal as it can maximise the space while providing extra comfort and style. We have a host of loft bed ideas for you to piece together an interior design that best suits your style. Take a look below for some inspiration:
If you are looking for a design that ensures that your bedding colours and patterns take centre stage, then you're going to love the low loft bed by Get Laid Beds. Get Laid Beds are a specialist bed company based in London, they offer a variety of beds including loft beds. On their website, this bed is displayed as a "space saver bed", so if you're looking for a bed that leaves you with maximum space to work with, then this is the one for you.
Available in 10 different colours, ranging from red to black and seven different wood finish shades in solid hardwoods, these beds are suitable for any bedroom of any colour. The bed is one of the lowest in their range and is designed to fit perfectly into snug areas where space is limited.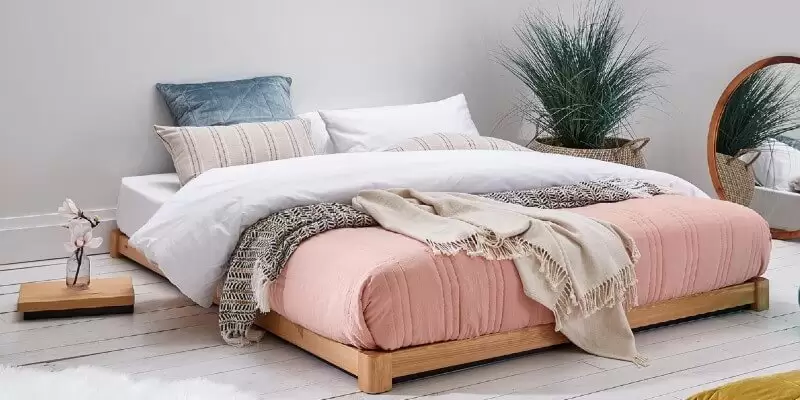 Get Laid Beds: Low Loft Bed (Space Saver)
For a bold statement that elegantly frames your mattress and bedding, we suggest investing in a stunning black low loft bed that adds an abundance of traditional style, such as this charming Chesterfield style low bed from Barron Beds. Barron Beds specialises in grand traditional Chesterfield beds, and you can find a host of stunning velvet and studded designs on their website.
We particularly love this contemporary style, as it offers a low bed with a thick frame surrounding the mattress to make a statement. This bed has multiple options for you to choose from, with sizes ranging from a single bed to super king! You can also choose from a wide selection of colour and material options, tailoring your new Chesterfield bed to your style. This particular bed frame costs around £310, depending on the size and material you choose and can be with you in just 5-14 working days from purchase. The quick delivery time means that as our team are approaching the end of your loft conversion build, you can purchase your new bed ready to be installed into your new space.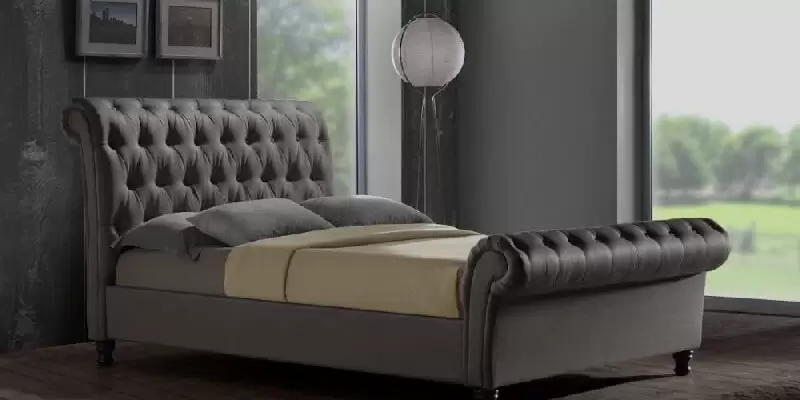 Barron Beds: Chesterfield Stylish Bed Frame
If you are looking for something a bit more modern to incorporate into your new space, then why not consider a unique design? The design of this Volo Italian Modern Leather Bed from Beds.co.uk is a great example of how you can find some stunning beds with a unique twist. This bed features an almost folded design to add curves while maintaining comfort. The backboard of this design is padded for extra comfort, giving you support while you relax in bed.
The Beds.co.uk Volo Italian bed comes in six different colours, from red leather to black leather, which can help to enhance colour schemes or create a dramatic impact through furniture. This bed is also available in 4 different sizes, ranging from small double to super king, helping you to find the perfect size for the space you have to work with. If your current loft does not have efficient space for you to fit in the bed of your size, then we would recommend talking to our team about our dormer conversions. Dormer conversions add exceptional space onto your loft while also elevating the roof to provide additional headspace.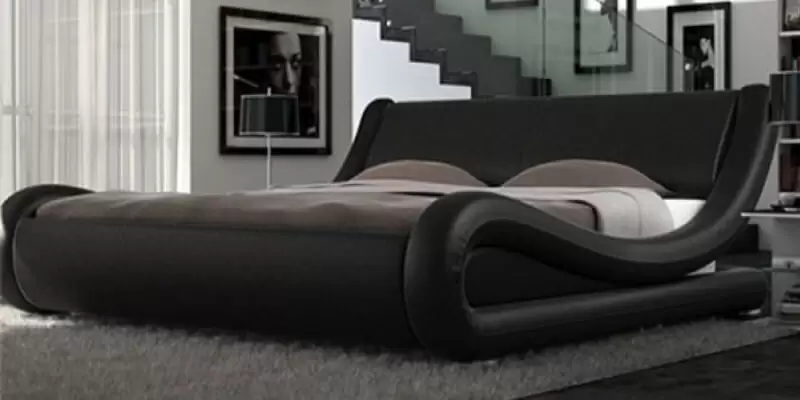 Beds.co.uk: Volo Italian Modern Leather Bed
Traditionally Japanese beds tend to be low in stature, simple and elegant, making it the perfect piece to add to your new loft conversion for a simplistic and modern style. A great example of this design can be found on the Natural Bed Company, where they have taken inspiration from Japanese simplicity to elevate your interior design.
This bed is simple and straightforward and can add a beautifully elegant touch to your loft conversion. This is a bed that has been designed for loft conversions and can, therefore, fit snug in tiny places and take up as little room as possible. The bed is also hollow underneath, leaving extra space for the storage of your belongings, so takes full advantage of the space-saving ideology.
The Kumo Low Loft Bed from Natural Bed Company is available to be ordered with or without a headboard; the bed without the headboard has two small stands underneath that hold up the bed. The idea of this bed is to give the illusion that it is floating above the floor, hence the name 'Kumo'. The word 'Kumo' is Japanese for 'cloud', so it is quite literally called the cloud bed. Available in eight different wooden shades and seven different sizes, this low loft makes the ideal addition to your loft conversion.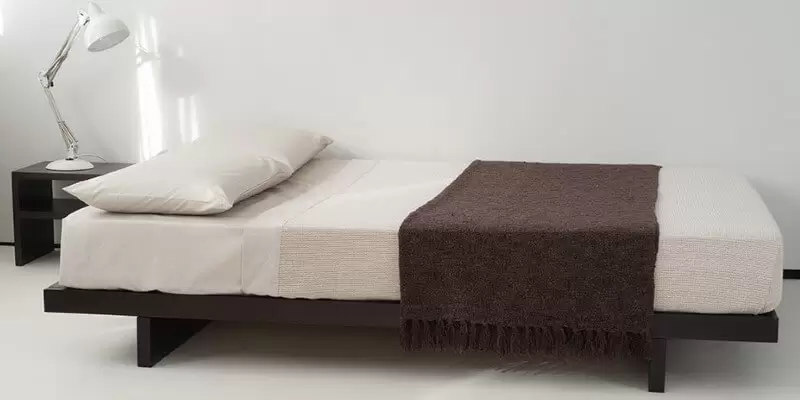 Natural Bed Company: Kumo Low Wooden Bed Without Headboard or Kumo Low Wooden Bed With Headboard
Another style from the Natural Bed Company line of low loft beds is this contemporary and sophisticated wooden bed. The Oregon Platform Bed is ideal for someone who wants a statement piece in their room. Styled as a low-down bed with a platform around it, this bed will give your room a more luxurious, authentic look. Despite its gorgeous look, this bed is probably only suitable for loft conversions that have that tiny bit more space, it's still practical and fits in small spaces, but it's slightly wider than some of the beds we have mentioned.
This bed is perfect for those lazy Sunday mornings with side tables attached to the bed to balance your morning coffee and is available in 6 different wooden shades and all sizes, making this bed widely favoured. While this bed may be on the slight pricer end, the quality of materials used makes it a worthwhile investment.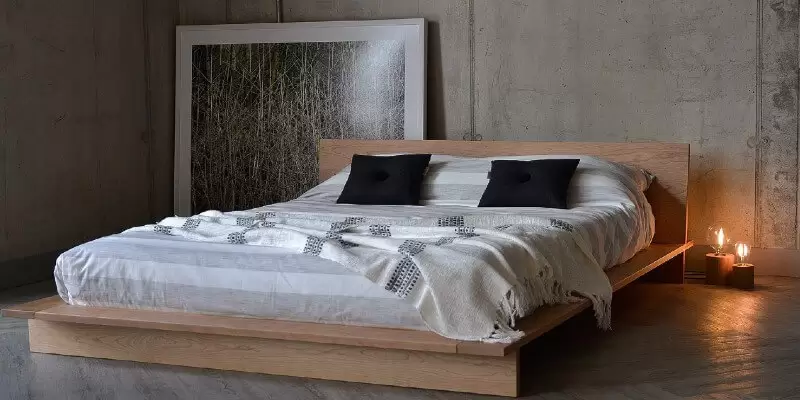 Natural Bed Company: Oregon Platform Bed
If you are looking to create a statement through colours on your bedding, such as vibrant cushions, then you are going to fall in love with this extremely simplistic low bed frame from Wayfair; in fact, you can't get a bed any lower than this! The Hardman Bed Frame acts as a stage for your bed, only slightly framing it with a sheet of high-quality wood. The low design of this bed makes it exceptionally favourable for those with lower roofs, such as in a loft conversion and can help to provide a clutter-free zone by offering a simplistic design.
Staying in tune with the simplicity of this design, the Hardman bed frame is available in six different colours; white, black, espresso wood, grey wood, light wood, and redwood, making it even easier for you to find a finish suited to you. On top of this, you can choose from eight different sizes, making it exceptionally easy for you to find a size that can fit into the space you have to work with.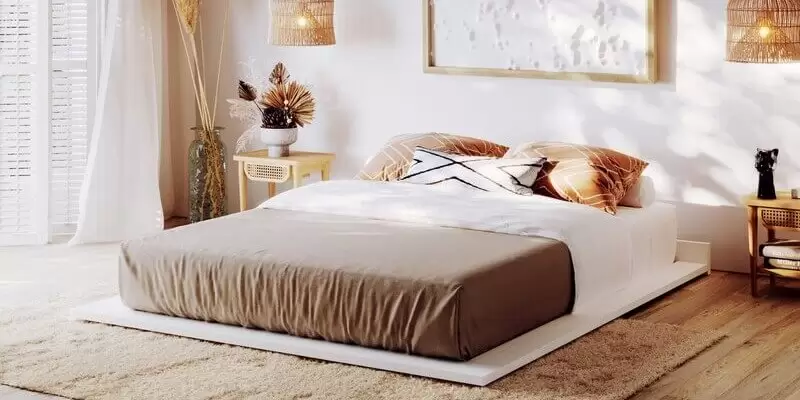 Wayfair: Hardman Bed Frame
When creating your dream and luxury loft conversion in Milton Keynes with the DJ Moore Lofts team, you want to ensure that the pieces of furniture you incorporate into the space follow the luxury vibe you have created. This futuristic-looking bed from Daal's offers a quirky and unique design with its curved base, and brings colour through the LED lighting under the frame. The light protrudes from under the curves, giving a stunning effect when the lights are turned off for a relaxing and soothing feel. The LED lighting can also be controlled with a wireless controller, and you can choose from multiple different colours.
While this design may not have as many size options as previous low beds mentioned in our guide, the highest price you will be paying for this exceptional bed is £249.99! This makes it one of the most versatile beds at the lowest price on our guide.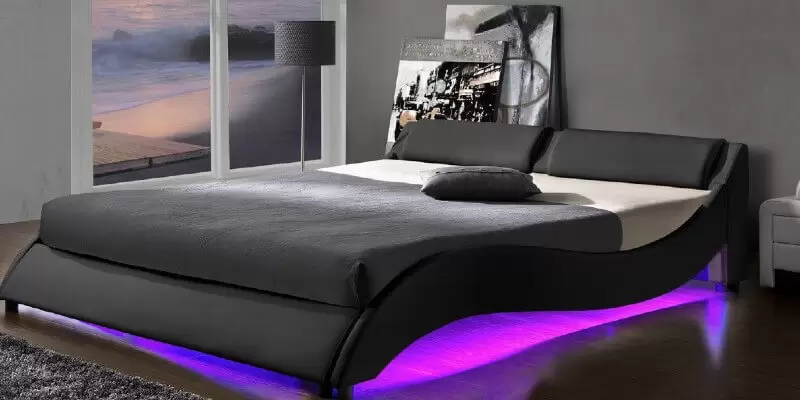 Daal's: CORVUS Faux Leather Upholstered Bed Frame with Underbed LED Lights
The Perfect Loft Bed Ideas For A Low Ceiling
It can be tricky to find the perfect low bed frames for lofts, but we hope that our guide, which includes multiple design options and locations to find more designers, has given you some inspiration. When looking for loft beds, it is essential to measure both the height and width of your space, as this can help to give you a good indication as to what size bed frame to purchase. Low loft beds are particularly popular as they provide comfort and style while maintaining convenience for those with a low roof. If you are considering getting a loft conversion and want to know of the host of benefits it can offer, feel free to take a look at our previous article or get in touch with our specialists now!