Low loft beds are ideal for anyone with a loft conversion and are not only practical but just as comfortable as a regular bed. Although loft beds are solely flat, they are available in a variety of different styles, shapes and colours and can make a nice addition to your new loft conversion. So although low loft beds are practical and comfortable, what are all the different styles of low loft beds? In this article, we are going to present you with some of the nicest and stylish low loft beds available to make your loft conversion unique and comfortable.
What Is A Low Loft Bed?
A low loft bed is exactly what it says in the name; the loft part comes from the fact that they're ideal for lofts due to the fact they're low and flat so that they can fit in loft conversion with ease and help you to avoid head-butting your slanted ceiling every morning.
Although you don't have to have a loft conversion to actually have a loft bed and a lot of people use them in their bedroom just because they prefer them and look nicer in their room.
#1 Get Laid Beds Low Loft Bed
Get Laid Beds are a specialist bed company based in London, they offer a variety of beds including loft beds. On their website, this bed is displayed as a "space saver bed", so if you're looking for a bed that leaves you with maximum space to work with, then this is the one for you.
Available in 10 different colours in Scandinavian pine, ranging from red to black and 7 different wood finish shades in solid hardwoods these beds are suitable for any bedroom of any colour. The bed is one of the lowest in their range and is designed to fit perfectly into snug little areas where space is limited.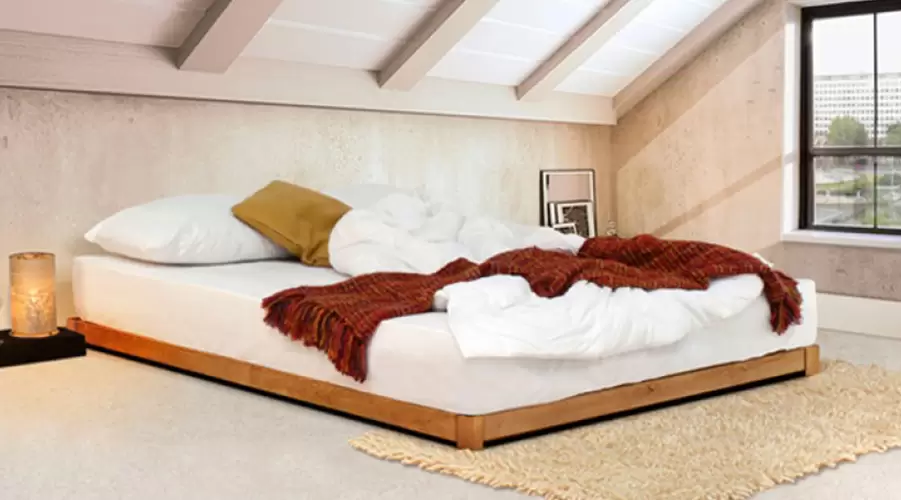 Available At Get Laid Beds
#2 Warren Evans Low Bed
Warren Evans handmade beds in London offer luxurious beds you can curl up in comfort to release stress in the evenings. On sale at the moment for a fantastic £438 pound for a super king sized bed reduced from £870 this is a deal that you need to grab up! This stylish bed has been specifically designed for rooms with small spaces and low ceiling heights, and are perfect for extensions like our loft conversions in Milton Keynes but would also make the perfect addition to your newly vamped bedroom.
Using traditional carpentry methods this bed is sturdy and comfortable and will stand and serve its purpose for years to come.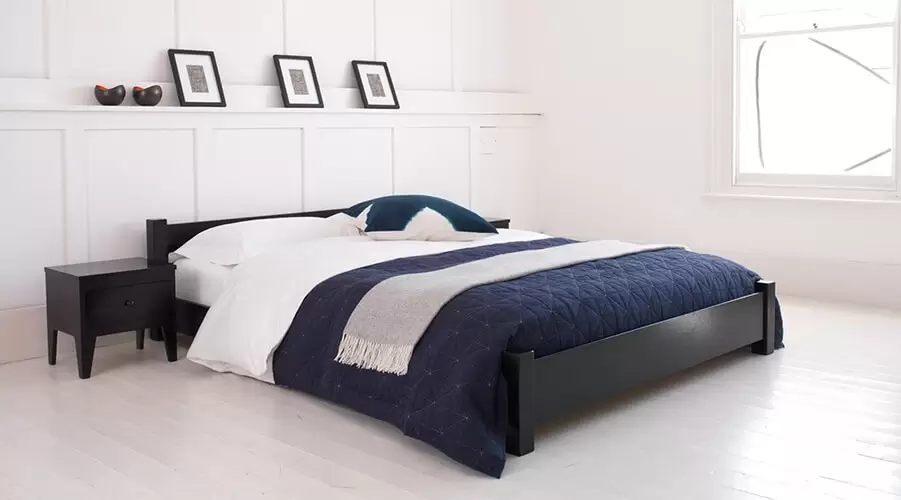 Available At Warren Evans
#3 Wayfair Mariba Upholstered Bed Frame
If you like keeping up to date with the latest trends and fashion then this ones for you. This true modern design adds an unusual spot of decor to your bedroom, despite the fact this bed aims to create space in your room it has a contemporary twist.
It's curved low profile frame features a spring slatted base for utmost comfort and also aids in keeping your mattress in top condition for as long as possible. This bed is reliable and sturdy but is also decorated with the finest faux leather to make it suited for a more modern and contemporary bedroom. It's available at Wayfair in a variety of sizes and shades.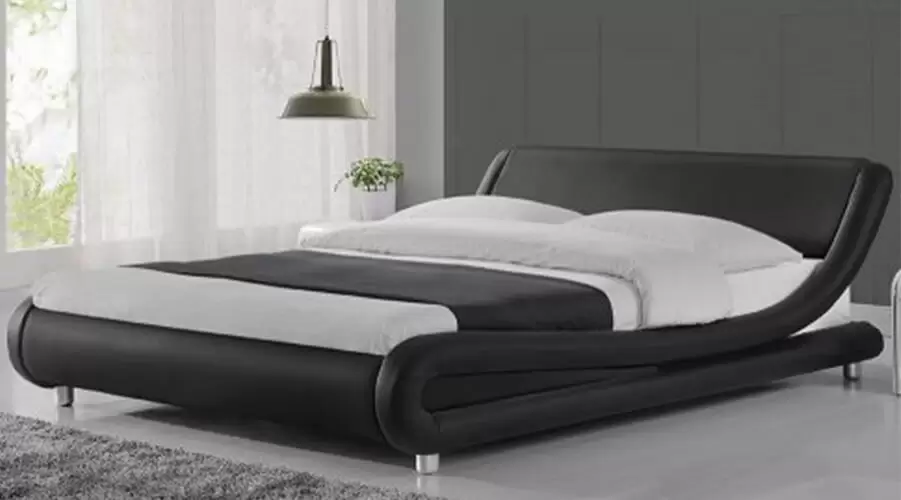 Available At Wayfair
#4 Natural Bed Company Kumo Low Wooden Bed
This bed is pure and straightforward but can have a really nice effect on your loft conversion. Yet again it's a bed designed for loft conversions and to fit snug in tiny places while taking up as little room as possible. This bed is also hollow underneath leaving extra space for the storage of your belongings so takes full advantage of the space saving ideology.
The Kumo Low Loft Bed from Natural Bed Company is available to be ordered with or without a headboard, the bed without the headboard has 2 small stands underneath that hold up the bed. But they give the effect of the bed is floating just above the floor, the word "kumo" is actually Japanese for the world "cloud" so it is quite literally called the cloud bed. Available in 8 different wooden shades and 7 different sizes this low loft makes the ideal addition to your loft conversion.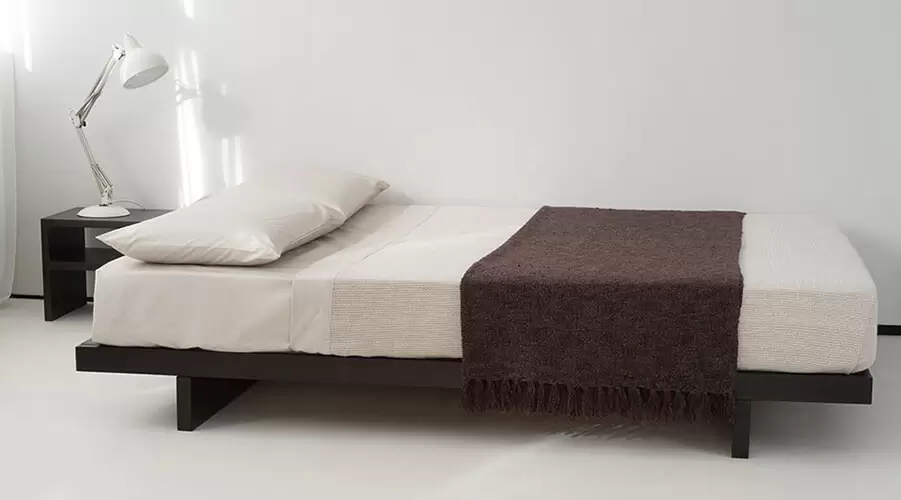 Available At Natural Bed Company
#5 Natural Bed Company Oregon Platform Bed
Another one from the Naural Bed Companies line of low/loft beds. The Oregon Platform Bed is ideal for someone who wants a statement piece in their room, styled as a low down bed with a platform around it this bed will give your room a more luxurious authentic look. Despite its gorgeous look, this bed is probably only suitable for loft conversions that have that tiny bit more space, it's still practical and fits in small spaces, but it's slightly wider than all the other beds we have mentioned.
This bed is perfect for those lazy Sunday mornings with side tables attached to the bed to balance your morning coffee, available in 6 different wooden shades and all sizes this bed is widely favoured and looks as if it would be really comfortable.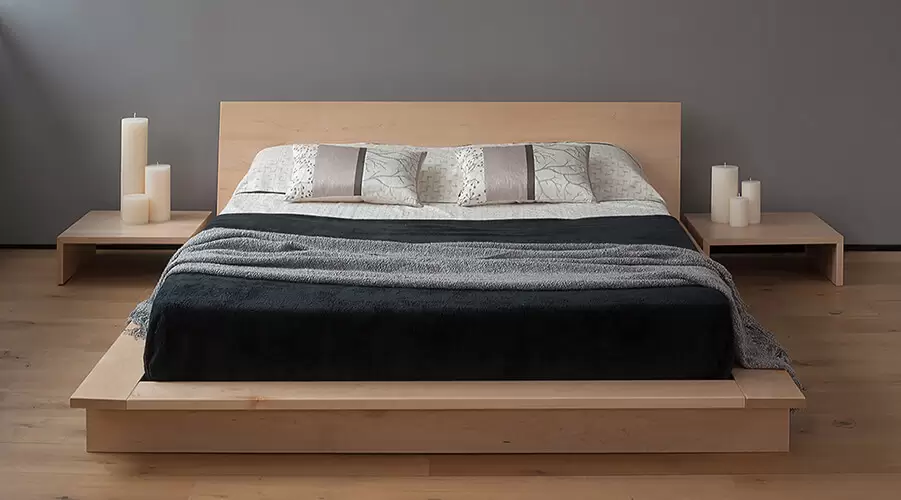 Available At Natural Bed Company
#6 Futon Company Platform Kingsized Bed
This company specialises in low down beds and flat futon beds, this bed is inspired by mid-century modernism this bed is a really good addition to your loft conversion. Curved yet low down this streamlined sleek bed is naturally modern minimalism at its best and provides extra comfort for the perfect night's sleep.
This authentic bed has a natural simple to it and is made out of solid acaica wood, making it a firm but also comfortable option to accessorise your room with. Create a new chapter with this stylish bed, it has no headboard and is another low bed that gives the ideology of floating just above the floor.

Available At Futon Company
Summary
So there are some of the best and comfiest low loft beds that can spruce up your new loft conversion or bedroom. Interested in a loft conversion for your own personal space? Here at Dj Moore Lofts, we offer a variety loft conversions in Milton Keynes for the lowest and most reasonable prices. Why not take a look at the rest of our website or get a quote today!