Just over a month ago, we asked for your help to make a large donation to Bedford Food Bank to help those in need. We received amazing support from so many of you around Bedford and Milton Keynes, and we can not say thank you enough. Your donations have helped us to give the Bedford Food Bank over 440kg of food, including biscuits, tinned goods, and so much more.
We Donated Over 440kg To Bedford Food Bank!
Thanks to those that dropped off their donations and the team's trips to Aldi to spend £500 on food, we have been able to pass on an abundance of food donations to the kind hands of Richard at Bedford Food Bank. After making our donations, Richard showed us around the warehouse to view the parcels that get sent to families in need, talking us through the different types of food they put in their parcels and how they can help. As well as this, Richard also showed us the van that was going out that day with the food parcels, and it just goes to show the amazing work that these volunteers do for the food bank.
How Can You Help?
We are still taking donations and are more than happy to collect your food donations from your home with our vans. All you will need to do is get in touch with our team to let them know that you would like to make a donation, and we will arrange to collect. Alternatively, you can make a donation to our Go Fund Me page, where every penny counts and even £5 can make such a huge difference to a family in our community. You can also make a donation to the food bank by visiting their website!
It is not just money that the food bank needs to help families in need; in fact, the food bank has seen a rise in donations, making them busier than ever, which means that they have a desperate need for support. If you don't have the money to spare but would love to lend a helping hand, then we highly recommend taking a look at their website for volunteering opportunities. You can also find clear information about the foods that they desperately need and those that they have an abundance of.
Simply sharing our YouTube video, posts, or even the food bank website on social media can make a big difference!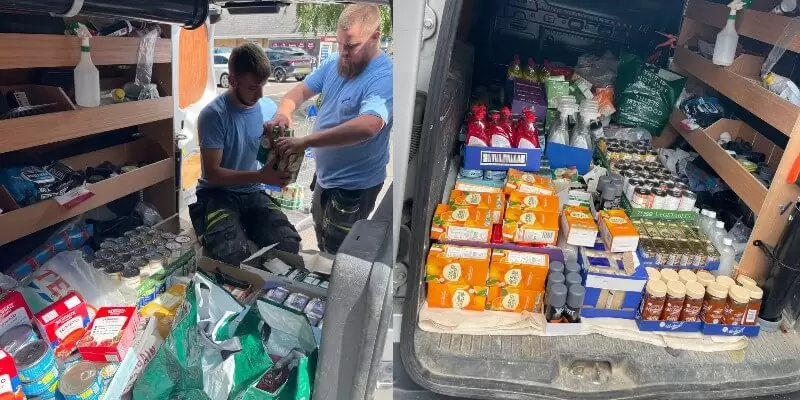 Thank You For Your Support!
Again, we can not say thank you enough for the kindness of your hearts to donate to the Bedford Food Bank, who will package your donations to gift to families around Bedford. We would also like to say a special thank you to the local businesses that helped: James Kendal Estate Agent, Gud Ideas, Perspective Studios, The Style Studio, DJ Moore Plumbing and Ben Michael & Co.Please keep an eye out on our social media channels as well as our blogs for information on other donation opportunities and charity work our lovely team take part in.