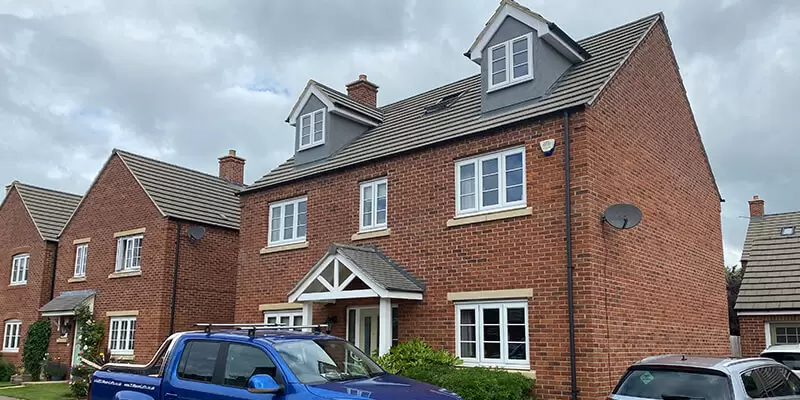 Dormer Loft Conversion
Loft Type: 2x Pitched Roof Dormer Loft

Area: Deanshanger

Other Services Decoration & Carpet
About The Project
The DJ Moore Lofts team recently completed a project on a stunning home in a new development in Deanshanger, Milton Keynes, for a truly lovely family. The team were introduced to this client through a friend who had recently had their loft converted by the team, and were over the moon with the results. The client was looking to add some extra space onto the home, and with the perfect existing lining, it meant that the team had no problem in fitting in a set of stairs without making any changes to the existing layout of the room.
What We Did:
After speaking with the client about their options and how they can transform their home, the team set about building the two front pitched roof dormers. These were finished in a grey k Render to blend in with the existing pre-made dormer on the estate, as well as matching style windows from Crown Windows.
The team managed to create large bedrooms and a cloakroom toilet in the space provided, which would allow the growing family to enjoy their newfound space without having to move house. To enhance natural light in the loft, the team also installed four MK04 Velux roof windows which have provided the family with a light and airy room.
After the loft had been installed and the client was happy, we recommended our trusted decorator, Ben. The clients discussed their preferences with Ben, who fully decorated the space for the client, including help from our recommend carpet fitter, which provided the client with the opportunity to complete their loft under one contract.
This conversion was being built during the lockdown, so we did have a few small delays here and there due to being unable to deliver materials and being temporarily unable to work. However, the clients were extremely understanding and exceptionally happy with the final result of their new home addition. Thanks to the amazing work completed by the team, we have also now been introduced to another client a few doors down to complete their loft conversion.
What The Client Said
" We cannot recommend DJ Moore Lofts enough. There is no other choice when it comes to first rate loft conversions and customer service. The team are skilled, hard working and dedicated to delivering the very best quality to their customers. Throughout our project (which included the period of lockdown!) Dan and his team worked incredibly hard to deliver a fantastic space, keeping us informed at all times. Having a WhatsApp group with Dan, Charlie and Lianne made it really easy for us to ask any questions as and when they popped into our heads and it was great to get pictures updating on progress throughout the day. Thank you so much for making our home even more special! "
John Doe July 2020
Pictures Throughout The Project