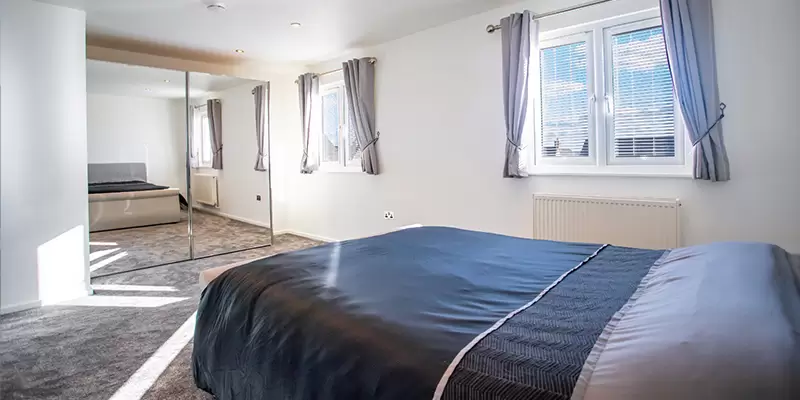 Dormer Loft Conversion
Loft Type: Rear Flat Roof Dormer
Area: Bedford
About The Project
This lovely family in Bedford were looking to create a bigger home and a larger master bedroom. After our first meeting, it was clear that the loft had the potential to be transformed into a huge open space, so we were really looking forward to this conversion.
What We Did:
The first task we had to complete was moving the existing boiler. After looking at the condition of the boiler, we concluded that replacing it with a new boiler would be the best route; this would come alongside our 10-year warranty. Our in-house plumbing team handled this at the very beginning of the build, freeing up the loft area ready to be converted.
For the conversion itself, we built a rear flat roof dormer, finished with tiles to perfectly match the existing room and two uPVC windows to match the property. To the front of the dormer, we installed three MK04 windows – one for the landing, one for the ensuite bathroom and the last for the bedroom.
Inside the conversion, we fitted a beautiful bathroom suite, installing a fantastic double shower along with full tiling across the walls and floor. The stairs were placed up and over the existing set, which fitted perfectly into the layout of the property with no need to lose any space from the existing first floor.
Overall, we were able to create a fantastic dormer conversion in Bedford, and the family are over the moon with their new large bedroom!
What The Client Said
"I would highly recommend Dan and his team to anyone that is looking at having a loft conversion. From planning through to completion the whole process was completely stress free with minimal disruption. Harry and Phil completed the structure quickly and efficiently and were a pleasure deal with, as were all of the other trades involved. The end result is fantastic, thank you to all of the team."
John Doe January 2021
Pictures Throughout The Project