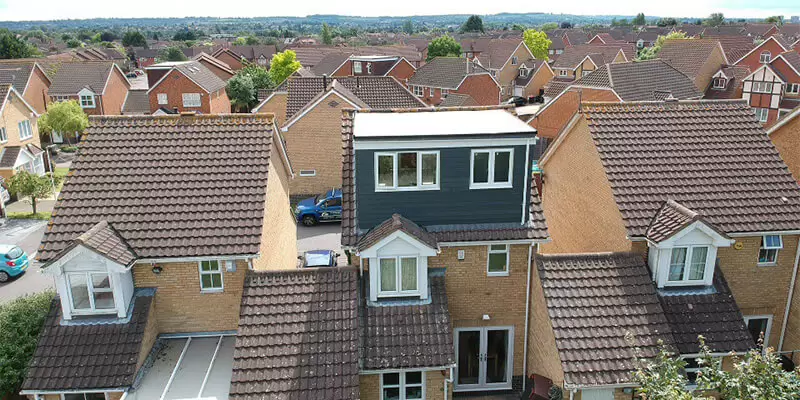 Dormer Conversion
Loft Type: Dormer

Area: Luton

Duration: 6 Weeks
About The Project
DJ Moore Lofts recently paid this particular street in Luton a second visit as we completed our second conversion on this street! The Brooks family were looking to convert their loft space into a large master bedroom and a new bathroom. With their vision in mind, we began setting out plans and designs for a Dormer Loft Conversion.
What We Did:
This property was a dream to work on. The style of the house and roof is an example of a perfect space for loft conversion. The layout of the existing stairs meant that the new stairs we were installing could go straight over the top of the old ones with minimal to no disruption to the current floor plan. The rear dormer conversions are extremely popular and are particularly easy to create fantastic new spaces and in many cases, arguably the biggest room in the house.
The master bedroom we fitted in the loft conversion is beautifully bright and airy thanks to two Mk04 Velux Roof windows and one large uPVC window in the rear. This window allows for an incredible view of the countryside with the new master bedroom overlooking this perfectly. After the room was installed, the client also asked us to build them some beautifully bespoke wardrobes with a matching chest of drawers. George of Chippy handled this from start to finish, and the client was thrilled with the result. It was just what they needed!
The rear dormer conversion is finished with Iron Grey Hardie Plank cladding. Arguably the most popular finish, we look the look this gives! It's simple yet chic and leaves the property with a clean and modern aesthetic.
On this particular project in Luton, we handled not only the loft conversion but also the interior decorating. This was completed from the very top of the loft, all the way down to the new hallways and stairs. This left the client with little work themselves other than to choose the colours and carpets they wanted in the room!
We love the stunning new master bedroom and bathroom the Brooks family have in their transformed home. This conversion is another excellent example of how the dark, unused spaces of a home can become the best room in the house! Thanks to everybody who worked on this job, great work!
Mrs Brooks
"DJ Moore Lofts did such a fantastic job on our loft! The space is completely transformed and finished beautifully. They kept us up to date every step of the way and we felt very little disruption at all! Five stars all round! "
John Doe 16th November 2019
Pictures Throughout The Project