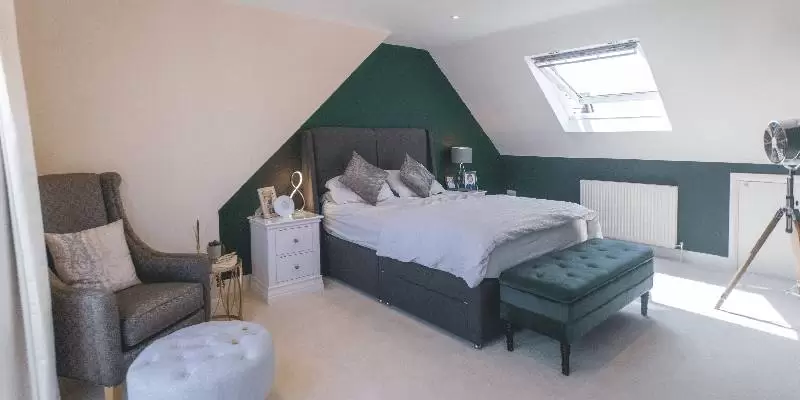 Dormer Loft Conversion With Ensuite
Loft Type: Dormer Conversion On A Truss Roof
About The Project
Take a look at another one of our stunning loft conversions in Aylesbury, which we completed in the summer of 2021 for a relatively new build home on a new estate. The client had a vast unused loft space which they wanted to convert into a more useful area. Once we saw the size of their loft, it was clear we could make something special for them.
The finished product features a spacious open plan bedroom layout, complete with ensuite and dressing area, SK06 Velux windows and a Juliet balcony.
What We Did:
The client initially contacted us as they were looking to create a large master bedroom space with an ensuite and dressing room. We recommended a rear flat roof dormer roof conversion, the addition of a Juliet balcony and side-by-side windows to add ample amounts of light and ventilation to the space. In addition to this, we set out an open plan design and floor plan that worked with the existing stairs going up and over to avoid losing space downstairs on the existing first floor. This design maximised the open space room at the top of the newly installed stairs.
We created the space in the truss roof using a mixture of steel and timber joists to remove all of the existing trusses and then gave the client open spaces to start dividing up into rooms and useable areas. We then proceeded to build a stunning ensuite with a standalone bath and shower, along with his and her sinks. The client made some creative tiling choices which worked really well in such a spacious bathroom.
A dressing area was created just outside the bathroom thanks to second fix carpentry, building in bespoke wardrobes and a bench area with built-in drawers for extra storage. The beautiful colour chosen accentuated the items, which stood out beautifully, looked aesthetically pleasing and maintained their practical uses, such as the dressing table. The client installed a large-sized bed; however, the room still maintained plenty of free space around the sleeping area due to its sheer original size. The additional space could even be used for extra chairs or a chill-out area.
Overall this is a fantastic example of what a dormer conversion can give you, and with a new truss roof, a luxurious hotel suite type of room can be created. Our clients are over the moon to have a new space they can utilise daily. If you're interested in one of our dormer conversions in Aylesbury or any of our loft conversions in Aylesbury, get in touch with one of our team today.
Pictures Of The Finished Project