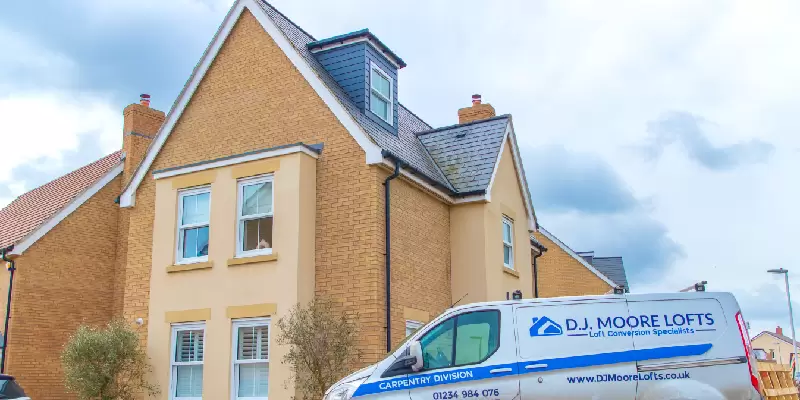 Double Dormer Conversion, Biggleswade
Loft Type:Double Dormer Conversions On A Large Truss Roof
About The Project
Our team have recently completed another fantastic conversion project in the popular town of Biggleswade. This particular project was on a house that was only a couple of years old, located in the new Kingsbrook estate – it had a remarkable and spacious truss roof with a high pitch, which is just what our team love to see!
What We Did:
Our clients had always dreamed of a luxurious master suite with lots of natural light, but they were deeply fond of their current location and didn't want to move. When they approached our team, who specialise in loft extensions in Bedford and its surrounding areas, having been recommended by a friend, we wasted no time getting started! With their vision in mind, we embarked on the project and successfully transformed their desires into reality. To do this, we added two small flat roof dormers that complemented the existing architectural style of the estate, finished in grey cladding and matching the fascia gutter. The result was a breathtaking master bedroom and bathroom that truly exceeded their expectations.
The bedroom was finished to an exceptional standard with our team's thorough attention to detail, and is adorned with windows at both the front and back, allowing for refreshing views and an abundance of natural light. The bed is perfectly positioned against the original end gable wall, creating a stunning feature wall that adds a touch of elegance to the room, and, to enhance the atmosphere further, we installed wall lights, providing soft, warm and cosy illumination. Additionally, our client opted to incorporate wall panelling, a popular trend that we see in many contemporary homes and lofts, which further added to the overall aesthetic appeal of the space.
In order to fulfil our client's vision, we incorporated a gorgeous ensuite bathroom that truly transformed the space, boasting luxurious features such as a freestanding bath, a spacious shower, his and hers sinks, and a toilet. The strategic placement of a window at the front and a large Velux window at the rear allows natural light to flood the space, illuminating the exquisite marble tiles.
To really tie the area together, we created a spacious dressing area between the bedroom and bathroom – it has been fully fitted out with bespoke wardrobes and a custom dressing table, complete with integrated LED lighting- a dream, right?! But that's not all; to ensure a seamless transition, we designed the stairs to go up and over the existing structure, thanks to a small rear dormer. This not only allowed the stairs to fit in naturally, but it also provided an opportunity to add a window, allowing more natural light into the previously dark hallway – our clients were delighted with this feature.
We here at DJ Moore Lofts are extremely proud of this exceptional conversion project, especially when it comes to the remarkable master bedroom. However, the true measure of our satisfaction lies in the happiness and contentment of our valued clients. Seeing their delight in the final result is truly rewarding for our entire team, and we were thrilled to receive a lovely 5-star review, which serves as a testament to the outstanding outcome achieved, and reinforces our commitment to delivering exceptional craftsmanship and ensuring our clients' dreams are brought to life.
If you want to breathe some new life into your home, we would love to help! Our experienced team specialise in loft conversions in Bedford and its surrounding areas, and one of our members would be more than happy to take you through your options. Contact us today for a quote – with your ideas and our expertise, the possibilities are endless!
What The Client Said
"We were recommended DJ Moore Lofts by some friends and decided to go ahead once we met with Dan and received our quote. Now we are beyond thrilled with our new, finished loft conversion! Right from the start, Dan listened to exactly what we were looking for, offering suggestions and ideas along the way for things we hadn't considered, which was great.
The team have been fantastic, particularly Nathan and Jamie, who worked very hard day in and day out, always keeping tidy and prompt and making sure we were happy with every stage.
One big thing we were impressed with was the communication from Dan and the team at every stage and whenever we needed them. This is something that many home improvement businesses and builders lack from our experience, so we were so grateful for the regular updates! Dan was also fully transparent with all pricing which helped us monitor our budget accurately.
We've also booked the services of contacts of the team, such as decorators and carpentry and have been really happy with the recommendations.
We would fully recommend DJ Moore Lofts without hesitation to anyone thinking of a conversation, and we now have our dream master suite. Thank you so much!!!
"
John Doe October 2022
Pictures Of The Finished Project