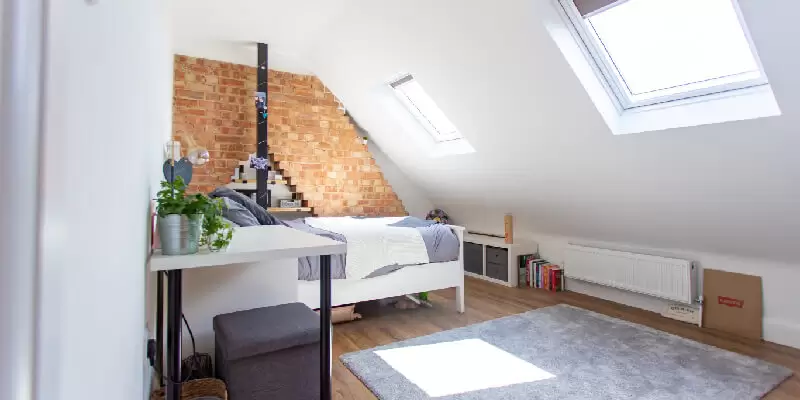 Hip To Gable Conversion In Kempston, Bedford
Loft Type: Hip To Gable Conversion
About The Project
For this project, our experts in loft conversions in Bedford helped to transform this fantastic loft space for our client's growing family. We were contacted to create three bedrooms – yes, that's right, from a loft conversion, our client has gained three large, functional new rooms!
Admittedly we had to sacrifice one of the existing rooms to make space for the new loft stairs, but in return, the existing three-bed property has now turned into a five-bed property.
What We Did:
As the original roof was hipped, our specialists in hip to gable conversions in Bedford chose this particular conversion type to allow our clients to take full advantage of their loft space. We removed the hip section, built a new timber gable, infilled the front roof, and added a rear flat roof dormer. The new roof and dormer are finished in a pristine white render thanks to a local company MVM Rendering.
Adding the new gable wall and roof gave us the space and height to get the stairs up and over the existing set, meaning minimal space was needed from the original layout. Although we could have put in a slightly smaller set of stairs and kept some landing space for an office or nursery, the client opted for an open plan instead. They had seen one of our previous conversions in the area that featured an open plan and were keen to replicate the bright, airy environment, which was maximised by adding multiple windows.
In the loft, we created two double bedrooms and a box bedroom for an office. Both double rooms benefit from some existing brickwork being left exposed to the chimney, which adds a lovely focal point to the loft space. This feature is in keeping with our client's home, as they also have brick slips in their kitchen.
On the outside of the property, we updated the roof with new tiles, felt and battens for a consistent appearance and durability for many years to come. This ended up being a little more cost-effective as the scaffolding was already up, and some of the work would've needed to be completed anyway.
Thanks to their hip to gable conversion, our client now has the much-needed space they need to give each of their children their own room. Not to mention a brand new, dedicated office which is a must-have for many in the current climate. This is now the 2nd conversion we have done on this street now, and we're sure we will be back again!
If you want more information on our services or are ready to get started with a free quote, do not hesitate to contact us now!
Pictures Of The Finished Project