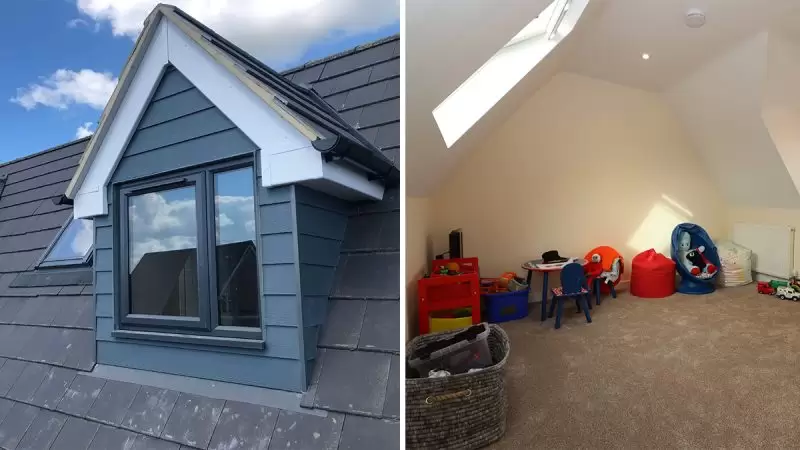 Pitched Roof Dormer Loft Conversion, Bedford
Loft Type: Pitched Roof Dormer Loft
Area: Bedford
Duration: 5 Weeks
About The Project
The client that had this stunning Dormer Loft Conversion had already thought a lot about what they wanted out of their conversion. They had designed their own plans to create two new bedrooms, and a small en-suite in their loft space and the DJ Moore Lofts team happily complied to their spec, building the loft conversion they had envisioned.
What We Did:
For this family in Wootton, Bedford, we built two pitched roof dormers to the front of their house, finished in matching blue cladding to the rest of the new build home. We then had the UPVC windows painted and colour matched to the existing windows so that the new addition to the home matched seamlessly.
For us to install the new stairs over the pre-existing, as well as ensuring there was enough head height, we had to pinch a small amount of space from the existing hallway and spare bedroom. It was completely worth the sacrifice to gain two lovely sized bedrooms in the loft.
This conversion was completed and handed over to the clients within five weeks, and the team have been asked to build another two conversions in the same area. Thanks to these lovely clients sharing their new loft space with friends and neighbours, our team now have various different design and installation jobs for referred clients.
The happy family love their new space and are currently using the two new rooms as a spare bedroom and a playroom. They have also kindly left us a fantastic review of the completed work!
Mr Field
" We were so impressed with the work by DJ Moore Lofts! They have been excellent throughout the entire process. We would definitely recommend them, and have done already!"
John Doe December 2019
Pictures Throughout The Project