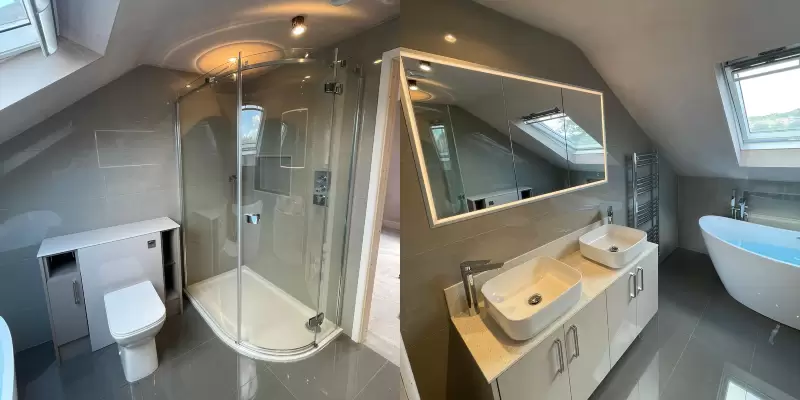 Rear Dormer Conversion, Berkhamsted
Loft Type: Dormer Conversion
About The Project
Our client, a lovely family in Berkhamsted, approached us with their own plans for a loft conversion back in 2021. Unfortunately, the client asked us to postpone the build, which was eventually completed in 2022, but this stunning transformation was worth every minute of waiting!
What We Did:
After some discussions, it was clear to us that the client's plans didn't accurately reflect their intended outcome – they had big visions for their project but needed to know how to optimise the space in the most efficient way possible. This, however, was no issue for our team. As always, we sat down with the family and took them through the various possibilities for the layout and design of their new master bedroom and ensuite. A key part of this process for us is getting the client into the space and involving them in marking layouts on the floor and measuring the area. This allows the homeowner to visualise the results, make final decisions and play an active role in the exciting process of transforming their home.
For this project, we created a large amount of usable space, which was great as it meant endless possibilities for us. The rear dormer build completely transformed our client's truss roof loft into a liveable, spacious area which we finished in grey Harris plank cladding with matching grey fascia and windows! In order to achieve a coherent, finished look throughout, we added a sleek new oak staircase and changed the existing stairs to match. We wanted to compliment the original features of the client's home, and the oak doors they already had looked great with the new matching stairs!
The result of this project was a capacious master bedroom with a stunning 4 piece ensuite containing a free-standing bathtub under the large Velux windows, a separate shower and beautiful tiling. This was completed by our talented sister company DJ Moore Plumbing, who often assist us in completing our loft conversions in Berkhamsted. We also added a dressing area and even fit in an office/snug space for the family, which could act as another bedroom if needed. Our client was extremely pleased with this amazing transformation that exceeded everyone's expectations!
This is another fantastic example of what a truss roof loft with an added flat roof dormer can give a home, transforming it entirely without the aggravation of moving house – even on a property less than 5 years old, the potential is endless. If you are seeking a dramatic change to your home, please don't hesitate to contact one of our specialists in hip to gable, Velux and dormer conversions in Berkhamsted today!
What The Client Said
"DJ Moore lofts are in high demand, so we were prepared to wait to make sure that they carried out our loft conversion, and we are so glad that we did (having to wait is a testament to the FACT that they are in high demand as their work is exceptional).
From the initial survey to the completion of the build, Daniel Moore and his team really listened to what we wanted and guided us through the process, no question was too small. There were no hidden costs; what was quoted was what we paid (there were NO hidden costs).
During the build, we made a few upgrades which were always quoted quickly. It's difficult to put into words just how fantastic they were. They always arrived on time, cleaned up at the end of each day and were polite and considerate, not only to us but also to our neighbours.
The new space (bedroom, ensuite, study and walk-in wardrobe), are amazing and have made such a positive difference to our family life.
Don't go anywhere else, just go to DJ Moore Lofts.
A massive heartfelt thanks to Daniel and his team."
John Doe December 2021
Pictures Of The Finished Project