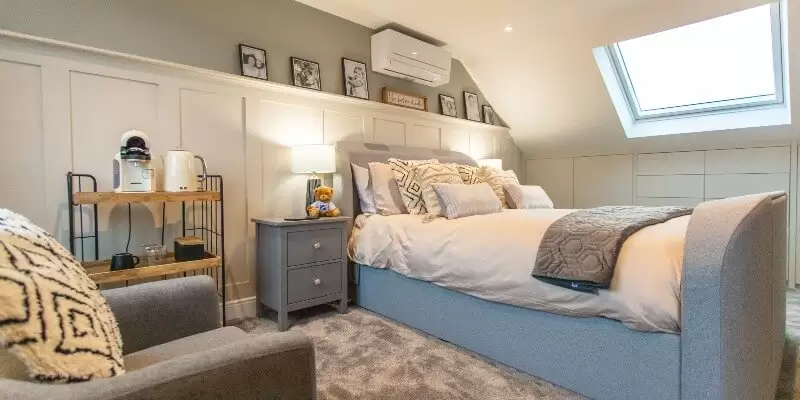 Rear Dormer Conversion, Wootton
Loft Type: Rear Dormer Conversion On A Large Truss Roof
About The Project
As specialists in loft conversions in Bedford, we recently had the pleasure of completing a stunning large dormer conversion on a new detached house in Wootton. The project involved transforming the space into a new master bedroom, a spacious bathroom, and a room that serves as a home cinema and office. The house, which is only around five years old, had a large trust roof, making it ideal for conversion.
What We Did:
After discussing the client's requirements, we proposed a flat roof dormer to the rear. However, since the loft was exceptionally spacious, we opted to step it in off the wall plate, creating generous interior space while maintaining an aesthetically pleasing look from the outside.
The master bedroom is generously sized and features windows at the front and rear, offering plenty of natural light and ventilation. We added decorative panelling to the walls, along with bespoke wardrobes and drawers around and beneath the bedroom Velux window.
The bathroom boasts a large wet room shower tray, fully tiled with elegant grey tiles. We included a soapbox for storage and added a wall-hung basin, a large mirror, and an additional storage cupboard. This high-spec bathroom complements the quality of the loft and the rest of the house seamlessly.
Moving on to the luxurious office/cinema room, which features a bespoke desk area crafted by one of our talented team members, as well as a comfortable cinema-style sofa. It serves as a practical and spacious home office, perfect for anyone who primarily works from home (as many people do now).
To accommodate the stairs, we cleverly designed them to fit over the existing ones. By moving an existing bedroom wall by around 200mm, we were able to create the necessary space without overly affecting the size of the large bedroom. The handrail and spindle were perfectly matched, as always, to ensure a cohesive look, blending flawlessly with the original design.
As part of the project, we also upgraded the existing doors throughout the house with new oak fire doors, ensuring compliance with fire regulations. But they weren't just for safety, as these doors beautifully matched the stair handrails, creating a harmonious visual appeal.
The rear dormer was finished with a grey Hardie plank (which is very popular in our client's estate), matching not only its neighbours but also the grey windows stylish finish.
Overall, this loft conversion is a remarkable addition to our portfolio, showcasing our expertise in loft conversions in Milton Keynes, Bedford and surrounding areas and delivering exceptional results. We take great pride in having successfully completed this project for a fantastic local family – to see them so pleased with the outcome is, by far, our biggest reward. Their satisfaction is evident in the glowing 5-star review we received on Google, a testament to the hard work and dedication of the DJ Moore Lofts team!
What The Client Said
"I'm so pleased with my loft conversion and from start to finish, Dan and his team were super professional and gave us so much advice and different things to think about, which has ended in a 10/10 result – I would recommend anybody thinking about a conversion or any work by DJ Moore team – I can highly recommend them!"
John Doe January 2023
Pictures Of The Finished Project