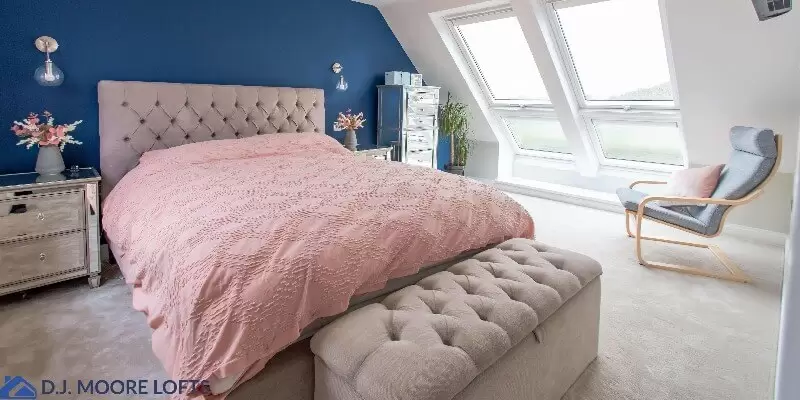 V-Shaped Dormer Conversion
Loft Type: Dormer Conversion
About The Project
Here we have completed a conversion for a family looking to add that extra wow factor bedroom. From day one, the client was looking to make the most of the view that can be seen from the house, thanks to their stunning location. We worked back and forth to come up with a fantastic window design that added a massive amount of light while utilising the beautiful views, adding a great feature to the room. The final design comprised of 2 top hung PK08, and two fixed PK34 all-white painted Velux windows.
What We Did:
The property is a relatively new house in an estate in Milton Keynes and has an original truss roof with some great height, but the home was a different shape from many standard properties. It was very important we came up with a design that matched the structure and shape of the property, which meant that it needed a complex floor and steel design. Thankfully, this is now the third property we have done of this style, so our team handled everything from the beginning and designed a space that also complemented the existing layout.
We had to reposition the existing airing cupboard and move a small wall and doorway to create the extra space needed for the stairs. By doing this, it helped us to get the stairs over the existing set, which worked perfectly to create two separate areas in the loft.
We had the design of the lovely large bedroom along with a dressing room and an ensuite/bathroom, creating an amazing third floor for the family to use as their master bedroom.
The dressing room has one large SK06 Velux window, which floods the room with light. It also features the custom wardrobes we built from scratch in-house for the client, creating a great useable space.
The bathroom benefits from a large shower with stunning pink feature tiles and a lovely navy bathroom suite that matches well with the clients painted colour scheme throughout the loft space, along with beautiful tiles on the other walls and floor.
The dormer that we built was finished in Hardie plank iron-grey cladding, which works really well for the area and the shape of the dormer, along with three matching UPVC windows.
Overall, this is a beautiful conversion completed by our team, and the clients are over the moon, using the space and enjoying the different views.
Pictures Of The Finished Project