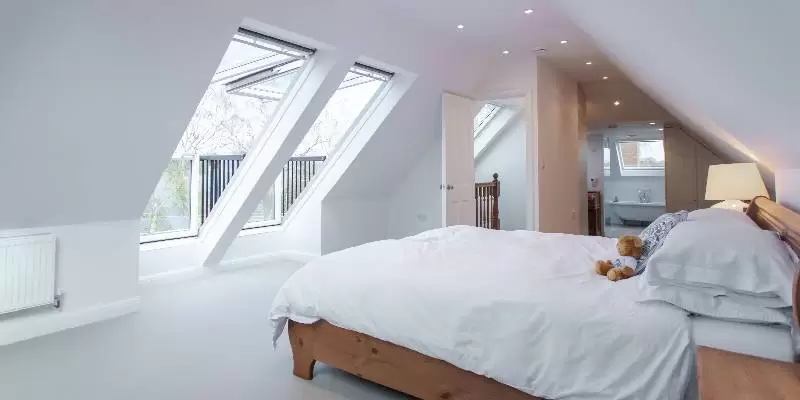 Velux Loft Conversion in Burcott, Leighton Buzzard
Loft Type: Velux Conversion
About The Project
This project involved a tricky loft conversion in Leighton Buzzard – a challenging but rewarding one to complete! We initially completed this conversion in 2019, but due to the pandemic, we didn't have the chance to visit until recently to capture photos and videos of the results.
This particular project is one of the more extensive Velux conversions that we've had the pleasure of working on. Thanks so much to Steve, Mario and the rest of the team; the loft conversion was completed to an extremely high standard, and it really does speak for itself!
What We Did:
We initially came to work on this conversion thanks to our design team, who had already handled all of the planning and permissions. The design team subsequently recommended us to the client, and, following referral, we quoted and secured the job, starting work after six months due to our lead time. We knew from the beginning that the client was looking to create a great space that would be open and flowing, complete with a stunning bathroom that PHS Bathrooms in Bletchley supplied. PHS Bathrooms have a 3D experience system to program designs, allowing them to walk the client through a 3D rendered version of the bathroom before it was built and installed.
The original loft area was huge but very dark and covered head to toe in spray foam, which is not ideal for a loft in terms of ventilation. It's a real nightmare to work with, as it has to be removed to fit supports, and space needs to be created for the new insulation to work while ensuring the timber does not rot. At some point, the house had an extension, and that loft space was semi-converted into a room. So we had to remove this, open it up and connect it to the main loft simultaneously. This area later became the finished bathroom and dressing area.
The main loft area was converted successfully, thanks to three large crank steel beams designed by the engineers at DB Structural. This, paired with structural timbers and joist work, allowed the area to remain in line with the existing hipped roof. We were able to open up the spaces further and connect these to the new loft area too. We removed a wall and room downstairs to create a large landing area, which now houses a fully bespoke solid mahogany stairs leading up the loft.
This loft conversion in Leighton Buzzard features large Velux windows and a stunning double PK19 Cabrio set-up that overlooks the rear paddock and surrounding countryside. Thanks to the four Electric SK06 and one Mk06, the loft is exceptionally bright and has a lovely open feel.
To remove the loft tanks and support the extra bathroom, we installed a new plumbing system. This was achieved by upgrading the main water supply to 22mm, installing a 300l water tank in an existing airing cupboard, and fitting two different zones using new hive controls.
The bathroom/ensuite itself has a full wetroom shower that is 1.5m by 1.5m wide, with walk-in fixed glass, alongside a lovely period free-standing bath and his and her sinks. Next to this area, we also installed a small cloakroom-style toilet with a door. The bathroom was fully tiled, and we created a bench area with large soap boxes for towels and items. Overall, we're really impressed with the size of this bathroom!
The main room is a spacious area, free of any cluttered items as there is ample storage in the large dressing area, which our carpenter George made bespoke to the roof slopes. This truly is a monster of a loft space, and the photos and videos do not do this space justice!
Thanks to the DJ Moore team for all of their hard work on this Velux conversion in Leighton Buzzard. It was a great one to work on and another great addition to showcase our capabilities as loft conversion specialists. We're so happy to have worked on this for such a lovely family too! Get in touch with us today if you have your own project that you want us to help you bring to life.
Pictures Of The Finished Project