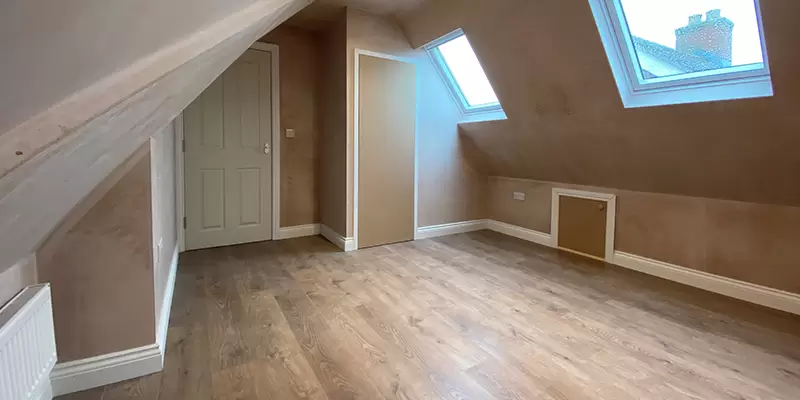 Velux Loft Conversion – Venus Avenue, Biggleswade
Loft Type: Velux Conversion
Area: Venus Avenue, Biggleswade
Duration: 5 Weeks
About The Project
Our team completed a fantastic two-bedroom loft conversion in Biggleswade for a lovely couple. They needed extra space for their home offices and were looking to create two large office rooms to use as their new work areas, freeing up the existing rooms in their home.
The loft itself was a great starting size and only a few years old. It had an excellent head height and pitch, so made a Velux conversion the natural route to go.
What We Did:
We opted for installing the new stairs to the loft up and over the existing set, matching them perfectly so that they looked as if they were an original feature of the property.
The loft was fitted with five MK04 Velux roof windows with two in each of the new rooms and one in the new stairwell. This last window was installed over the stairs to make both the new and old hallway feel bright, airy and spacious.
Our client also asked our team to finish the build by installing wooden flooring, which means that we could fit the skirting on top with no need for the trim.
This project is another excellent example of a loft conversion completed by the team at DJ Moore Loft and all in just five weeks from start to finish!
What The Client Said
"If I could give DJMoore more than 5 stars I definitely would! Daniel, Lianne and the entire team were fantastic, and they took all of the stress out of converting our loft. We still can't believe that it has been done as everything was so quick and efficient. Progress was made every single day and we felt like we were in the best hands from start to finish. Charlie kept us updated all the way through, and even took us into the loft before the staircase was in, in order to make sure everything was as we wanted it to be. George was brilliant and even put down our flooring for us. The quality of their work is exceptional. We can't recommend them highly enough, they really are fantastic at what they do, and even more importantly they are all kind and honest people."
John Doe April 2020
Pictures Throughout The Project