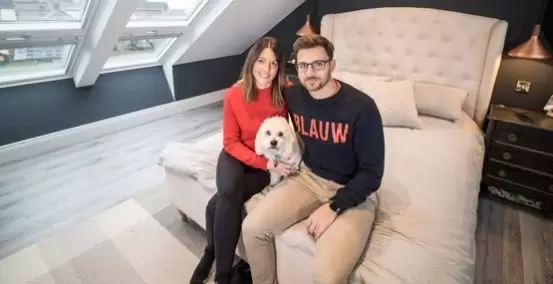 Velux Conversion
Loft Type: Velux
Area: Northampton
Duration: 6 Weeks
About The Project
We were contacted by a lovely family looking for someone to convert their loft. They had already got plans for the space that were designed along with the ground floor extension a year before. After talking to the client and looking over the plans, we could see it was clear they weren't making the very most of the space and storage possible. We were able to show them some different ideas and suggestions which they loved. We instructed our structural engineer to design the calculations to enable us to give the maximum space. And with a couple of design changes we were able to give them more floor space along with a very large cupboard that we moved a 300L horizontal water tank in to, along with plenty of space for storage.
What We Did:
This loft is one of the highest specs we have completed to date and all in 6 weeks. The room consists of a large bedroom area, wardrobe area and an en suite. The bedroom is very bright and spacious. This is because we have a set of Double Velux cabrio windows on the rear of the roof, along with a Mk06 Velux window in the front roof. The bed is positioned up against the feature chimney breast which we recommended to the client to keep. This not only helps give a place for the bed but also helps with making the loft feel like an original part of the style and age of the house. Along with bedside lights either side this is one of my favourite setups this year and simply looks stunning! The en suite on the loft is beautiful, with the gold taps and stunning tiles the room just pops and looks perfect. We were able to fit in a very large shower tray 0.9m x 1.4m along with a seating area/bench and hidden double shower/soap box holder. The room also benefits from a free-standing bath and wall mounted basin unit. Both with Led feature lighting behind to give added effect. We also added another Mk06 velux window here for plenty of natural light.
As this is an older house the original stairs were chunky and bespoke. We were able to get our stair manufacturer to mirror and make all the newels and spindles to match perfectly. This helps keep the loft with the style of the house. In order for us to fit the new stairs in, we had to reposition a wall and doorway to a spare room. This also benefited the existing hallway as this made it more open and brighter with the newly installed Velux Light tunnel and modern light above the new stairs.
To sum up, this is a simply stunning loft conversion and great for our portfolio! We completed this loft in 6 weeks and worked alongside our recommended decorator to achieve a great space and conversion that all the teams at DJ Moore lofts could be proud of. The clients were extremely happy with the work, and also completed a video testimony for us that is on the new section on our website.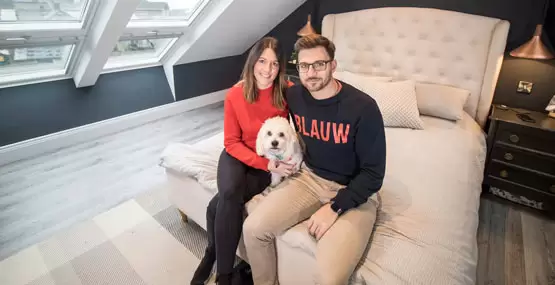 Mr Roade
" We chose DJ Moore Lofts due to a combination of things. This included the specification of doing the lofts, which they had outstanding knowledge about and their incredible imagination of creating our new loft from the empty space we had available. The turnaround of our loft conversion was amazing, ending in us being over the moon with the execution. We can't see anything that could have been done any better, resulting in us recommending DJ Moore Lofts without a doubt!"
John Doe 21st September 2019
Pictures Throughout The Project