When your home becomes a disorganised mess with toys on the floor of every room, it's time to create a space where your children can have fun, so you can take back control of your home. Giving your children a space to play is just as important as giving you the freedom to relax in your home. One of the best ways to make both of yourself and your children happy is to have a loft conversion to create space for a playroom. So, to help you design your new playroom in the loft, here are some small playroom ideas.
Fun & Exciting Small Playroom Ideas
There are a number of fun and exciting playroom ideas that can give your children a room that they adore. From decoration ideas to practical loft conversion designs, every element can make for a light, inviting and fun playroom. Making sure that you have the right loft conversion for your desired use is an important factor towards the look and feel of the playroom. To help you decide on the right loft conversion for you, here are some loft conversion designs for the ultimate children's playroom.
Advantages Of Having A Playroom In The Loft
If you currently have your playroom downstairs or don't have one at all, you may notice that their toys are flung about everywhere and somehow a piece of lego ends up in the kitchen. Well, incorporating your playroom into a loft conversion couldn't be a better idea. Eliminate the possibility of stubbing your toe on a playhouse or losing your child's favourite teddy by having it all located in one place. By having all your children's toys located in one area, you can keep the rest of your home tidy and organised. When moving the playroom upstairs, you can go through all of the old toys that your children no longer play with and either store it in the garage or throw it away.
Having all of the toys in one location can also help to encourage sharing and playing together. This can improve the atmosphere at home as your children learn to play with one another and enjoy each others company. As your children grow, you can change the playroom into a more grown-up area, where they can play on a games console or watch TV with friends. When you design your playroom, it is important that you have enough sections for each child to play and enjoy the room. For example, it would not be fair painting the whole room pink and putting a princess castle in the middle if you have a boy and girl in the house.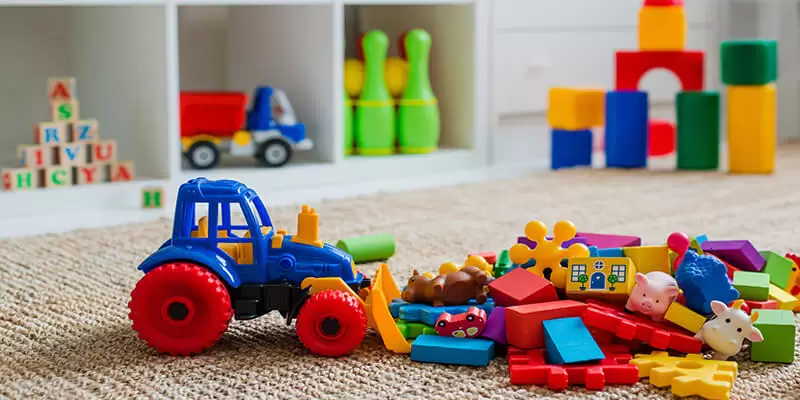 A Rainbow Of Colour
One way to resolve the issue of a boys zone and girl zone is to paint the walls a neutral colour. Colours such as white, cream or light greys, can make the room feel gender-neutral and inviting for everyone. On the other hand, if you wanted to create specific zones for each child, you could always put a line down the middle of the room and ask the boys what colour they want their half and the same for the girls.
Children love a splash of colour, so while opting for a neutral palette may be beneficial in some aspects, having a colourful room will be exciting for your children. Make sure to ask your kids what colours they would like the room, so that the space feels more personal to them as they have designed it themselves. Pair all of the furniture with the colours that they have chosen, and you will have the perfect playroom. For ideas on playroom colours, visit House Beautiful for inspiration on modern, timeless colour palettes.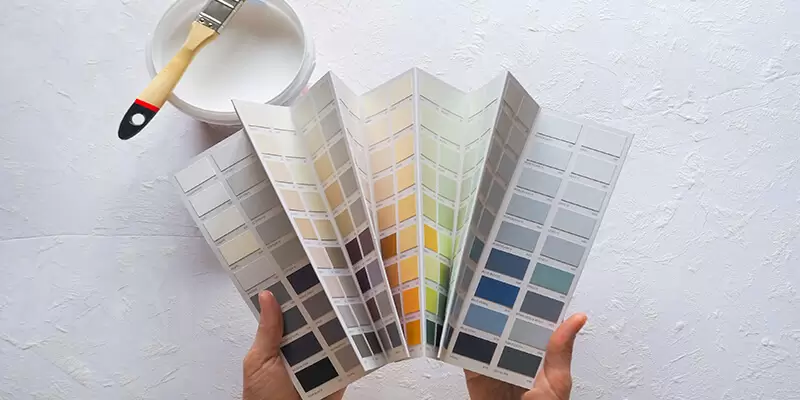 Easy Clean Flooring
As you can imagine, there can be a few accidents when it comes to playtime with the kids; paint on the floor, spilt drinks and smashed up crayons are all likely things that can ruin your flooring. For this reason, it is a good idea to make sure that the flooring you place in your loft conversion is easy to clean. Carpet, for example, would not be a good idea for a playroom in the loft, as you may be left with stains or sticky substances stuck in the hairs of the carpet.
Instead, opting for flooring made from wood or linoleum will make any accidents easy to clean, so you won't have to worry about monitoring the kids to make sure the paint stays on the table. Wooden flooring is extremely easy to clean, and all it takes is one wipe with a cloth for spills to disappear. Another fun and interactive flooring idea is to have foam flooring; this will add some colour to the room and can also be fun for your children to put together. Foam flooring is easy to clean and is also soft, so your child can sit on the floor in comfort and if they happen to fall, they can walk away with minor injuries. The great thing about foam flooring is that it is extremely cheap and can be used for multiple purposes, for example, a rainbow fort.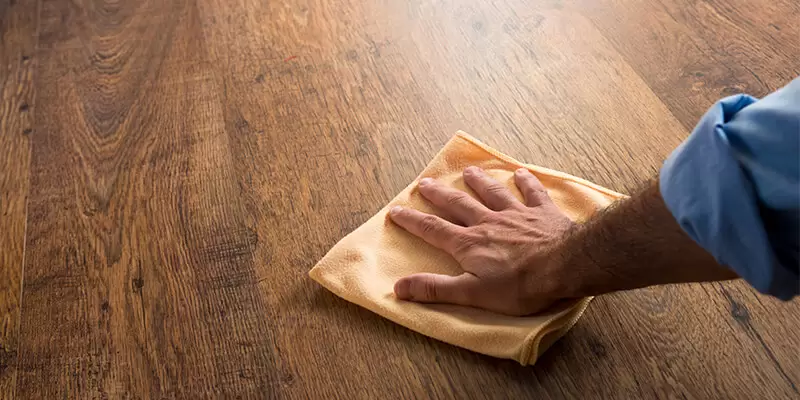 Let In The Light
Not only is lighting extremely important in the fact that it makes sure everyone can see where they are going, but there have also been studies to suggest that natural lighting has a significant impact on your child's ability to gauge distances. When you are designing your loft conversion with a playroom in mind, make sure that you incorporate a source of natural lighting for your children. This can easily be done through VELUX conversions, whereby sky lighting is incorporated into the design to let in a large amount of natural lighting. Using this design can help to brighten the room and improve ventilation, making it a healthier and safer place for your children to play. If you would like to know more about loft conversions in Milton Keynes or the surrounding areas, feel free to contact the team today.
Other loft conversions such as dormer or hip to gable conversion, can also be made with your desired use in mind, all you need to do is let our team know your requirements so that they can design and plan a loft that suits you. If you do not want too many windows, then our team can help you to design a loft conversion that gives you access to electricity to power lighting. Fun and creative light designs are a great way to bring the room to life. You can find some fantastic playroom light ideas on The Interior Editor's article, which includes lighting tips.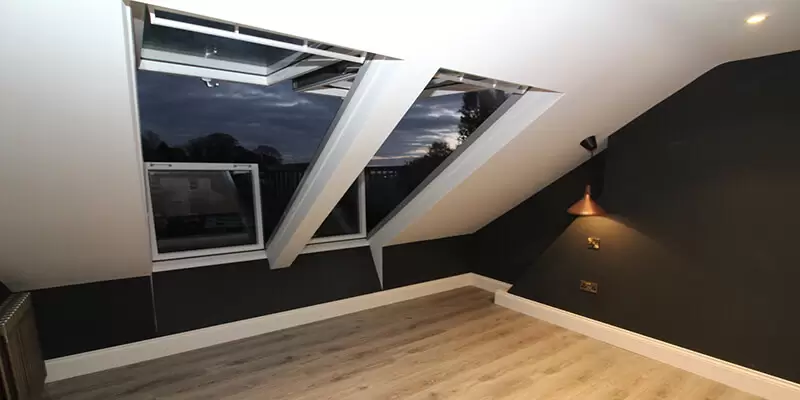 The Chalk Wall
One thing that many parents are afraid of is their children colouring in the white walls with pens. There wouldn't be anything worse than walking into your living room to find a storyboard full of dragons and stick men across the walls. Although you may not be so afraid of this happening in a dedicated playroom that your guest will unlikely step foot in, it would be frustrating having your walls destroyed after just painting them. The best way to overcome this is to have a large chalkboard placed onto the wall, or even better, make one of the walls a massive chalkboard. By doing this, you can dedicate an area for your children to be as creative as they like without ruining any of your lovely walls.
Make sure that you have a variety of different chalk colours for your kids to create a masterpiece on the board. You can even get involved and make sure that all the areas on the chalkboard are covered in colour. This solution is perfect for easy to clean fun activities that can be used time and time again. Fitting a chalkboard, or wall, is inexpensive, and it is a creative way to add an element of personalised decoration on a budget.
Practical Storage
Although a playroom is a great way to hide all the toys from the rest of the house, you still want to make sure that there are storage spaces so that the room does not look messy and cluttered. Make sure that the storage you use is fun as well as safe. For example, make sure that any cupboards that you place into the room have a soft shutter; you don't want any little fingers getting slammed or trapped in draws. You can also place small craft draws in one corner of the room with a table so that your children can place all of their pens and drawing equipment in them.
We would advise that you make sure your storage is safe for your children, so having chairs with storage in them is an excellent way to incorporate soft seating as well as safe storage. If your children like different types of toys and have their own, then it would be a good idea to make sure that there are two separate locations for them to store their bits. This means that they will be responsible for putting their toys away and can store all their toys in one place.
Although shelves are a good way to store things around the home, this may not be a good idea for a playroom. There are multiple reasons why this is dangerous for your children; firstly, they can hit their heads on the corners of the shelves and secondly, they can have an accident trying to get something off the shelf if it is placed too high. To avoid this, try using storage boxes that are placed on the floor, giving your children easy access to their toys.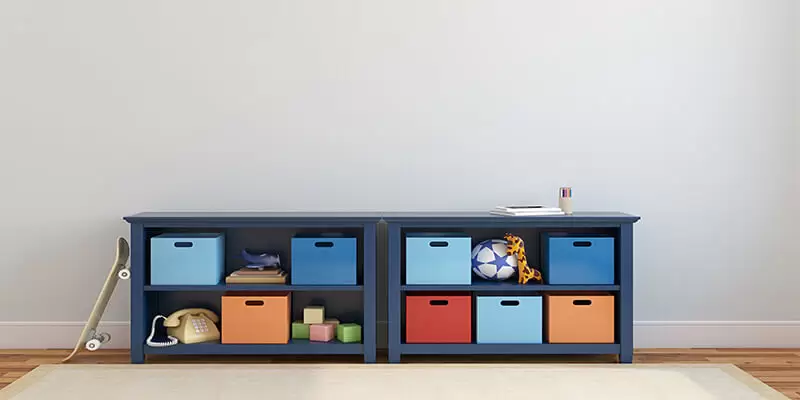 Princess Castle Or A Knights Fort
Children have wild imaginations that can come up with various storylines. Make their fairytale adventures more realistic by incorporating a castle or fort into their playroom. To make it even more special, you can place a box in the corner of the room where they can put all of their fun costumes ready to play dress up. You can be as creative as you like when making a fort and don't be shy to go all the way, as this will add to the exciting experience. Some ideas for fun and exciting forts include:
An indoor tree house
Pirate ship
Fancy castle
Fairtale forest
A stage to show off talents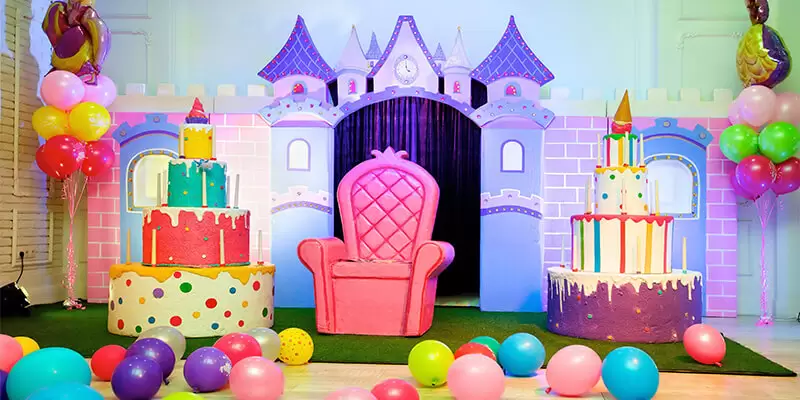 Get Creative
When it comes to playrooms, the more creative the design ideas, the better! Children love exciting colours and going off on imaginary adventures, so to help them channel their inner creativity, give them their own personal space in the loft conversion. Loft conversions give you that extra space that can make a big difference around the house when there aren't toys laying around.
DJ Moore Lofts has been providing clients with loft extensions in Bedford and the surrounding areas for many years, and our helpful team have a wealth of experience in designing bespoke loft conversions. Speak to our team today about having your very own loft conversion to give the kids their own space to play and make memories.