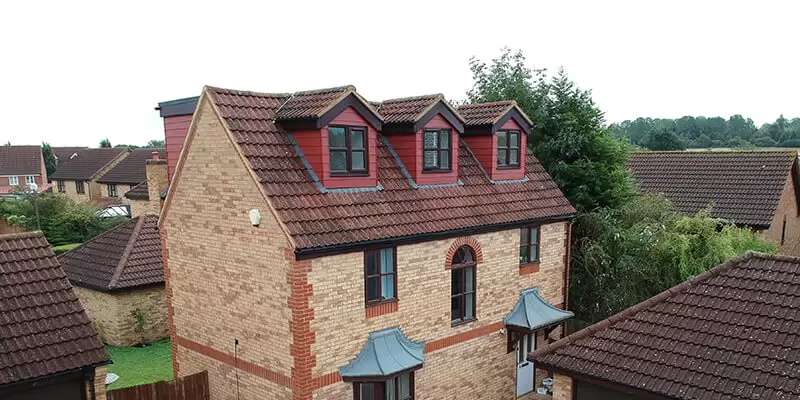 Roof Dormer Loft Conversion
Loft Type: Dormer Loft

Area: Area: Milton Keynes

Duration: 6 Weeks
About The Project
Our team were in Milton Keynes for a project, and we had a lovely detached house in Tattenhoe where the family wanted complete works done to their loft space. This was one big Loft conversion including the front and rear of the roof which needed a lot of work done!
What We Did:
In order to convert this loft, we had to lift the ridge-line to a massive 800mm, which then enabled us to install a tin roof over the house, completed by Shillingford Scaffolding. Having this done helped us to remove the roof entirely and rebuild it starting from scratch. The team at DJ Moore Lofts then went on to build the new front roof with three pitched roof dormers and one large flat roof dormer at the rear of the house. We then had our local roofing company D Haynes roofing -which we work closely with on our projects come in and fully complete the roofing for us.
Once the pitched roof dormers and the rear flat roof dormers were completed, we went on to build up the clients existing gable end walls to the new height needed. We encountered a slight problem with regards to getting a good brick match to the existing property. However, we resolved this by sourcing out a company locally who was able to fully tint the bricks to match the ones of the house. They looked like the perfect match now to the house, and you would never know the roof or globes had been adjusted.
Inside we adjusted the internal layout to create an area for the stairs case to go along with knocking through a bedroom wall for the client to create a larger bedroom downstairs too. In the loft, we gained the client two large bedrooms and one charming ensuite.
All the dormers were finished in a classic red Hardie plank cladding and matching brown UPVC windows to the existing.
We also installed a new 40kw ideal max boiler into the kitchen to give the client a pressurised water system and removed the tanks from the loft spaces and even from the airing cupboard which freed up more space for the homeowner.
Mr Kennedy
" Our house already had a loft space in place, but it needed complete re-works done to it to be liveable! DJ Moore Lofts took on this mammoth task with ease; they kept us up to date and included us with every step of the project. Disruption was kept to a minimal even though it was a big project and we could not be happy with our new loft space and ensuite. Thanks so much guys. We would highly recommend them to our friends! "
John Doe 30th September 2019
Pictures Throughout The Project