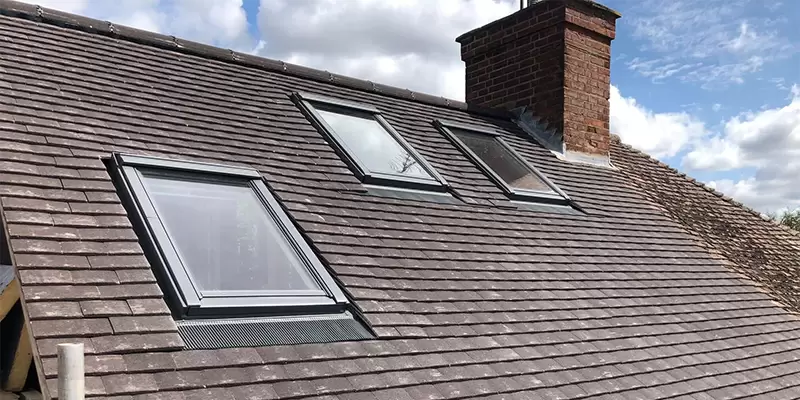 Hip to Gable
Loft Type: Hip to Gable

Area: Leighton Buzzard

Duration: 4 Weeks
About The Project
For this project, we were asked by a fellow trader to complete a part loft conversion for a client in Leighton Buzzard. The client had already finalised their conversion plans with a design team we had worked with in the past, which meant the process couldn't have been smoother.
What We Did:
A Hip to Gable Loft Conversion with a rear flat roof dormer was constructed, accompanied by a stunning Juliet balcony.
The client was keen to do a lot of the work themselves, so we opted for the part conversion that already included all interior structural works. The structural work was also supporting the existing chimney, which the client planned to move downstairs at a later date. We also installed three Mk06 Velux windows to the front, which flooded in plenty of light and helped the client benefit from beautiful views in the distance.
Initially, we were only enlisted to complete the back roof and dormer. However, after impressive work from our highly-skilled team, the client requested for DJ Moore Lofts to also re-roof the front – a task they were more than happy to complete! The results made a huge difference to the final appearance of the loft conversion. It also meant that the client was less likely to encounter any future problems, making the front of their conversion durable and long-lasting.
The family were over the moon with the work completed by DJ Moore Lofts. The client's little girl took a particular shine to our project leader, Steve and insisted on wearing our signature company hat throughout the project. So, of course, it was only fair for her to get her very own "lofty", our DJ Moore Lofts teddy bear, to remember the team!
Katie
"We are so impressed with the finished product. The craftsmanship and standard of the build are absolutely top-notch. The aftercare we have received has also been fantastic, and Dan has been on hand to answer any questions we have. I can honestly say using DJ Moore Lofts and his team was the best decision we could have made. Thank you so much, guys! "
John Doe 25th September 2019
Pictures Throughout The Project