Having spent more than ten years helping clients to transform their homes through a loft conversion, we have had the pleasure of working on hundreds of projects. During this time, there has always been one common theme: the vast number of clients opting to use this extra spacious floor to accommodate a new master bedroom.
A loft conversion creates the perfect opportunity to add more bedrooms to your home and, in most cases, also a touch of luxury through an ensuite and dressing room. And, while furnishing and decorating the room is always one of the most exciting stages, it can also be the trickiest. Due to the sloped ceilings and more uniquely shaped floorplan that a loft conversion creates, tracking down furniture that slots seamlessly in place can sometimes be a little challenging. So to give you a helping hand, we have pieced together some of our favourite loft bedroom furniture ideas, along with examples of how our past clients have utilised these concepts.
Create A Cosy Retreat With These Loft Bedroom Furniture Ideas
As specialists in loft conversions in Milton Keynes and the surrounding areas, we have seen first-hand how interior design styles and themes continually evolve. But, there is one element that will never go out of fashion, and that is high-quality furniture that has been designed with durability and practicality in mind. Every bedroom theme can be elevated through reliable yet stylish furniture, but with such a new huge space to fill, where do you begin? We hope our guide will give you a head start!
Jump straight to: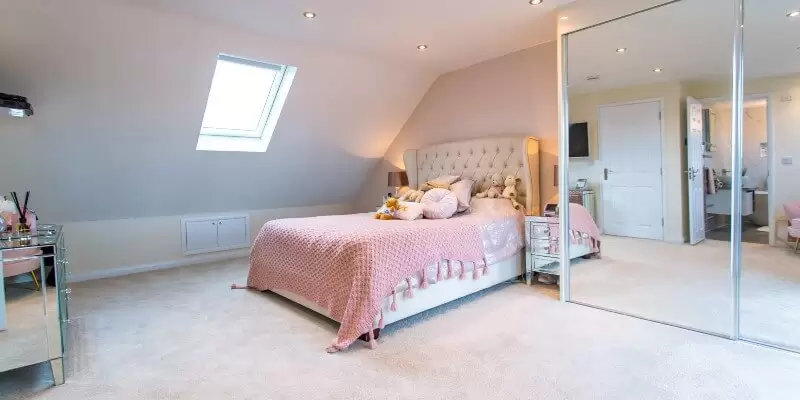 Although in the past, finding furniture for loft conversions typically took a considerable amount of research, there are now a wealth of leading companies that specialise in custom-made designs, allowing every aspect of your bedroom to have a personal touch. Most of our clients opt for customising the following:
Loft Conversion Wardrobes
With a pre-designed freestanding wardrobe, it is almost impossible to find a size and shape that fits perfectly within your measurements; this is made even more complex when it comes to a loft conversion. For this reason, regardless of which conversion style you opt for, we always recommend choosing a bespoke design as this will ensure that you can optimise space as well as possible. We have full-time joiners and carpenters in-house who work with you to tailor your design by adding extra features, LED lighting and much more.
Typically, our loft conversion wardrobes are fully fitted from floor to ceiling, with frames created exclusively to work with the slopes of your roof. They can be installed in the bedroom or dressing room and can be any size, colour or finish you wish. The inside will also be bespoke to you, and you will have the choice between hanging rails, adjustable shelves or a combination of both. This addition is available with all of our loft conversions in Bedford, as well as the other areas we cover, and will be factored into your contract.
Loft Conversion Beds
While loft conversions have an excellent head height, the ceiling can be slightly lower than a conventional bedroom which means that choosing a bed that is nearer to the ground is often the most popular option. This allows you to still take advantage of a super comfortable, cosy bed without making the room feel enclosed by covering too much of the wall.
Depending on your chosen decor theme, there are tones of fabulous loft conversion beds available in various styles. You can pick between those with or without a headboard, along with many different frame designs. Some frames still feature legs but are just slightly smaller, and others do not have legs at all, meaning that the mattress sits on the floor. For those looking for extra storage, it is also possible to find low loft beds in an ottoman style, offering as much as a 20cm storage depth. Some of our favourite retailers of loft conversion beds include:
For more information on the different low loft bed styles, take a look at our previous article!
Loft Conversion Dressing Tables
Whether your loft is big enough to accommodate a dressing room or you want to include a set-up in the bedroom, there are endless ways that you can add a glamorous dressing area to your design. If possible, we recommend placing your dressing table in a location with more wall space rather than underneath your roof windows, as this allows you to fit a mirror above. It also means that you have more leeway in terms of desk height and can opt for a design that is comfortable for you instead of having to make do with one that is too low.
For those adding a dressing table to their master bedroom, a slimline design is always one of the most popular options. This prevents the desk from making the room look cluttered while also offering a more minimalist appearance that can easily be altered if you change your interior design in the future. For more wonderful dressing table ideas, take a look at For Creative Juice.
Loft Conversion Desks
With more and more homeowners transitioning towards working from home, the need for a practical home office has risen. As a result, we have worked with many of our clients to incorporate a desk space into their conversion while ensuring that the design is in keeping with the bedroom decor.
There are many ways that you can ensure that your desk blends seamlessly with your interior design, and the most popular is by creating a multi-functional area. When designing your bespoke fitted wardrobes, you can integrate a desk into the frame, meaning that just one area of your room is filled with furniture. This keeps the remainder of the bedroom clear, preventing the space from appearing cluttered. By incorporating your desk using this technique, you can also ensure that you have plenty of surrounding storage for your office belongings.
Loft Conversion Storage
There is no such thing as too much storage, and you will be pleased to know that integrating this extra space inside your loft conversion to tuck your belongings away couldn't be more straightforward.
When designing your conversion with our team, we will always run through clever storage solutions that take advantage of space that would otherwise be wasted. This includes creating cupboards and drawers that slot against the shorter wall that sits underneath the sloped ceiling. Not only this, but you could also consider filling the triangle between sloped walls with shelves, again using valuable wall space that would usually be left blank.
For those looking to maximise storage space further, why not consider extending your roof? This is completed by fitting a dormer to the front or rear of your property, either making the master bedroom bigger or creating a smaller extra room that can be used for storage purposes. It is a sought-after option amongst our clients looking to create a walk-in wardrobe or dressing room to keep their belongings separate from the main bedroom. For more information on our loft extensions in Bedford and the surrounding areas, please get in touch with our team!
Now that you are familiarised with the different furniture options available and which items are able to be customised, it's time to piece together your design. Take a look at the four key steps on how to arrange a bedroom to get started:
1. Take Measurements Before Getting Started
Attempting to arrange your bedroom furniture without any pre-planning will never end well, even more so when up against the unique shape of a loft conversion. With this in mind, using your original floorplan drawings, measure your existing furniture or note down the sizing of the items you plan to purchase and work out whether everything will fit. From here, you will be able to start positioning each piece of furniture.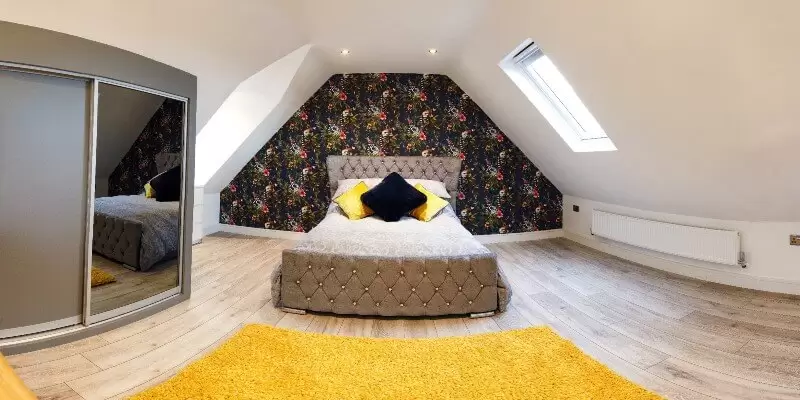 2. Begin With Positioning The Bed
The bed will always be the focal point of your bedroom, with all other components typically placed around. Due to the sloping ceiling inside a loft conversion, in most cases, the bed is placed in the centre of the wall where the two slopes meet. If you have opted for a hip to gable conversion, on the other hand, there will be more flexibility with the bed position as you will have one vertical wall, so it can be placed in the middle of the room or against the wall to create a more spacious feel.
3. Then Go From Big To Small
Once you have determined where the bed will be placed, work your way down your list of furniture in size order, starting from the largest. If you have had fitted wardrobes installed, placing your remaining furniture will become more straightforward as there will be fewer areas to choose from. In this case, be sure to place furniture in spots that will not obstruct your use of the wardrobe. Generally, after the bed and wardrobe, the order goes:
Bedside Table
Desk
Shelving
Chair
Lights
Accessories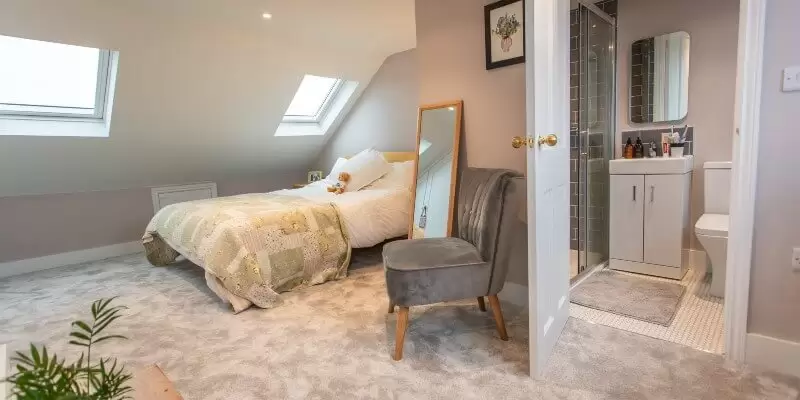 4. Keep Convenience In Mind
When making the final amendments to your bedroom layout and design, don't forget to factor in convenience. The bedroom needs to work for your needs and lifestyle, so while aesthetics will be important, the practicality of the room should never be neglected. Think about which items you will use on a daily basis and place these in easy-to-reach spots while storing away anything that is likely to only use every few months. Many of our clients also opt for updating their wardrobe based on the season, swapping winter clothing for summer outfits and vice versa, helping to keep the entire room organised and clutter-free.
Finding The Perfect Furniture Made Easy!
Gone are the days where tracking down furniture for your loft conversion was an impossible task as it now couldn't be easier to create bespoke items designed exclusively for you. Whether you may have a modern, minimalist aesthetic in mind or are looking for an extravagant interior design, the possibilities are endless!