No matter how big or small your room is, the storage that you place inside the bedroom can have a dramatic impact on the usability of the room. Some solutions are easy to make yourself and are extremely cost-effective, whereas, other solutions, while a little more costly, can bring a host of benefits. To lend you helping hand in finding the right solutions, we have come up with a few ways in which you can incorporate storage into your loft conversion. By using these small storage ideas, you can maximise space and easily organise the room!
Maximise Your Bedroom Space With These Smart Storage Ideas
A smaller room can be made to feel even smaller when the wrong storage has been used, making it one of the most important reasons to think wisely about the type of storage you incorporate into the room. Using up all of the unused space that you have in the room can work to your advantage, allowing you to increase floor space and make the room feel bigger and brighter. DJ Moore Lofts has been providing clients with loft extensions in Bedford, such as our reputable dormer conversions in Bedford and the surrounding areas, so the team are well versed in the multitude of ways to take advantage of wasted space.
There are hundreds of creative ways to store belongings such as clothing and keepsakes in your room, and not every one of them will cost you an arm and a leg! To help you find more space within your bedroom, here are our top bedroom storage solutions: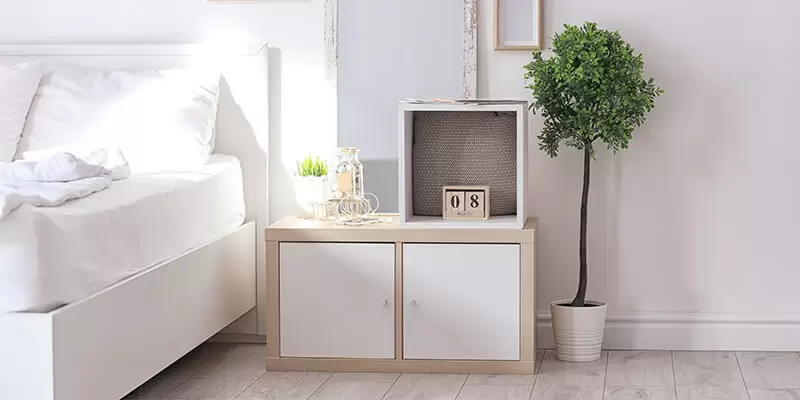 While it may be a little cheaper to purchase a ready-made standing wardrobe, this can restrict you in many ways when it comes to storage space and utilising the space that you have to work with. A freestanding wardrobe is awkward and hard to place around the room, meaning that quite often, you compromise on space to have the wardrobe. Although it may cost you a little bit more to have a wardrobe designed and installed into your home, a fitted wardrobe comes alongside an abundance of benefits as well as providing you with a reliable and long-lasting solution. Some of these benefits include:
When choosing a fitted wardrobe, you have the added benefit of ensuring that every single part of the wardrobe suits your needs and style. There are multiple different colours, shapes and textures for you to choose from, making it easier to select a wardrobe that fits in with the rest of your room's decor. For example, you could choose from the extensive range of wardrobe designs that Furniche offers, all of which can be completely tailored to you.
From the exterior of the wardrobe to the interior; every element can be hand-picked with you in mind. Trousers rails, small draws for jewellery and more can all be incorporated to help you maximise on the space you have as well as designing a wardrobe that helps you to organise your things. For a few design ideas and interior wardrobe inspiration, take a look at Homify's article! Once you have a design in mind, contact the DJ Moore Lofts team to start piecing together your loft conversion in Milton Keynes with fitted wardrobes.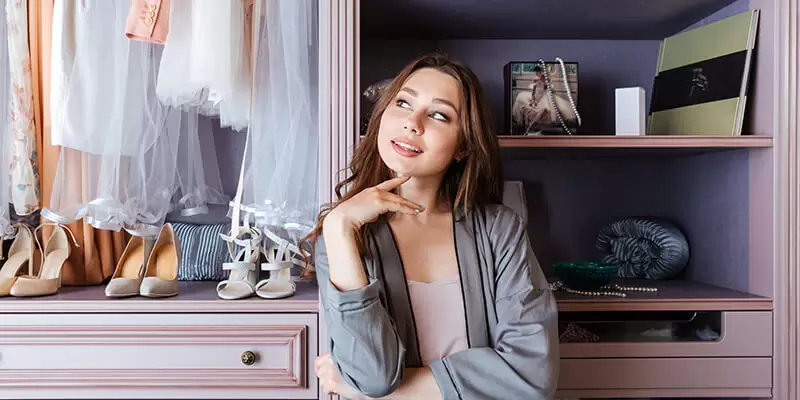 It is important to ensure that the highest quality materials are used for you fitted wardrobe, as this will ensure the longevity of your investment. While it may mean that you spend a little more on the overall finish of the design, it will make a remarkable finish to the room. When designing and installing a fitted wardrobe into your loft conversion, clients are guaranteed high-quality materials will be used throughout their wardrobe installation.
One of the many great things about having a fitted wardrobe is that it can be measured perfectly to the space you have to work with. For example, if you would like a wardrobe in a loft conversion, then you may find that a freestanding wardrobe doesn't fit the sloped ceiling, making it hard to find a space for it to fit without taking up too much floor space. However, with a fitted wardrobe, the fixtures can be installed around the ceiling, fitting into every corner and crevice to help you maximise space.
Not only can the wardrobe be made to fit any space, but the features on the wardrobe can also help you to enjoy a fitted wardrobe even in the smallest of bedrooms. By opting for a sliding wardrobe, you don't have to worry about which way the door opens or whether opening the door will hit the bed, for example. Sliding doors effortlessly glide along with the wardrobe left and right, creating a beautifully elegant finishing touch to your wardrobe design. You can even take it that extra mile and choose mirrored doors so that you don't have to worry about where to fit your mirror.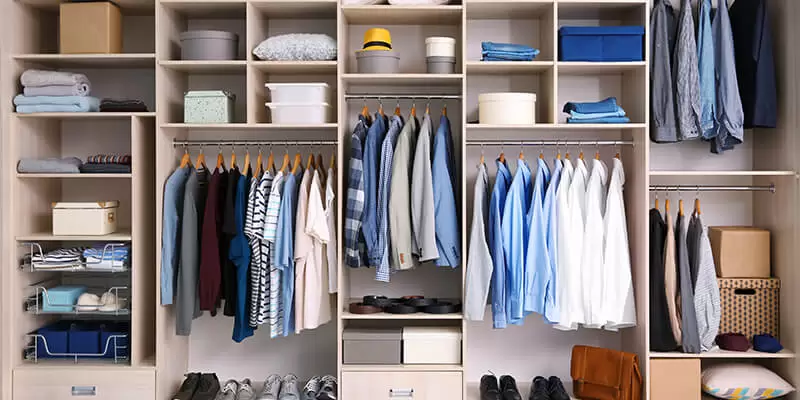 Designing your own fitted wardrobe allows you to choose additional features inside the wardrobe. For example, you could choose to have lighting inside the wardrobe, lighting up your clothing items as the doors open. You can even add a little more luxury by installing lighting in each draw as it opens!
Other features also include pull out rails, which can make everyday life a lot easier as well as maximising storage space. Hidden rails can easily be pulled out to reveal a whole other set of storage facilities without making the wardrobe look disorganised or cluttered. DJ Moore Lofts works with various specialists that can help you to create a wardrobe that takes full advantage of these features and heightening your luxury experience. Contact the team today for more information and to start designing your loft conversion fitted wardrobe.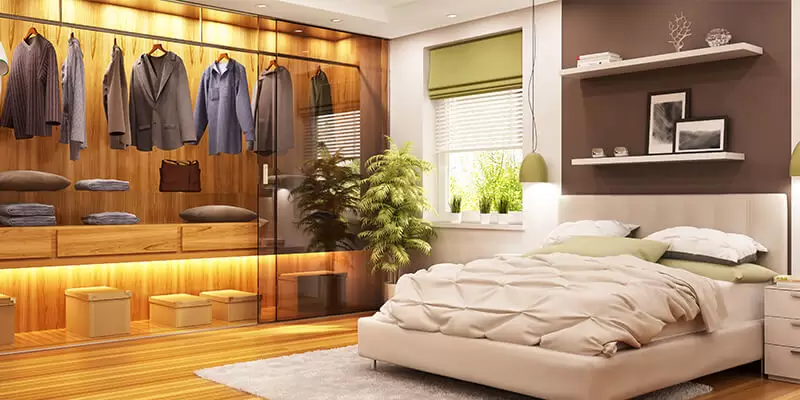 If you already have a bespoke wardrobe but still require more space, then there are plenty of creative ways to hang and store your clothing. By using some of these solutions, you can ensure that your wardrobe space works best for you and that you can store both your tops and bottoms so that they don't get creased. Some smart ways to hang and store your clothing include:
Curtain rings – if you have a lot of vests or lighter tops, then instead of folding them, why not hang them on shower curtain rings. We love some of Good Housekeeping's shower ring storage solutions!
S hook hangers – try hanging your trousures on an S hook, not only will this provide you with more space, but it is also less likely to crease the trouser.
Belt, Tie and Scarf organisers – if you have a DIY interest when it comes to solving problems, then you're going to love the idea of creating a organiser with a washing rack. Simply deconstruct the rail and place inside your wardrobe to hang ties, belts and more!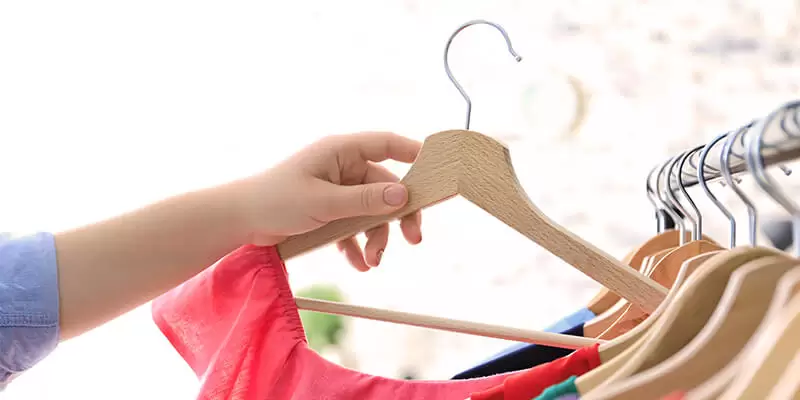 Shelving can cause obstruction, danger and use up valuable floor space, which can make a small room feel even smaller! However, there is an easy solution to this problem; instead of having the shelves lower down, why not place the shelves higher up towards the ceiling so that they do not affect the room space in any form. Full-length wall to wall shelves placed just below the ceiling can allow you to store items that you don't use every day but aren't too keen on throwing away. You can easily incorporate this into your bedroom design with House Beautiful's 14 unique shelving ideas that you can make yourself.
Another creative idea that also adds some decor to your room, is to have floating shelves. These are extremely popular at the moment, and come in various different colours, shapes, sizes and styles! You can find a whole range of quirky and stylish floating shelves from retailers such as IKEA. We would suggest placing these floating shelves above your headboard, as this is often wasted space that can easily be used for your storage needs. You can even use the floating shelves for decorative purposes rather than storage. For example, you could place your favourite pictures, fake plants or artwork on top of the shelves. We would suggest staggering them across the wall to create a focal point within your bedroom. Apartment Therapy has some unique and helpful ways in which you can easily decorate your floating shelves, not just in the bedroom, but around the house!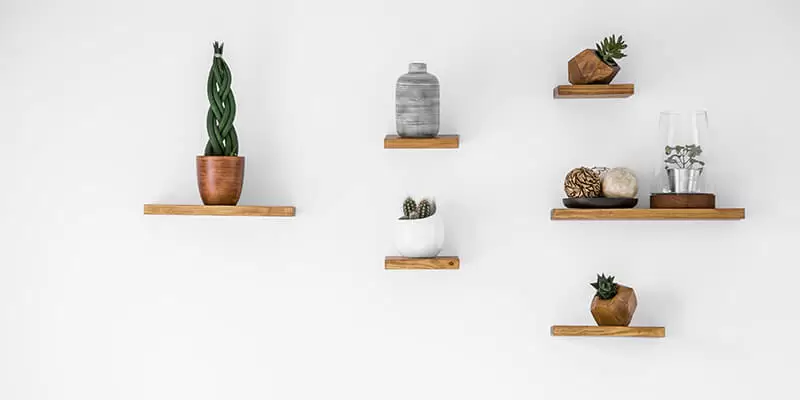 If you have more bed in your bedroom than you do floor space to move around in, then you're going to love the idea of having storage in the headboard of your bed. By opting for a bed with storage inside the headboard, it means that you can avoid leaving clutter on the floor of your room. You can find a host of headboards with storage ideas on Real Homes as well as some of the best places to purchase your headboards.
One of the most popular forms of bed storage is to have it located under the bed. Depending on how much you are willing to spend, there are various different solutions for you to choose from. For example, you can opt for a full under the bed system that is integrated with the design of the bed, such as those found on Dreams. For those of you with less to spend, you can include storage solutions into your existing bed by placing baskets or boxes under the bed. For extra easy storage, we would suggest choosing boxes that have wheels on the bottom, allowing you to safely move your items in and out from under the bed.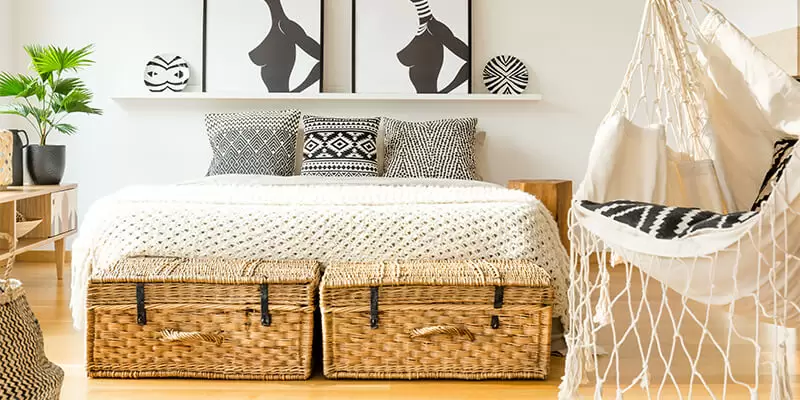 Keeping your bedroom organised not only makes it less stressful when trying to find your favourite outfit, but can also make for more storage space. There is a whole host of different ways you can organise your bedroom, some of which you won't have to spend a penny in trying to create. Here are our top seven ways to organise your bedroom and wardrobe:
Colour coordinate your wardrobe
Use draw seperators
Place your jewellery on a jewellery holder
For younger children, label draws or baskets
Stack boxes
Place seasonal clothing in boxes and out of the room when not in used
Use a hanging jewellery organiser to store makeup
You can find even more organising solutions and creative ways to keep your room tidy on Good Housekeeping!
Stay In Control With Storage Solutions
There are an abundance of unique and creative ways in which you can store all of your favourite things no matter how big or small your bedroom may be. It is important to make sure that you use your space wisely to ensure that you can organise your room to make it feel relaxing and stress-free. If you would like some help in designing a room that caters to your needs, then the DJ Moore Lofts team are more than happy to help. With years of experience in providing bespoke loft conversions in Bedford and the surrounding areas, you can trust that our solutions will provide you with exceptional results.