Whether you are moving home or are wanting to reduce the amount of clutter you have laying around, home storage ideas can help organise your property.
Why Use Home Storage Ideas?
Home storage ideas are to help you get your home back in order and to help reduce all of your clutter that is clogging up your property. Finding space in your home for everything can be difficult, especially if you have a continually growing family. Because of this loft conversions Watford are commonly popular with homeowners looking to add living space to their property.
When wanting to add living space to your property, a home extension can be long winded and cause disruption to your daily life. Loft conversions allow you to utilise the unused space that's already in your property with no interruption or without leaving the exterior shell of your property. Not only this but they are one of the most spacious home conversions, and show the most significant return in investments when it comes to eventually selling your property.
But no matter how much space you have in your property, storage methods are typically an issue for every homeowner. You collect and hoard stuff over the years and eventually begin to run out of room for it all. Which is why we have devised a list of fantastic storage solutions to help you find a home for all of your belongings, without clogging up your property with large furniture items. So keep reading!
Shelving
One of the most effective forms of storage. Shelves can be positioned anywhere on your walls. Often, people place shelving units or floating shelves high up near the ceiling on your walls to store old possessions that they no longer want on show.
This is great, as it saves you from packing away your belongings into storage, and allows you to keep them in your room without your belongings being on display. There are a wide variety of shelving units that are available in different shapes, sizes and colours. Making them simple to incorporate into your home design while adding a new element of decor to your property design.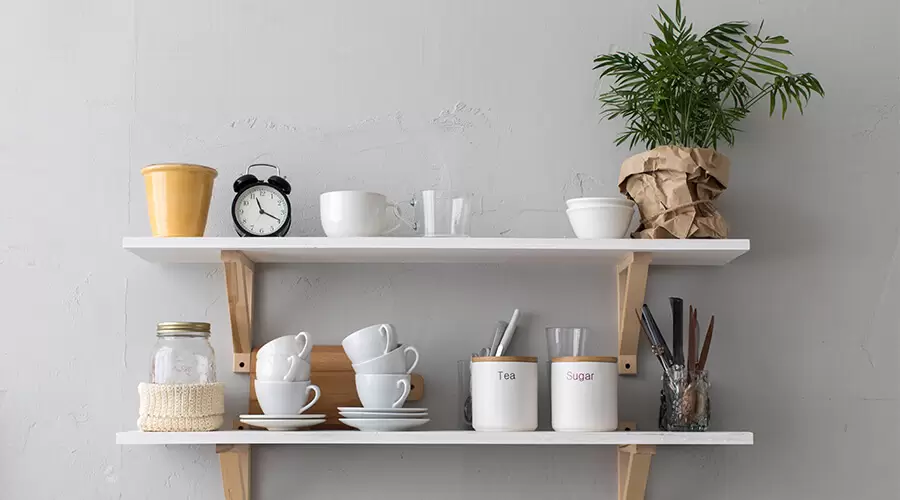 Corner Shelves
As we mentioned shelving units stored above, we must also specify the space-saving corner shelving units. Corner shelves minimise space needed for storage as they can be tucked into any of the corners of your room. They work best in bedrooms and even fit as the perfect substitute for bedside tables.
If your bed is positioned in the corner of the room, you could incorporate a corner shelf to act as a bedside table and add things like personal belongings or lamps. This is both convenient for yourself, and one of the simplest and most cost-effective forms of space saving.
Under Bed Storage
Under bed storage is one of the best ways to add extra storage to your bedroom. If you already have a small bedroom, under bed storage could be your saving grace.
Dependant on the shape and design of the bed you already have, you might need to purchase a new bed to do this. If your bed is a post bed with metal or wood framing, they typically have space underneath naturally as they are elevated by their legs. If you are lucky to have natural storage space under your bed, utilise it to its full potential!
Anything that you don't use anymore can be stored under your bed so that if you need it, it's easily accessible but also out of sight. Store your belongings in clear plastic storage boxes, preferably with wheels, so they are easily manoeuvrable if you move home, or so that they simply slide out from under your bed.
If you want a more organised and straightforward form of under bed storage, we recommend purchasing a bed that comes with under bed storage built in. Happy Beds have a variety of beds available for purchase with built-in drawers that are perfect for storing personal belongings or clothing. As well as this, they offer beds with an underneath storage when you lift the mattress up – better for those who are looking for optimum storage of larger sized belongings.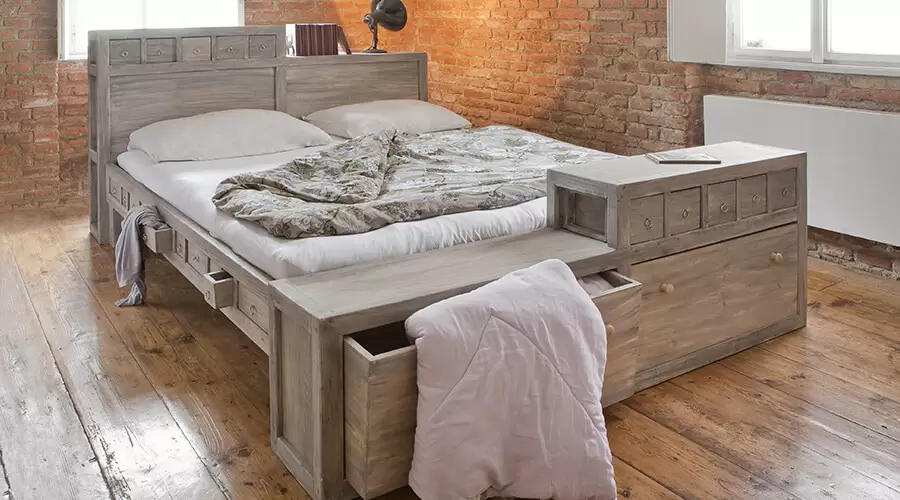 Fitted Sliding Wardrobes
When it comes to space saving, for the best results, you may have to splash the cash slightly to achieve the results you are after. If you have a never-ending clothing supply and are running out of storage options, one of the best ways to address this issue is to splash out on fitted sliding wardrobes.
Although they can be costly, there are more cost-effective options can be altered to suit your budget and needs. As sliding wardrobes are fitted into the wall, they optimise space in your property and eliminate the need for a standing wardrobe that can take up space in your bedroom. It also irradicates the need for large chests of drawers for clothing storage, meaning you have room in your bedroom for other things.
Shoe Racks
Although you may not think it, shoes can be one of the biggest uses of storage. Shoes are a common choice of purchase, and you can never have too many shoes. Although it gets to the point where you run out of places to store them in your property, and they end up being left by the front door or the doormat which can make your home look cluttered and untidy.
A simple and affordable solution to this problem is a shoe rack. Often, people keep shoe racks both in their bedroom and downstairs either in the hallway or hidden out of sight in an under stairs cupboard. They can hold a lot of shoes and keeps them from being strewn around the house.
If you want to boast your shoe collection and don't want them hidden out of sight, why not invest in a shoe carousel? Shoe carousels are slightly more expensive but are a practical storage method, as well as an affordable one.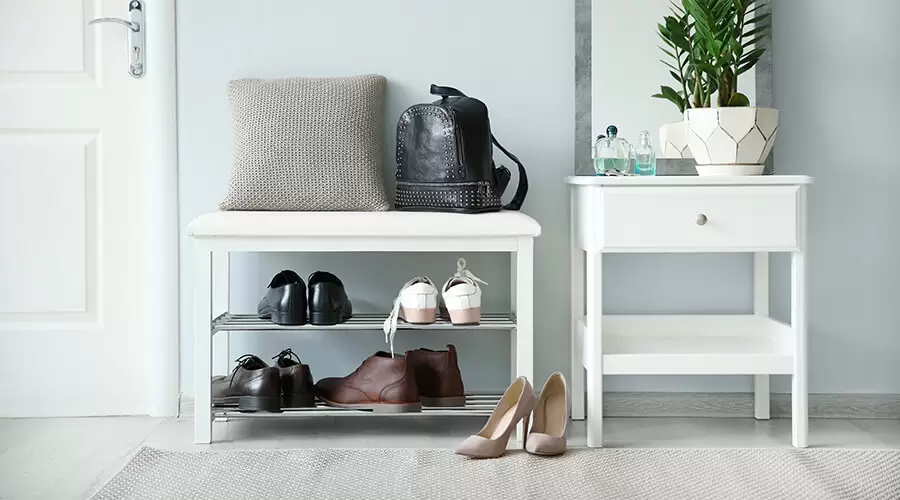 Upgrade Your Home Storage
Storage is scarce in every property. No matter how big your home is, sometimes you simply don't feel like you have enough space for everything. Which is often why homeowners invest in loft conversions Towcester, to add extra living space and to optimise the amount of storage space within their property.
For more information on loft conversions or storage solutions, contact a member of our team today! We hope that this article was helpful, if it was then why not share this article on social media?