In our new article, we will be discussing one of our awards, the prestigious; FMB Accreditation. We have briefly mentioned the FMB accreditation in one of our previous articles, but now we will go into more detail, we will be covering these certain topics:
What is FMB?
Their Membership Criteria
Our FMB Accreditation
So if you want to find out more about 'The FMB Accreditation', read our article!
The FMB Award
The FMB Accreditation is not just granted to anyone, companies have to provide high quality services to be granted an FMB Award and need to follow their strict membership criteria. to find out more about the FMB Accreditation, read our article!
What is FMB?
FMB is an acronym for Federation of Master Builders, and they are the largest trade association in the construction industry. They have been operating for over 75 years and have amazingly high standards. They are also a non-profit organisation that strive to improve construction standards in the UK. Unlike other associations, they go beyond checking and ratings and independently inspect and vet every member, so they provide valid proof of their quality. With an FMB accreditation, members will feel supported and promoted, while homeowners will feel assured that they are guaranteed a high-quality service.
Their Membership Criteria
Due to their high standards, it's not easy to get an FMB Accreditation, and every member must pass their strict vetting process in order to be accepted into their membership. Their criteria are as follows: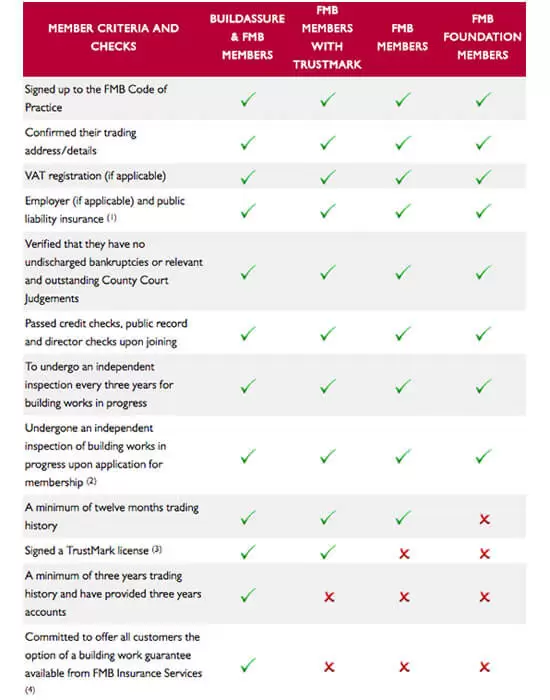 Source: FMB Criteria Table
Our FMB Accreditation
Here at DJ Moore Lofts, we are fortunate enough to have been awarded an FMB Accreditation, however this was granted to us solely because of our high-quality services, so if you want a Loft Conversion in Milton Keynes or any other surrounding areas, feel free to contact us today!