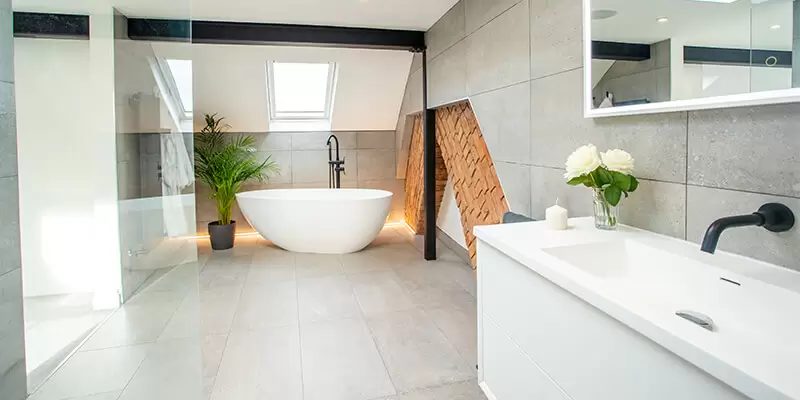 Dormer Loft Conversion
Loft Type: Dormer Conversion
Area: Stony Stratford, Milton Keynes
About The Project
Wow, where do we start with this project! It is most definitely one of the top five conversions that we have completed from start to finish. A lot of hard work has gone into this project, and the results really do speak from themselves – all thanks to our fantastic team!
This is a truly stunning conversion completed in Stony Stratford, Milton Keynes. It includes everything you could have possibly wanted from a loft – great space, light and airy atmosphere, plenty of gadgets and a beautiful bathroom!
What We Did:
When we started the project, the loft was completely empty, dark and dirty. It had a small access hatch in the box bedroom of the 1st floor, so the client hadn't been up there since they bought the property. During our initial survey, we went into the loft and straight away, we could look past the emptiness – it was clear that this space had the potential to be a stunning space! We noticed how beautiful the chimney feature was so suggested to the client that we incorporated this into the design as a focal point.
Once we had a set of designs that the planning office, along with the client, was happy with, we set out making the space a habitable room. From the very beginning, the client was keen that they wanted to create a large, beautifully decorated bathroom. When bringing their vision to life, we even used a crane to get the bath up into the conversion. The end result is a stunning space that benefits from a large flat roof electric window, freestanding bath, taps, wetroom shower, double basin and wall hung toilet.
The bedroom is a great size, and we were also able to add bespoke items mid-build, such as a desk with floating shelves, along with very large fitted wardrobes. The room is super bright and airy, thanks to two Mk06 Velux windows and a large sash bedroom, creating a fantastic master bedroom.
Another highlight of the build is the staircase. The original stairs are an old Victorian style which perfectly complimented the home. This made it vitally important that we not only matched the style but also made sure that the stairs flowed. Our goal was for the new stairs to look like an original feature, which we think we managed to achieve nicely!
Overall, this is an amazing loft space which showcases the fantastic work that our team are capable of. And even better, our client gave us another 5-star review! If you are interested in a loft conversion in Milton Keynes, then please do not hesitate to get in touch with our team!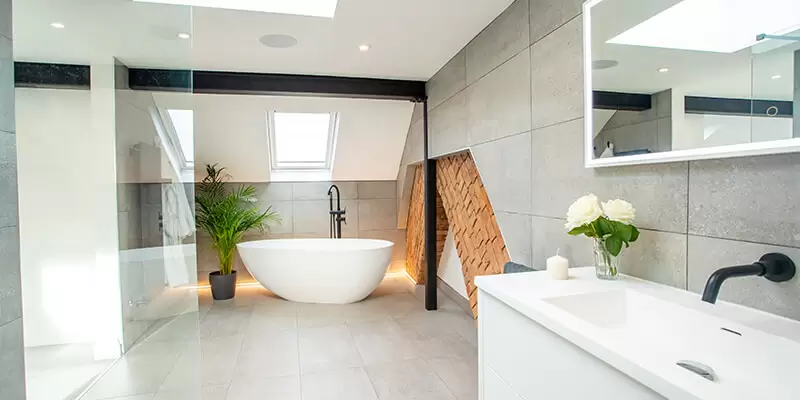 What The Client Said
" We had a brilliant experience using DJ Moore. Dan was very responsive and delivered exactly what we asked for, nothing was too much trouble. He was particularly good at keeping us updated with timescales and progress. Charlie, Harry and Jack worked very hard and the quality of their work was fantastic, they arrived promptly every day and left the site clean and tidy. They were very knowledgeable and reliable. The rest of the team were amazing too and worked very hard to ensure we were delighted with the finished product. We wouldn't hesitate to recommend Dan and his team."
John Doe November 2020
Pictures Throughout The Project