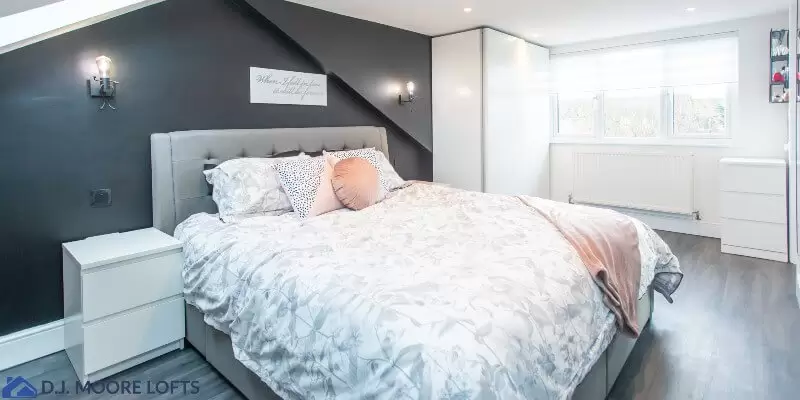 Master Bedroom Dormer Conversion
Loft Type: Full Width, Flat Rear Dormer
About The Project
Our wonderful client had a three-bed semi-detached house on the outskirts of Luton and was looking to add a new master bedroom complete with a bathroom. During our first meeting, we explained to our client the wealth of possibilities of their space, using our vast portfolio of completed projects as examples. Thankfully, we had recently finished a conversion in a very similar home, so this allowed them to envision the uses of their loft and how their results could look.
What We Did:
To make the space usable, we first needed to add a full width, flat rear dormer. Our client chose to clad their dormer in the very popular iron-grey Hardie plank cladding – this is a personal favourite of ours too and looks fantastic once the scaffolding is down!
The room itself is a brilliant space and has arguably become the biggest room in the house. We were even able to accommodate a great sized ensuite bathroom with a large walk-in shower!
Inside the conversion, there is a light and airy atmosphere, thanks to two rear uPVC dormer windows and three MK04 roof windows to the front. One of the windows has been placed over the stairs, which also helps the existing landing to feel much brighter.
We were lucky enough to get the new staircase up and over the existing set by removing the airing cupboard and slightly moving the box room, allowing us enough head height. A new Ideal boiler was installed in the front bedroom, which the client was planning to convert into a home office – a very popular choice at the moment!
Considering we only had 2.4m head height to start with, and there were trusses everywhere, this has transformed into yet another stunning conversion. It just shows what is possible, and we were so pleased to hear that our client was over the moon with their results.
If you are interested in our loft conversions in Bedford, Luton or any of the other areas we cover, please do not hesitate to get in touch!