Bedrooms can be tricky to arrange and think of design ideas for, but this can be even more challenging when your room is a converted loft. The different shapes, ceiling heights and floor spaces mean that your usual bedroom decorating tips may not always apply.
Nevertheless, this most definitely doesn't mean you cannot create the perfect space to unwind each evening. Our experts in loft conversions in Buckingham and the surrounding areas have helped hundreds of clients to transform their unused lofts into beautiful master bedrooms. With our top loft bedroom ideas, you can create a stylish yet functional space you will adore for many years to come.
Our Favourite Loft Bedroom Ideas
Having spent more than a decade designing, converting and furnishing loft conversions, our long list of services ranges from extending your loft space to installing bespoke wardrobes. Our team of specialists have a wealth of knowledge on how to make good use of every inch of your conversion, whether that be through hidden storage or custom-made furniture. The possibilities are endless, and our wonderful bedroom ideas are just examples of how you can make your new space your own. So, let's take a closer look: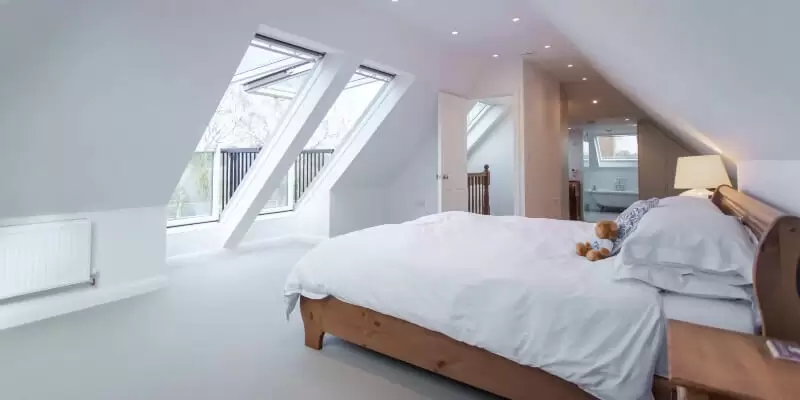 With so many fantastic bedroom styling ideas available, it can be tricky to shortlist your favourites. Here are some of our top choices for creating the perfect haven for relaxation:
1. Odd One-Out Wall
Perhaps you need some extra colour for your room without making it overbearing? An excellent solution is to paint or decorate one wall in the room with a different colour or pattern. Remember to use the wall you don't want furniture in front of, as this will block the colour! After, try matching accents of colour in your room, such as a rug or duvet, to the colour on the wall to tie it all together!
2. A Reading Nook
If you have an empty corner waiting for some extra love, a reading nook is ideal. Creating a relaxation zone offers the perfect cosy atmosphere for some well-deserved "me-time" at the end of a busy day. Invest in a plush armchair complete with cushions and a blanket for a nook you will never want to leave. Dunelm has some comfy and gorgeous armchairs, ideal for your comfy reading area!
3. Velux Roof Windows
Installing a Velux window into the ceiling of your loft conversion is a fantastic idea because of how it allows natural light in. Bathe in the light and perhaps even place your reading nook under this to create an ambient and peaceful environment for your room. Our experts in Velux conversions in Milton Keynes are always happy to install our high-quality and safe Velux windows!
Teenagers can be difficult to not only buy for but also design for! No worries, with our great ideas, you'll be guaranteed a space that will see them through their teenage years and into adulthood.
4. Loft Bed
Why not go for a loft bed? This will allow for a fun space for your teenager to crawl into and place a desk area or relaxation area for extra enjoyment! Not only will this amuse your teenager, but there's extra room for storage to be hidden away for a neat and tidy room whilst also adding edge and style.
IKEA offer some great examples with extra desk and storage space for maximum functionality!
5. Extra Pull-out Bed
If you're against the idea of a high bed, why not bring it down a tad and purchase one with an extra pull-out bed underneath? This will be perfect for your child's sleepovers and will allow them to have extra comfy space so that they can enjoy their evenings relaxing!
Happy beds sells some brilliant examples of exactly what you need for your teenagers room!
6. Comfortable Seating Area
Much like the idea we gave for an adult's loft bedroom, you may want to add in a cosy reading and relaxation area to fill up the space and create a relaxing and coolheaded ambience, perfect for after a stressful day to go in and calm down before bed! Add blankets, fairy lights and perhaps even a hanging hammock chair for extra style and uniqueness.
7. Accents Of Colour
For the overall design and look of the room, incorporate accents of your teenager's favourite colour to make their room feel theirs entirely, and tie in the style altogether without being too overpowering.
Your child's bedroom can be somewhere where they spend a lot of time, so it needs to be true to them and exactly what they want!
8. Fun Painted Walls
A popular idea that children go for bright colours on their walls for a touch of personality or even specific cartoon or themed wallpaper such as space themed. Match this to their personality and things they truly love to let their imagination run free!
9. Chalkboard Wall
Perhaps even purchase chalkboard paint and paint one large wall in it, supply them with chalk in different colours and away they'll go, using a wall that they're supposed to use as a drawing board without the hassle of trying to get it off!
10. Extra Storage
Adding a fun bed with a small bookshelf next to it so you can tuck them in easily every night is a brilliant idea to keep their room as clean as possible. Even some extra storage on their bedside table, in the form of drawers or shelves, will allow for a tidier room!
11. Playtime corner
For the nooks and crannies in the room, fill it with a fun idea that they'll be able to play with and spend their time in. For example, a comfortable den, much like the reading nook for a teenager, or a small corner with a playful rug with storage full of toys, so it can be easily put away instead of left across the floor.
Take a look at our previous article for more inspiration for your child's room!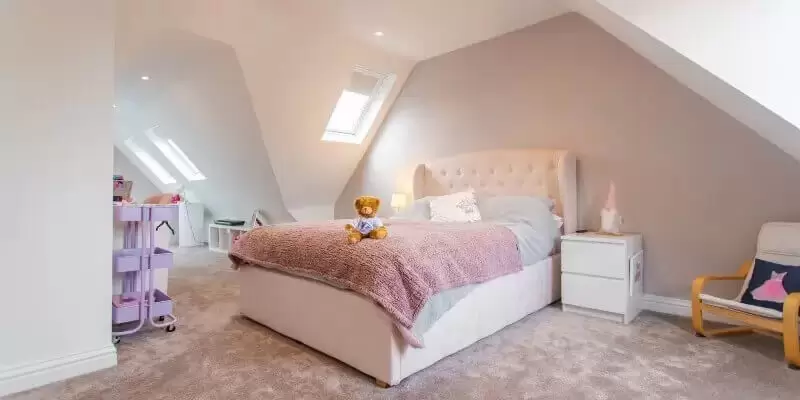 The main aspiration for your new small loft bedroom is probably storage saving; because of its size, it can look messier and feel more cramped if you don't have functional and practical storage options. A few of our favourite ideas to solve this are:
12. Bespoke Wardrobe
One of the things we know best is designing, building and installing bespoke wardrobes that fit just right for you! This option will allow you to store many different things inside; you can even build these into the wall, so they don't protrude and take up too much space in your room.
13. Space Saving Furniture
Much like the space-saving wardrobe, other ideas such as a built-in vanity or built-in shelf will offer you extra space and storage so you can keep all your mess out of sight and out of mind! These are accessible and easy to install with our help, so make sure you contact us for our service of installing your new, bespoke products.
14. Under Bed Storage
Under-bed, storage is excellent if your loft bedroom is more of a box room, as it really doesn't take up any space until you pull the storage out or lift the top part of your bed. The space underneath is convenient and safe, with a lot of room to store things, meaning you can keep anything and everything in the area!
Dreams has some amazing examples for you to choose from!
15. Storage Headboard
Instead of a typical headboard, a great idea is to invest in a shelved and surface-top headboard so you can place any sort of small items or books on or in it! A truly unique idea that our team of trusted partners who are experts in loft conversions in Milton Keynes can make bespoke to fit you!
16. Lighter Coloured Walls
Another great tip is to paint your walls a light colour, as this is proved to be an amazing way to create the illusion of a larger and airier room. If you choose to pair this with Velux windows, the natural light and light paint will expand on this and the room, making you feel as if the room is larger than it really is!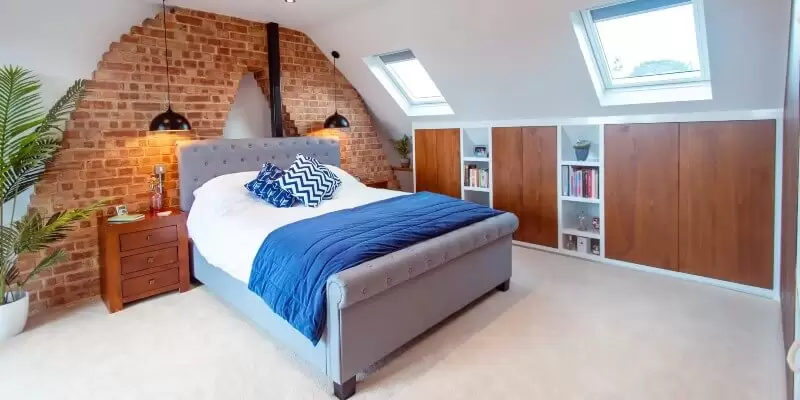 The Best Loft Bedroom Ideas
Now that you know all about our favourite ideas for your different loft conversions, you should be able to decorate and design your new, renovated loft conversion exactly how you want it. No matter the shape or type of room you have, we can provide excellent service and help. You'll be guaranteed a high-quality, safe and ideal room perfect for what you envisioned when you started designing your new bedroom. Surprise your family and friends with your beautiful new space to relax and find comfort in. Make sure to get in touch now for a free quote, home visit and survey to get you on the journey towards this ideal version of your loft!