No matter the size of your room, clever storage can revolutionise the usability and feel of the space. Whether you are looking for cost-effective, DIY loft storage ideas or more luxurious options, we hope that this article will provide you with the inspiration you seek to streamline your storage methods. This article outlines a few ways you can upgrade your storage in your loft conversion to maximise space. Using these tips and tricks, you can organise and stylishly display your possessions with ease!
Loft Storage Ideas To Maximise Space
The sloped ceilings of loft conversions can make storage challenging. Not only is it difficult to accommodate conventionally-shaped furniture under angled ceilings, but these spaces are also often relatively small, so space is precious. However, you can still house all your belongings in your eaves bedroom or living space!The DJ Moore Lofts team has completed many loft conversions in Milton Keynes and velux conversions in Bedford. Over the years, we have worked with clients to help them maximise space in their loft conversions with clever storage solutions.
There are loads of creative ways to store your belongings, and they don't have to cost you an arm and a leg! To help you find more space within your loft conversion, here are our top loft conversion storage ideas:
Sometimes, you simply have your heart set on something. If you are determined to accommodate a particular freestanding wardrobe or another large piece of furniture in your loft conversion, you can contact our team about a dormer conversion in Buckingham or a dormer conversion in St Albans. These conversions are one of our most popular services: they involve extending your loft space by adding a flat-roofed area, perfect for freestanding wardrobes or even the addition of an ensuite bathroom to your eaves bedroom!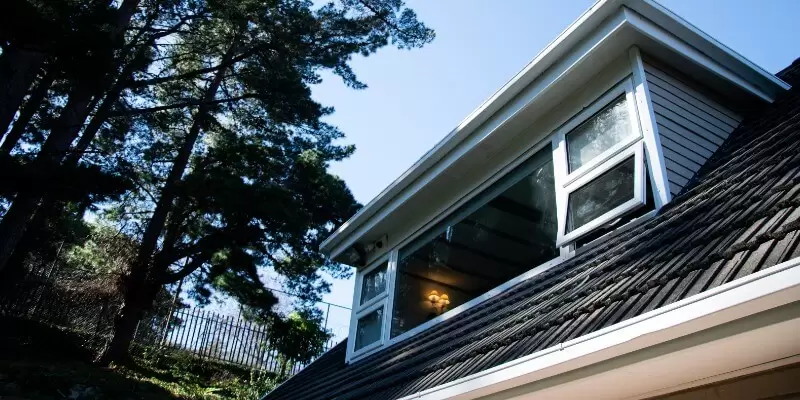 Storage spaces are usually designed to be tucked away, but why not combine aesthetic decor and functional storage? Utilise space that is otherwise wasted with these clever shelving options.
1. Floating Shelves
Freestanding shelving can take up valuable floor space, which can cause a room to feel cluttered. Floating shelves are a brilliant way to store and display your most prized possessions in a space-efficient way. These shelves are infinitely versatile: they come in various colours, shapes and sizes and can house anything in any room from decorative succulents and books to kitchen ceramics and artisanal chopping boards. They make perfect decor for the wall behind your headboard, where no one will bump into them, and you can display your beloved belongings with pride. Check out this House Beautiful article for quirky and stylish floating shelf inspiration. These designs can be DIY'd at home: no need to break the bank! For ideas on how to decorate and style your floating shelves, visit Apartment Therapy.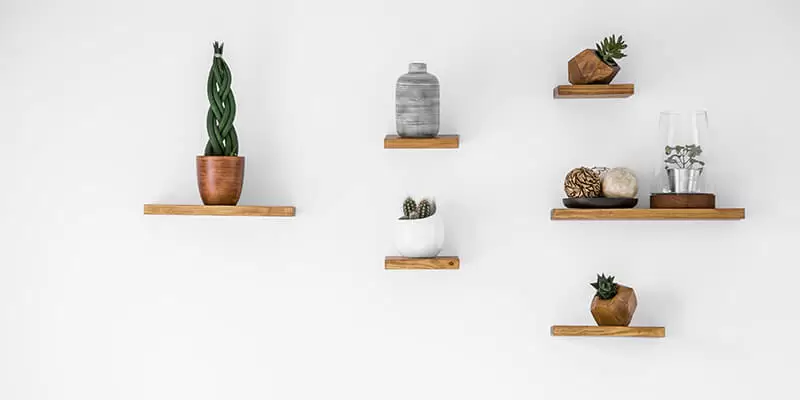 2. Stepped Shelving
High-rise or floor to ceiling shelving is a brilliant way to maximise storage space. However, the sloped ceilings in eaves bedrooms make it almost impossible for such a unit to fit. No need to despair; you can embrace the angled architecture of your bedroom nook with stepped shelving. Not only are these shelves aesthetically pleasing, but they will also fit perfectly under the sloped ceilings of your space. There some examples of these stunning units on Wayfair and Furniture Factor.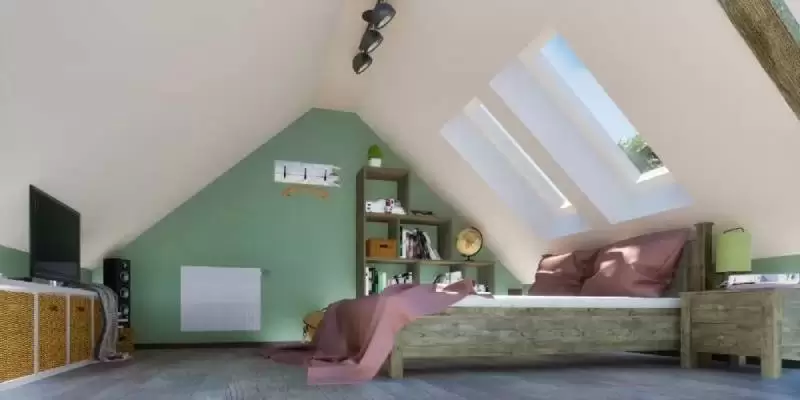 Floating shelves are not the only off-the-floor storage solution! There are many ways to utilise wall space to store items you need access to without over-crowding your living areas. These are especially handy when space is tight, such as in a loft conversion.
3. Hanging Baskets
Excellent for storing items you regularly use, such as cosmetics, these baskets can be placed anywhere for easy access to your belongings without the clutter. These three-tiered hanging baskets by Next are endlessly versatile, with a neutral design to suit a range of aesthetics. They can be hung anywhere with an adhesive chrome command hook fromT, which can handle up to 450g of weight and causes no damage to your walls.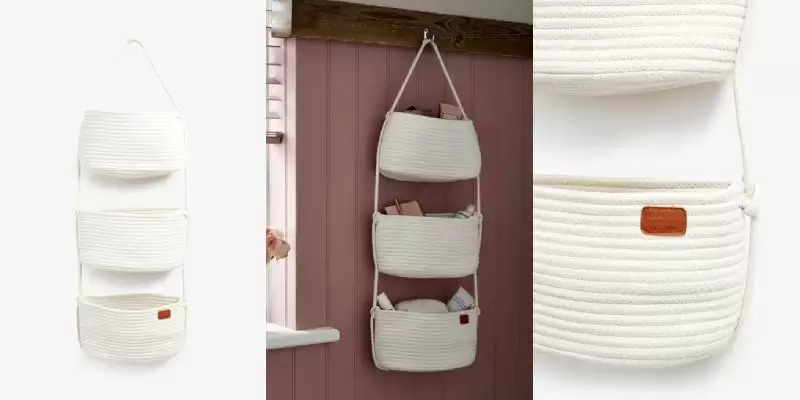 Photo Credit Next
4. Door Racks
From bathroom to bedroom to kitchen, door racks can be hung over any door and allow you to easily grab the items you need without taking up counter or cupboard space. These racks are the perfect solution to an overcrowded pantry, cloakroom or bathroom. They come in plenty of styles and can replace a range of storage units such as shower caddies, pantry shelves, coat racks and more!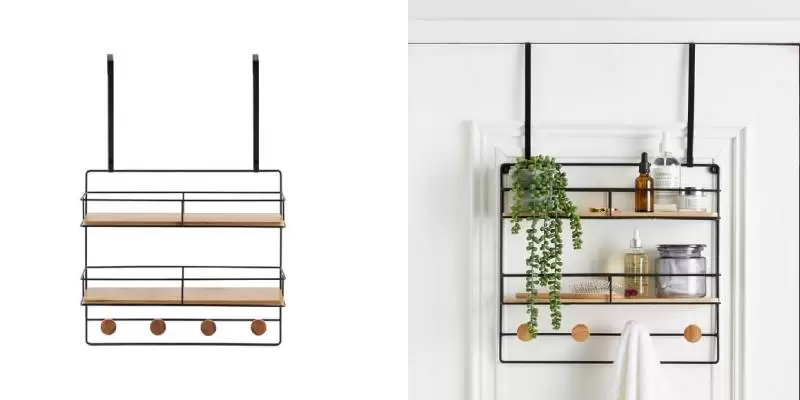 Photo Credit Dunelm
If you have more bed in your room than you do floor space, as may be the case with a loft conversion bedroom, then you'll be obsessed with these clever ways to make your bed double as a storage space! Avoid leaving clutter on the floor with these multi-purpose storage solution units.
5. In-Headboard Strorage
Upgrade a traditionally decorative feature into a functional one by installing a headboard with storage. These innovative units display and store your items where they are highly accessible but out of the way- perfect for bulky things that you use regularly or possessions that you want to exhibit in your room. You can find a host of headboards with storage on Real Homes.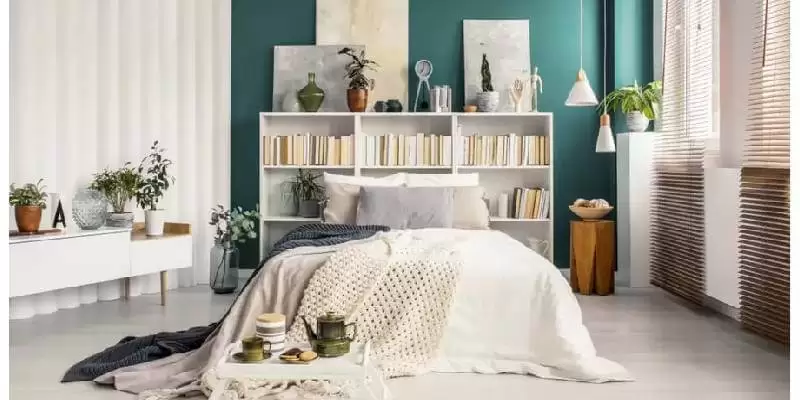 6. Under-Bed Storage
Under-bed storage is a brilliant way to optimise space. However, items stored here uncovered can accumulate dust. This is why we recommend boxes or baskets that slide under your bed as a cost-effective way to put this neglected area to use. Boxes with wheels on the bottom make for even easier access to your belongings. Hartleys Direct and Wayfair offer excellent, cost effective under-the bed storage options . If you prefer, you can purchase a bed that has drawers or storage areas integrated into the design such as those found at Dreams.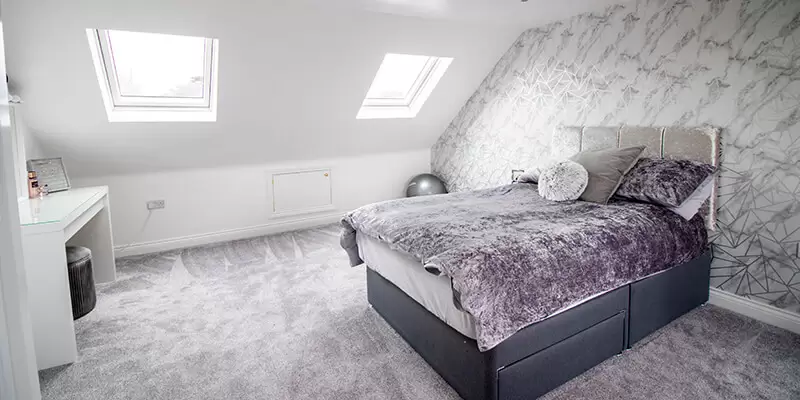 Revolutionise the way you store your belongings with these handy wardrobe storage hacks which will help you utilise every inch of available space.
7. Bespoke Wardrobes
Bespoke wardrobes are excellent for loft conversions since they are measured to fit perfectly into the space you have to work with. While purchasing a pre-made freestanding wardrobe is cost-effective, it can restrict you when it comes to storage space. Rather than awkwardly squeezing a flat-topped wardrobe under your sloped ceiling, consider having a bespoke wardrobe designed and installed into your home. Having a wardrobe made to fit the architecture of your room has several benefits that make it a worthy investment:
Highly Customisable
Efficient Use of Space
High Quality Materials
Your custom wardrobe can incorporate features such as pull-out clothing rails, small draws for jewellery and even light fixtures that illuminate your garments as you open doors and drawers! Everything is designed and installed according to your needs, creating a uniquely made space to accommodate and organise all your things in a way that makes sense to you. Take a look at this Homify article for some wardrobe interior inspiration!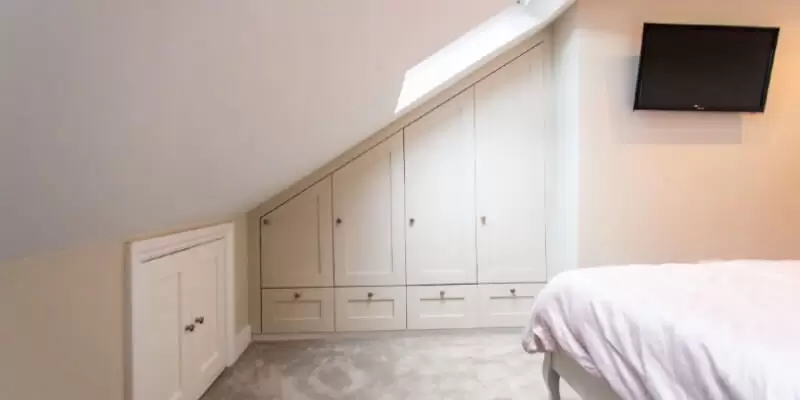 Bespoke wardrobes maximise storage by being built into every corner and crevice, utilising all available space. They can also be made even more space-savvy with customisable features such as elegant sliding doors that effortlessly glide aside without obstructing space; and stylish mirrored panels which eliminate the need for a freestanding mirror.
The DJ Moore Lofts team regularly undertakes loft conversions in Milton Keynes. Often clients will have bespoke wardrobes installed into their conversion for storage that is space-efficient, stylish and tailored to their needs. DJ Moore Lofts can make the luxury wardrobe of your dreams a reality. Feel free to contact our team for more information and to start designing your bespoke wardrobe.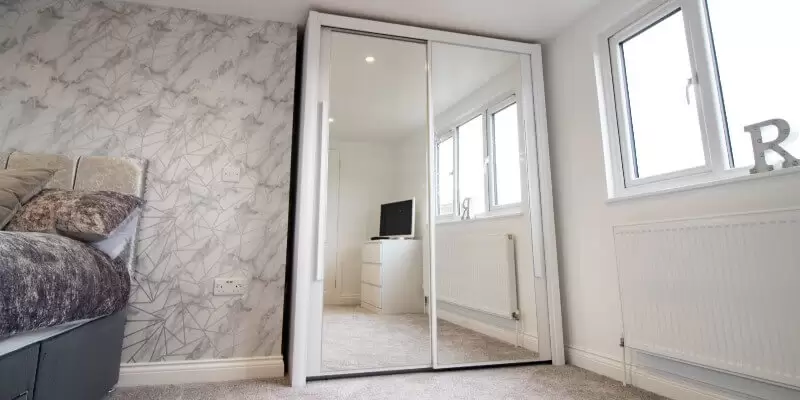 Wise Wardrobe Storage Solutions
There are plenty of creative ways to store your clothing. By using some of these savvy storage solutions, you can ensure that you optimise your wardrobe space without creasing your clothes.
8. Shower Hooks
If you have lots of scarves,vests, ties or necklaces or lighter tops, you can de-clutter and organise your wardrobe with minimal cost by using shower hooks and rings. We love these shower ring storage solutions by Good Housekeeping! You can also try hanging your trousers on these stylish brass S hooks.
9. Item Organisation
Keeping your space and belongings organised not only streamlines your daily routine, but can also maxmise storage space. There are many tricks to help you organise your bedroom, and lots of them won't cost you a penny! Here are our top seven tips for organising your bedroom and wardrobe:
Colour coordinate your wardrobe
Use draw seperators
Place your jewellery on a jewellery holder
For younger children, label draws or baskets
Stack boxes
Place seasonal clothing in boxes and store out of the room when not in use
Use a hanging jewellery organiser to store makeup
You can find even more organising solutions and creative ways to keep your bedroom and wardrobe tidy on MakeSpace!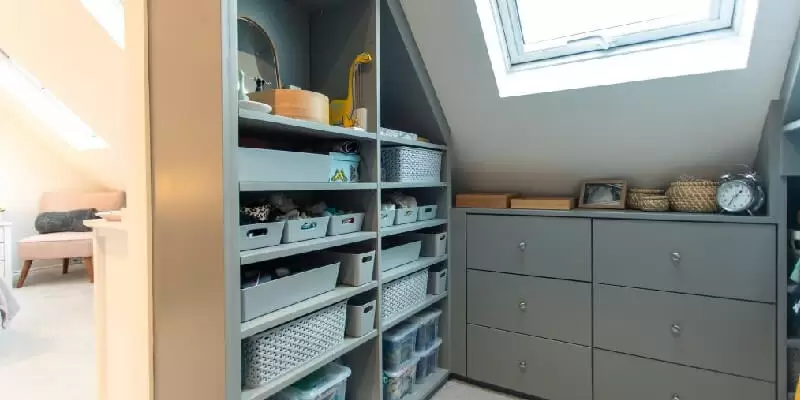 Make the most of your eaves bedroom with units that conserve space and store bulky possessions where they are out of the way but easily grabbed when needed.
10. Built-in Shoe Racks
Similar to bespoke wardrobes, built-in shoe racks can be fitted to the architecture of your home, maximising storage space without encroaching on your living areas. These units can be custom built to accommodate and organise your shoe collection in a way that suits your tastes. Whether you would prefer sliding drawers or units that fold out to reveal your favourite footwear a luxury bespoke shoe rack is a must-have for fashion fanatics looking to upgrade their storage methods. If you're ready to give your shoes a better home, contact our team for more information or to get started on designing your bespoke shoe rack.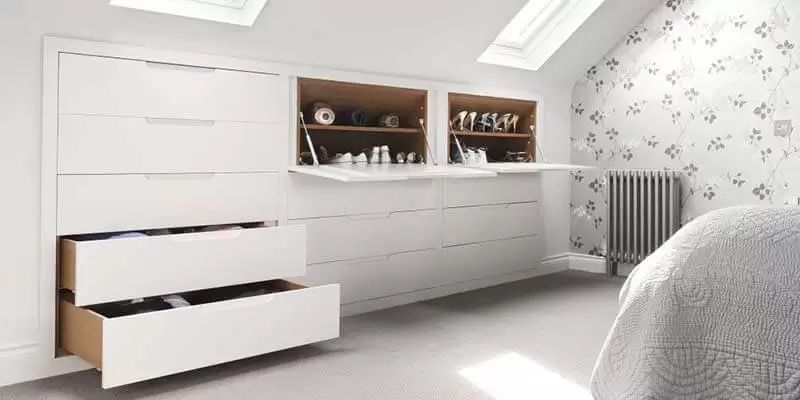 Maximise Space With These Smart Bedroom Storage Ideas
We hope that our article has provided you with plenty of inspiration for innovative storage solutions, whether you're a DIY fanatic or would prefer someone else to do the work! For some loft bedroom furniture ideas, check out our previous article. If you would like some help designing a room that caters to your needs, then the DJ Moore Lofts team is more than happy to help. With years of experience in providing bespoke loft conversions in Bedford, Milton Keynes and the surrounding areas, we can guarantee exceptional results.