Whether you are thinking about having a loft conversion or already have a room in the loft, you may be wondering how you can use the space effectively and wisely. Well, you may be surprised to know that there is an endless supply of ways you can use this space, incorporating your own element of style in the process. If you're stuck on loft room ideas, then we have some inventive and useful ways you can use the space to your advantage.
Loft Room Ideas Suited To All Homes
When it comes to loft conversions, there are multiple different styles that you can pick from, whether it be a stylish and modern dormer conversion or Velux conversions that open up the room. Regardless of which style you opt for, each loft conversion gives you a unique design that can be utilised to create a stunning room that can be used for multiple purposes.
Once you have decided what kind of room you will create in your loft, you can start to choose the design and style of the room depending on its purpose. Having completed and furnished many loft extensions in Milton Keynes over the years, we have a pretty good idea of the kinds of things you can do with a loft conversion. To help you decide what to do, we have come up with a range of different ideas, styles and furnishings that you can take inspiration from.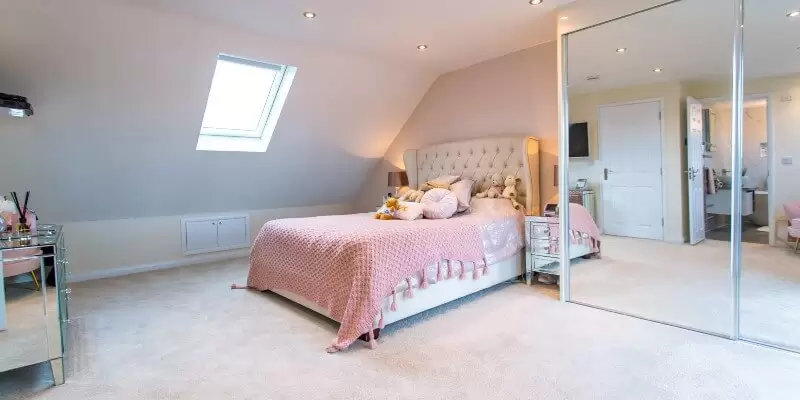 If you're lucky enough to have the space for a bedroom in your loft, you should absolutely utilise it to the best of your ability by designing and decorating a room that is your personal haven. Thankfully, we have a couple of ideas that should help you do this!
Bedroom With An Ensuite
This option is very popular amongst our clients who opted for one of our loft conversions in St Albans or one of the surrounding areas. It is likely that you will have a considerable amount of room in your loft conversion to work with, meaning that you can afford to bring the master bedroom upstairs and treat yourself to a luxury ensuite where you can sit back and relax. The great thing about a loft conversion is that you can add sky lighting to let in as much natural light as possible to make the room feel spacious and less claustrophobic. In some conversion styles, such as the dormer, you even have space to add a small balcony for that added level of luxury.
Make sure that you have the perfect sanctuary to enhance your loft bedroom design by incorporating a bathroom that has all of the features and fixtures that you need to relax and unwind after a long day. For example, a whirlpool bath is great for your wellness and instantly relaxes you. Another added bonus of having an ensuite in your master bedroom is that you won't have to worry about the kids making a mess; this means that you can furnish your bathroom with luxury items that you know won't get damaged. Elle Decor has some beautiful bathroom design ideas that can modernise your room as well as give you that luxury experience you deserve.
Ensure that you create your loft bedroom design to epitomise your own style, whether it be modern or traditional. There are plenty of design ideas that you can find on the internet to enhance your bedroom, such as those on Good Housekeeping. We would suggest taking your own approach to the modern trend that is currently taking over homes across the UK. For example, modern homes tend to use white, creams or other neutral colours on the walls and incorporate soft coloured furniture. However, you could always add your own flair with some artwork or a funky animal print chair.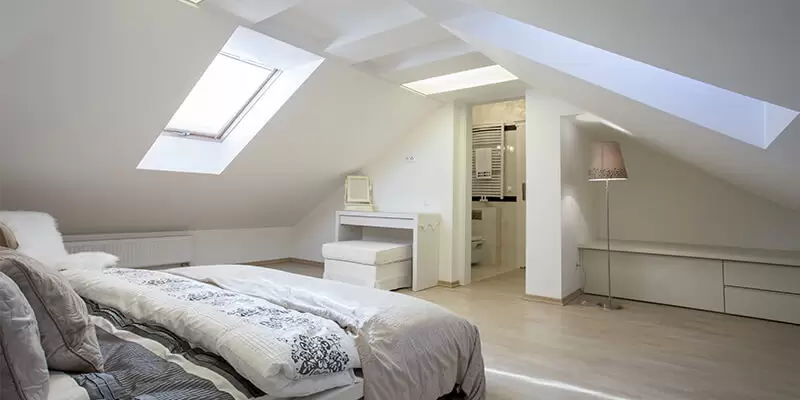 Wood-Effect Flooring
While the majority of modern bedrooms will have carpet flooring, we'd encourage you to think outside the box when it comes to choosing the material for your bedroom floor. Laminate and vinyl flooring are often overlooked as options for the bedroom, although there are many benefits to installing these materials as flooring. For example, they are extremely durable, making them ideal for frequently-used spaces such as bedrooms. They are also easy to clean and maintain, which is perfect for those of us with busy lifestyles. Laminate is especially scratch-resistant, so it is a popular choice among clients with dogs and cats.
Vinyl and laminate can be used to achieve a hyper-realistic wood-effect floor, something that can easily elevate the aesthetics of the room when styled properly. If you're going for an elegantly eclectic look or want to add a touch of nature to the space, this is something to consider. We love the idea of placing a large, fluffy rug that matches your colour scheme underneath or next to your bed. This way, you can enjoy standing on a soft surface first thing in the morning and add a sense of warmth to the space, all whilst reaping the practical and aesthetic benefits of vinyl and laminate flooring. If you'd like our help installing flooring, be it carpet, vinyl, laminate, tile, or another material, please do not hesitate to get in contact with our team for more information.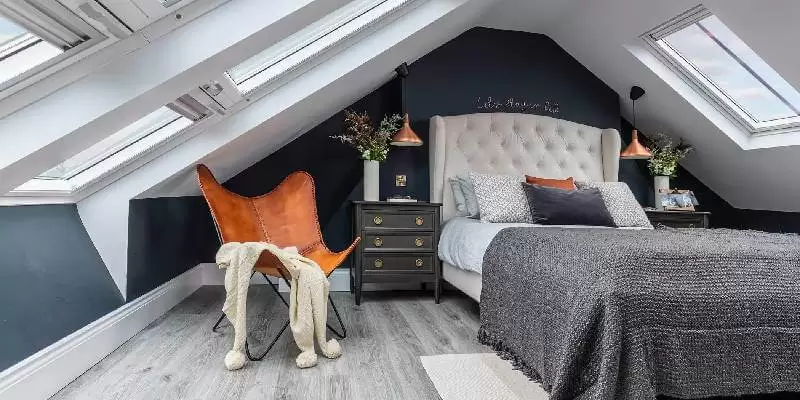 From kids to adults, we all need time to relax and unwind from our responsibilities, be they school, work, childcare, or something else. That's why we've come up with a few potential ways you can put the space in your loft conversion to good use with a recreational area.
Peaceful Living Room
Due to most loft conversions incorporating a vast amount of light through window placement, a peaceful living room is a perfect option for you to relax and read a book after a hard day's work. The natural lighting makes for the ideal setting to place some fake trees and plants for you to feel like you're in the Bahamas even when it's cold, wet and windy outside. You could even go the extra mile and add in some rattan chairs for that rustic Caribbean feel, paired with some brightly coloured cushions.
Seeing as heat rises, having your living room in the loft for the winter makes for the perfect cosy den where the whole family can snuggle up and spend some quality time together. Ensure that you have warming colours such as soft greys and browns, and pair them with modern chairs such as these fashionable velvet shell armchairs. Make sure that the room is comfortable and keep the family warm with some soft blankets. You can find some more winter living room ideas on Ideal Home.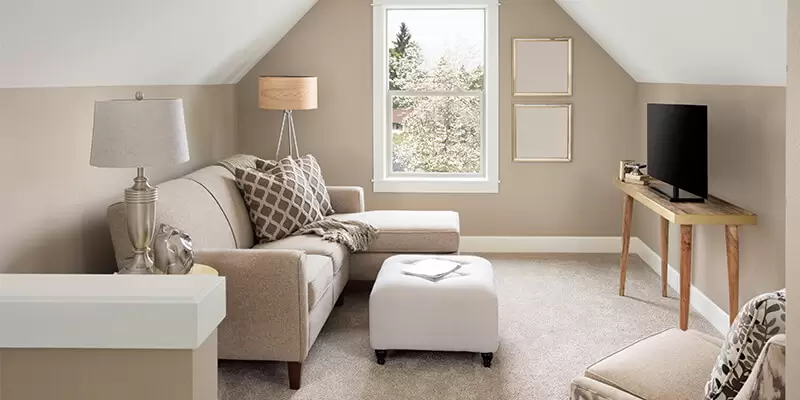 The Man Cave
Why not create a special place for the lads to hang out, including all of your favourite table games, drinks and food? Start by setting the mood and paint the walls a dark colour; this also makes it easier to hide any scuffs and scratches that might occur when messing about. Include some furniture such as a large sofa and a coffee table, making sure that you have some coasters ready to avoid any damage.
Games such as a pool table or a football table are perfect additions to a man cave, giving you hours of fun when friends come over; just be sure not to place them too close to the walls. Don't forget about having a mini-fridge to keep all of your drinks cool, and a snack station with all of your favourite sweet treats. You can find some inventive ways to decorate your man cave by taking a look at Morning Chores' inspiring article.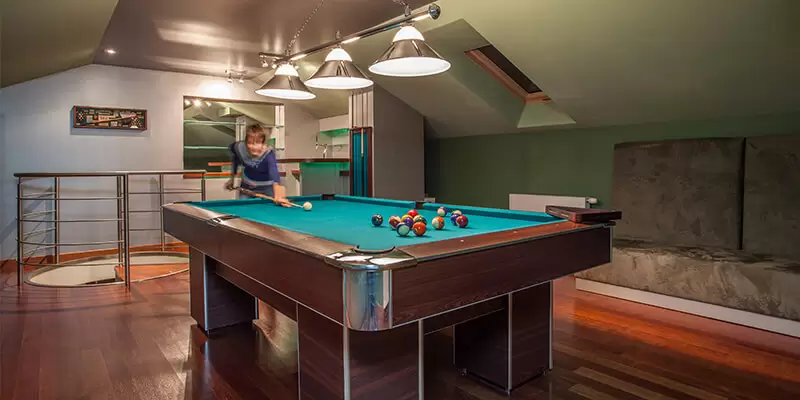 Kid's Playroom
There is nothing quite as frustrating as having a perfectly designed home and spending hours cleaning up to find that the kids have been making a mess behind you as you're going along. So, why not make the loft a playroom for the kids to make as much mess as they like? Not only will you be able to claim back the living room, but it also gives you the opportunity to teach your kids about sharing and cleaning up after themselves. You don't even need much space in your loft to do this!
Allow the kids to get creative by setting up a station in the room for arts and crafts, ensuring that you include storage so that everything has its own home. You could even make the walls a chalkboard and allow your kids to create their own wallpaper that can be washed off and restarted time and time again.
When designing the playroom, make sure that you design it with little people in mind so that storage is low and corners are soft. Corner guards can make sure that if anyone hits their head on the side of boxes, there won't be any serious injuries; while storage that is on the floor makes sure that everyone can reach them and that heads aren't banged against shelves. Not only does this protect your children, but it also gives you peace of mind that they can play away upstairs while you relax in the living room. If you're struggling for ideas, then Real Homes has some playroom designs to give you a little bit of inspiration.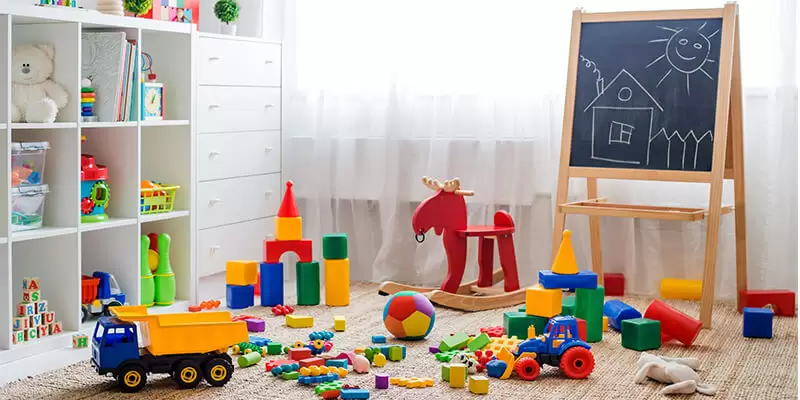 Not everyone has the luxury of a large loft that fits with every room idea; however, smaller ideas such as a walk-in wardrobe mean that you can still be sure to use the space wisely. As specialists in loft conversions in Milton Keynes, there is an abundance of ways that we can help you to maximise the potential of the space you have available.
The Dream Walk-In Wardrobe
Walk-in wardrobes tend to be made bespoke to the client, which is perfect for loft conversions as they usually have slanted roofs, making them an awkward shape to work with. Wardrobes can be fitted to all of the curves and edges in the room, as well as fulfilling your storage needs. Sliding doors are a great use of space as they don't take up much space yet still add some style and sophistication to the room.
Make your walk-in wardrobe a luxury addition to the home by adding a chair in the centre of the room, as well as a chandelier for a statement piece and dramatic effect. You can make the room your own by choosing wardrobes, doors and windows that are best suited to your style. By having your wardrobe in the loft, you can free up space in your bedroom to make it feel bigger, allowing you to maximise space.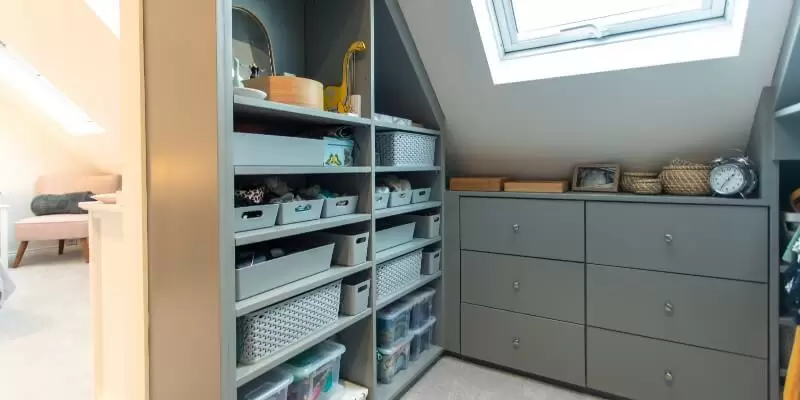 A Sophisticated Bar
Just because you have a small space to work with, it doesn't mean that you can't create a little den for you and your guests to socialise in. A small bar area is a perfect addition to your home, allowing you to have a dedicated location for your alcohol, party games and stylish seating. There are many ways in which you can decorate your bar area, such as having stools for people to sit on, as well as pumps for draught beer or a mini-fridge for soft drinks.
If you can't fit in any table games, why don't you have a station for board games that you can bring out, or even place a TV on the wall? You can also add some sophistication to the room by having a liquor cabinet that also holds all of those fancy glasses. Home Wet Bar has some funky, unique and interesting ideas for designing home bars, so we would suggest taking a look before designing your own.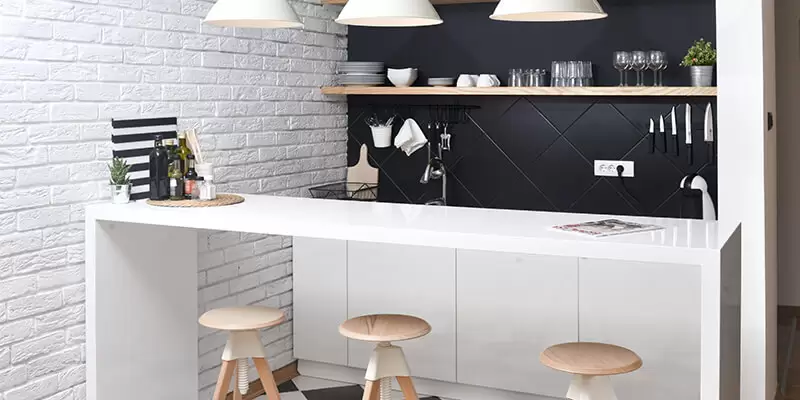 If you've decided what you want to do with your loft conversion space but are struggling for ideas on how to decorate it, check out a few of our favourite ideas below:
Add some greenery – if you love nature, plants are a must! Whether you opt for real or fake ones, this is an excellent way to bring a refreshing splash of green into the space. Our favourites include succulents, hanging potted plants, and artificial vines!
Keep it light – since loft conversions can feel a little claustrophobic due to their smaller sizes and slanted ceiling, decorating them with light colours can help keep light bouncing around the room and make the space seem bigger and brighter.
Hang a tapestry – if you're looking to create a cosy feel in your loft conversion, hanging a pretty tapestry is an excellent way to bring some softness and warmth to the space. Head over to Pinterest for some stunning tapestry inspiration!
Install some fairy lights – fairy lights look absolutely gorgeous in all sorts of aesthetics and are incredibly easy and cheap to find and install. For the ultimate cosy little den, why not combine a string of fairy lights with our tapestry idea?
Creative Loft Room Ideas
Hopefully, this article has inspired you to start decorating your loft conversion and put it to good use. For those of you that have now seen the potential of a loft conversion and the amazing benefits and room ideas that it brings to the home, why not have one designed bespoke by the DJ Moore Lofts professionals? The team have extensive knowledge and expertise when it comes to loft conversions in Berkhamsted and the surrounding areas, so please do not hesitate to contact us today to arrange your conversion project. For ideas on maximising storage space in your loft conversion, check out our previous article.