When contemplating converting your loft to create more space within your home, there are a few things to consider. For example, whether the roof is tall enough to accommodate the new addition and what type of room you want to create. However, one aspect that will significantly impact the construction of your loft conversion yet is often forgotten is the position and style of the stairs.
Much like you would choose the type of conversion you have, whether that be a VELUX conversion or hip to gable, you will also need to think about the type of loft conversion stairs available and whether they are appropriate for or feasible within your home. Having had many years of experience providing clients with their dream loft conversions in Milton Keynes and the surrounding areas, we have several solutions to help you determine the best-fitting option.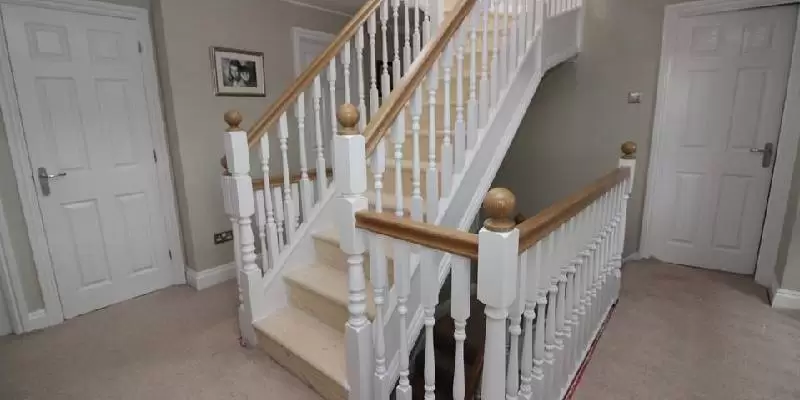 Designing Your Loft Conversion Stairs
Planning your loft conversion takes time and skill, and that's why our team will always consider your requirements before planning your project.
As leading specialists providing clients with high-quality loft conversions in Aylesbury and the surrounding areas, our team are well versed in finding solutions that ensure you are still able to have the conversion you envisioned despite hurdles that we may face.
The stairs in your home can significantly impact how your results look and feel, making a statement and adding a level of modern or elegant flair to your interior design. Luckily, there are many solutions that you can incorporate into your loft conversion, depending on your style preferences. We have pieced together a guide on the multiple options available, along with considerations to keep in mind:
If you have decided that moving property is too expensive or you can't part with your beloved home, then a loft conversion is one of the best options to add much-needed space. However, this will require you to think of many aspects of the project – will it change the appearance of your home? How long will it take? How much is it? And will it pass planning permission? These are all relevant questions that you will need to consider before going ahead with your project.
You will also need to consider whether there is enough room for the staircase to fit or will you need to sacrifice space? For example, if your hallway does not have enough room for the stairs, you may need to consider whether you get rid of a small room or make a room smaller on the lower level to accommodate the conversion. While these will need to be considered, the team will discuss your options and how your staircase can be incorporated into your home. This will help you to envision what your conversion will look like while also allowing you to consider every aspect of the project before going ahead.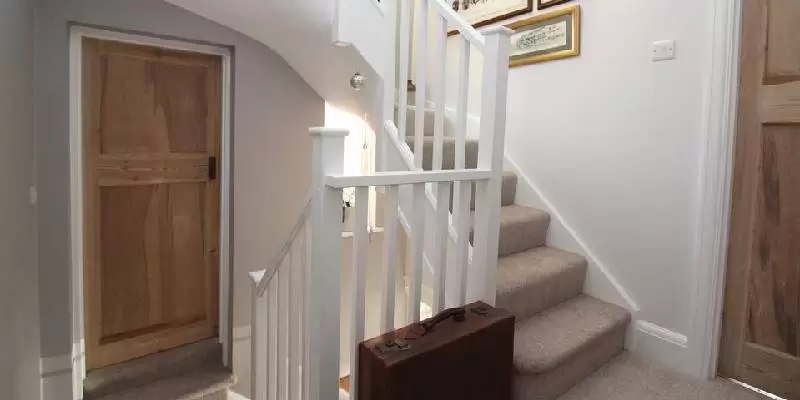 When building anything onto or in your home, there are strict building regulations that must be followed; this is one of the key reasons why it is important to make sure that you do your research on home improvement companies before going ahead with a project. The regulations for loft conversions cover many aspects as the structure of your home will drastically change. For example, in some cases, the roof will need to be extended or the ceiling of the room below to be lowered to accommodate the new rooms above. Because of this, it means that there must be strict guidelines that our team follow to ensure that your home is safe after the project has been completed.
The stairs are a significant part of these regulations, meaning that the headroom, quality and pitch must all be taken into consideration when building your stairs. The regulations for the construction of stairs include the following:
Stairs must be fixed
Maximum steep pitch of 42 degrees
Staircase risers must be of equal level
Stairs must have a handrail if they have a drop of more than 600mm
1.9m headroom at the centre of the flight
1.8m headroom at the edges of the stairs
When you decide to contact our team to arrange your loft conversion, they will take measurements of your home to ensure that there is enough room to fit all aspects of the project, including the staircase. From here, the team will then plan your conversion in detail so that you can apply for planning permission, and all regulation checks will be successful. If you would like to discuss staircase regulations and how this will impact your project, then please feel free to get in touch for more information.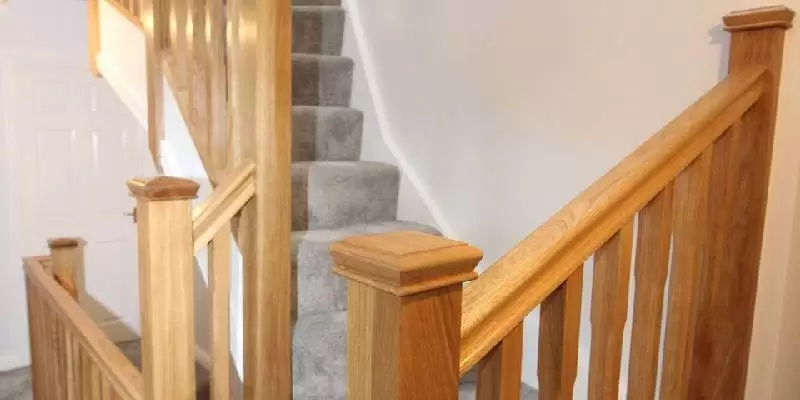 There are three main types of loft conversions, and to accommodate them, there are four types of staircase solutions available. While you are able to choose the type of solution to incorporate into your home, there may be a staircase best suited to your property type or size. For example, if you have a slightly smaller home, you may need a staircase that bends as it goes up, as this will allow you to keep to regulations while also making sure that the foot space on each step is safe. The four main staircase styles are as follows:
Spiral Staircase – this is a classic for traditional homes and is perfect for those that have an extremely small space to work with.
Paddle Staircase – most loft conversions are installed with a paddle staircase which replicates the style of most modern staircases.
L/U Shaped Staircase – to ensure that you still have space, even in the smallest of homes, the L or U shaped staircase is ideal. They allow you to incorporate a paddle design while curving up to create elevations of different levels to the loft.
Ladder Staircase – for homes with particularly limited space, you can incorporate a ladder staircase which can be placed in just about any room and take minimal space. However, this is one of the least popular staircases because it is far less convenient.
If you struggle to meet building regulations even with a space-saving staircase, there are other options to help you do this. One way to create the required headroom above your staircase is to have a dormer conversion, which replaces a section of slanted roof with a horizontal roof, raising the ceiling height. If you would like to know more about our dormer conversions in Bedford and the surrounding areas and your staircase options, please feel free to get in touch with our team.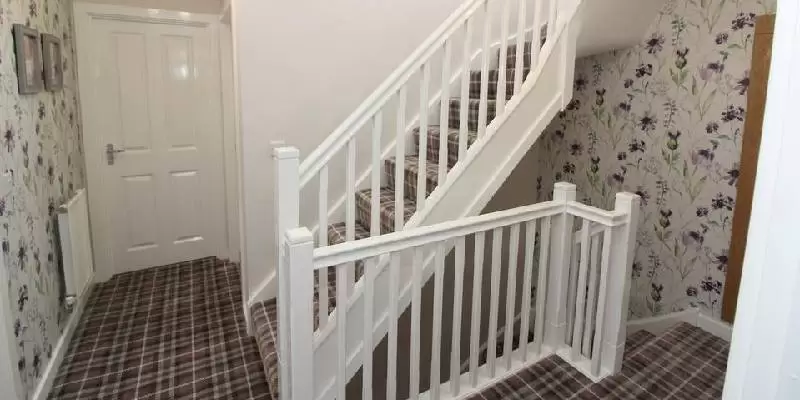 Once you have decided upon your staircase solution, it's time to think of the many ways that you can make it your own. This will include everything from the colours you use to the material you wish to have the staircase built in. Here are some easy ways that you can make a staircase look more traditional or modern, depending on your style preferences:
Materials
There are a host of materials that you can incorporate into your staircase, and depending on your budget and design requirements, some materials will be better suited than others. For example, carpet is good for those with younger children or those with carpet installed in the rest of the home. If you were to install wooden stairs, for example, you might find that the rest of the hallway does not match due to the contrasting carpet. Carpet is also a great material to use if you are looking to add a pop of colour to your staircase. We would suggest taking a look at The Spruce for colour inspiration for your stairs as well as painting ideas to add some character.
On the other hand, those that are looking to create a more modern home may be interested in using wood with a touch of glass on their staircase; this will add an element of elegance to the home interior. Again, there are multiple colours of wood that you can choose from, including oak and grey, making it easy for you to find a match to any existing wooden flooring or to generate your own modern vision. You can find further ideas for wooden stairs over on Next Luxury.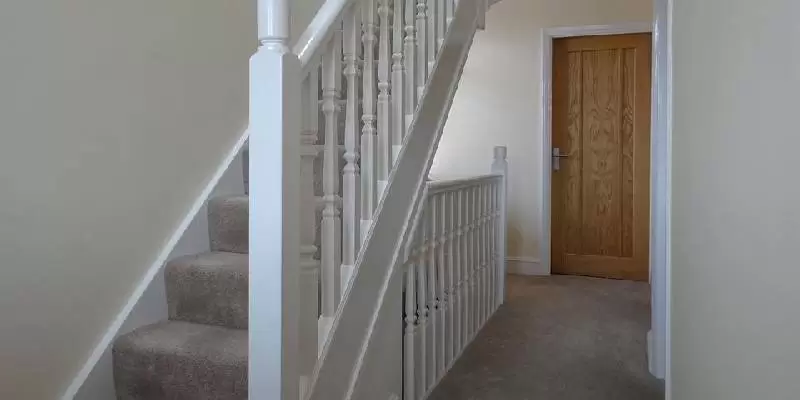 Contrasting Colours
A stunning way to elevate your staircase is to use contrasting colours, such as black and white. This can be achieved by making the spindles white and the handrail black or the steps black and white. By doing this, you can create a space that stands out and makes a statement. This Pinterest staircase is a perfect example of how this can be implemented in your home in a subtle yet striking manner.
Create Runners
Although runners are less of a trend in the UK, they are a stunning way to create an entrance and pathway to your loft conversion. Runners go along the staircase, leaving space on either side to create another stunning contrasting effect. Usually, this is achieved with a bold carpet of your choosing on top of a wooden staircase. We love the idea of having a grey carpet up the stairs with white wood on either side to make the runner stand out, but you can incorporate any colour of your choosing! Living etc. has a range of inspiring ideas to give you some thought on how to create this quirky staircase solution.
Add Lighting
The staircase can often be a dark place, so use lighting to your advantage. Rather than having lighting hanging from the ceiling, you can incorporate some elegant lighting into the staircase. For example, LED lights can be built into the staircase frame on each step to highlight your new home addition while also making it a practical feature. Take a look at John Cullen's article on the best staircase lighting ideas to see just how stunning this feature can look.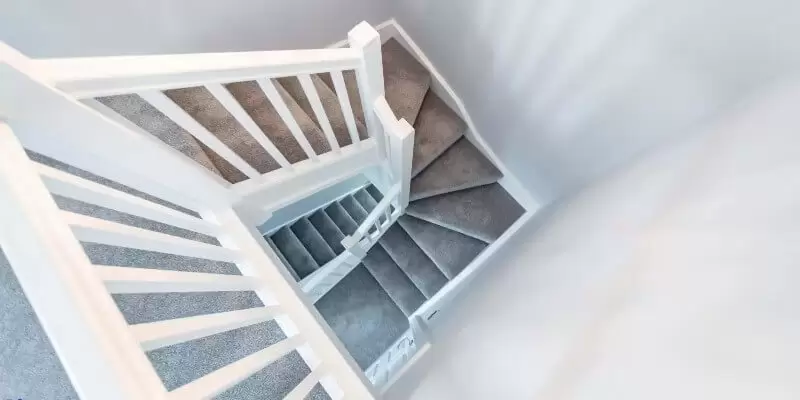 If you are worried about the limited space available when converting your loft into a new, updated room, and are wondering where you can install a whole set of stairs, do not fret. Our team has a wealth of knowledge in loft conversion staircases and has seen many situations in which new approaches must be taken.
There are various ideas for space-saving staircases; for example, you could opt for spiral or curved staircases, which will allow for a luxurious and spacious staircase whilst having the stairs be more compact in a tight corner and not taking up any valuable space. For extra functionality, perhaps convert the under-stair space into more storage for your household items; this will allow you to keep all mess and untidiness away without restricting the walkway to the staircase!
Another popular idea is to install alternating tread stairs, which are a steeper set of stairs with smaller steps. This will allow for less width and space to be consumed; however, you will have to comply with building regulations if you opt for this approach. The building regulations state that if the angle of incidence of the stairs is larger than 42°, your staircase will not comply. You must also have a strong handrail on each side of the stairs to prevent hazards.
For more space-saving loft conversion solutions, check out our previous article, which outlines how clever storage can help you make the most of your space.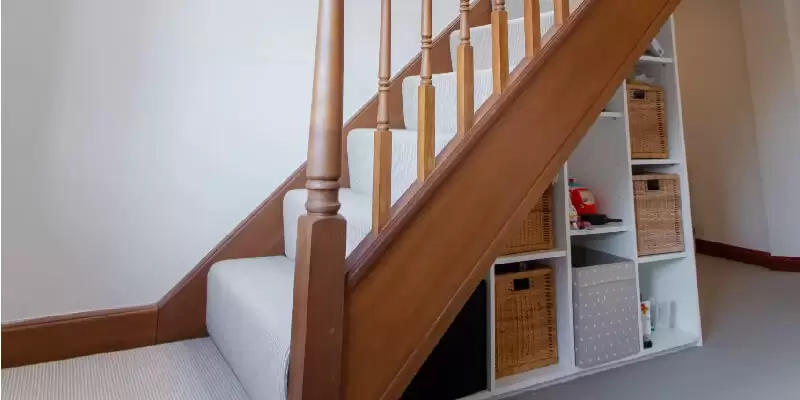 When designing your new loft conversion, it can be challenging to think of where to place your new staircase in your existing house. Luckily, our team of specialists in loft conversions in Milton Keynes and the surrounding areas are always happy to help you envision your design and create solutions that work exclusively for your home.
If feasible, we always recommend installing your new loft staircase up and over the existing set. This is the best way to ensure that the new stairs look as if they were an original feature of your home. In some cases, properties are designed with a large landing that can accommodate this without any additional construction work; however, for most clients, a slight reconfiguration of their first floor will be necessary. We would either use the smallest bedroom to free up space or move a wall in a larger room to enlarge the landing.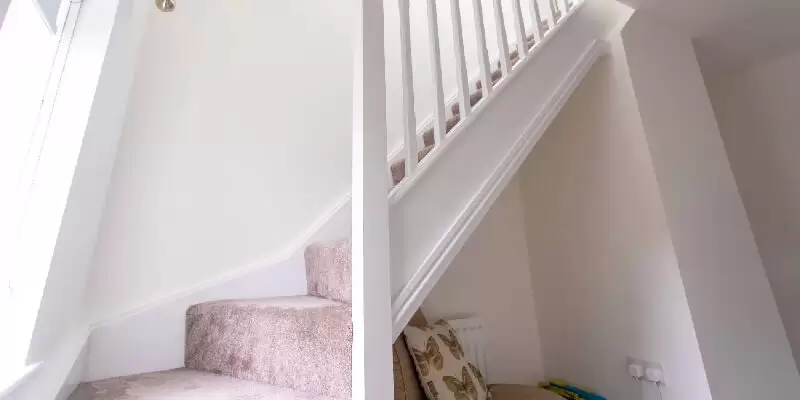 Our team have a wealth of knowledge in installing loft conversion staircases and will always happily discuss which option best suits your home. Here are just some examples of staircases from our previous projects:
Your Guide To Loft Conversion Staircase Solutions
There are numerous ways to personalise your staircase and find a solution that best suits your home and budget. While there will be factors that may contribute to the shape and style of your conversion staircase, our team will always go through the typical design process of our loft conversions in Milton Keynes and the surrounding areas before getting started. They will use their skills, experience and training to give professional advice on how the staircase will be constructed and how you can make it your own, so please feel free to ask our team further questions about loft conversion staircases.