Lofts tend to have an awkwardly shaped roof, which can make the space feel small. However, with the vast range of loft conversion styles and the extra helping hand of our specialist team, you can create a luxury and spacious conversion. There are plenty of space saving tips that can help you to maximise every corner of the room while decorating the space how you like. As experts in loft conversions in Bedford and the surrounding areas, our team can help you to design a space that incorporates a range of clever storage and space saving solutions from wardrobes to bespoke and perfectly fitted bathrooms.
Loft Conversion Space Saving Tips
Loft conversions are a great investment for your home for many reasons; they help to add additional rooms onto your property when your family begins to grow, while also increasing the value of your property should you wish to sell. However, to reap the many benefits a loft conversion can add onto your home, it is important to think about the design of the room. Everything for the layout to the furniture you place into the conversion should be well thought out to ensure that you can enjoy your new space without having to worry about storage. Luckily, there are an abundance of ways that you can maximise the space that you have, whether that be through the conversion type you choose or the solutions you incorporate into your design.
Having provided loft conversions in Biggleswade for many years, our team are well versed in helping clients bring their vision to life. In fact, we have a wide range of projects for you to browse through to gather further ideas and inspiration before contacting the team. To lend you a helping hand at the beginning stages of your planning, we have come up with a few ideas for you to consider when designing your loft conversion with the team, including: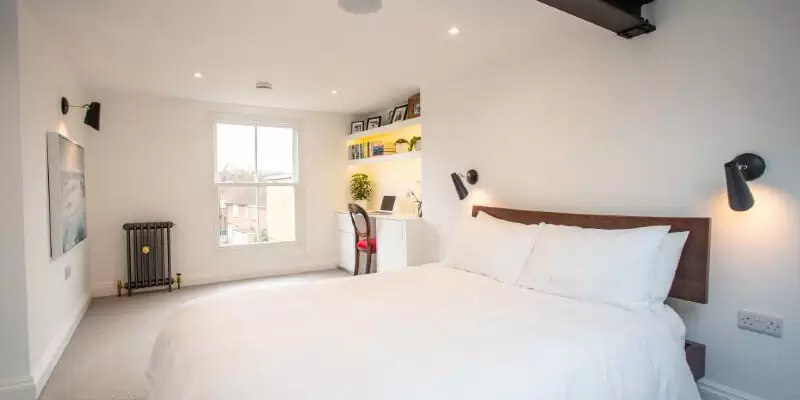 Project – Dormer Loft Conversion, Stony Stratford
One of the most common uses for a conservatory is a large bedroom including an ensuite, but many clients think that the space they have is not able to accommodate the additional features when furniture such as wardrobes are added into the room. Standing wardrobes will be your worst nightmare when designing a bedroom in a small space. The reason for this is that they can be chunky and do not succeed in taking up the entire space, therefore, wasting valuable space in the conversion. Unlike standing wardrobes, however, a bespoke made and fitted wardrobe allows you to fit storage space into even the most awkward of spaces. The doors and panels are perfectly made to measure, ensuring that you can reach every crevice of the room – into the corners and as high as the ceiling.
Much like many of the aspects in a loft conversion, a bespoke wardrobe comes alongside many benefits, including the following:
Full Design Control
Both the inside and outside of the wardrobe can be tailored to your needs and design preferences, and with the array of colour and material options available, finding the perfect solution couldn't be any easier. Let's first start with the door design; you can choose to have swinging or sliding doors depending on the look you are going for and the space that you have to work with. We would recommend incorporating sliding wardrobes if you have a small loft, as this will ensure that you don't have to worry about extra room for the doors opening and can fit more furniture into the room. You also have an array of colour options to choose from, allowing you to pick vibrant colours that make a statement or opt for something more neutral and subtle such as greys and creams so that you can change the style and colours of the room when you wish.
Another feature that you can consider on your wardrobe doors is to have a mirror rather than colour doors. By incorporating a mirror, it means that you do not have to find space on the wall for a mirror, helping you to find room for your bed and other pieces you wish to add into the room. Not only this, but it can also help the room to feel bigger and brighter; this is because mirrors help natural light to bounce across the room.
If you need a helping hand and require some wardrobe inspiration, then take a look at House & Garden for some ideas, and speak with the team about our range of design choices and customisable options.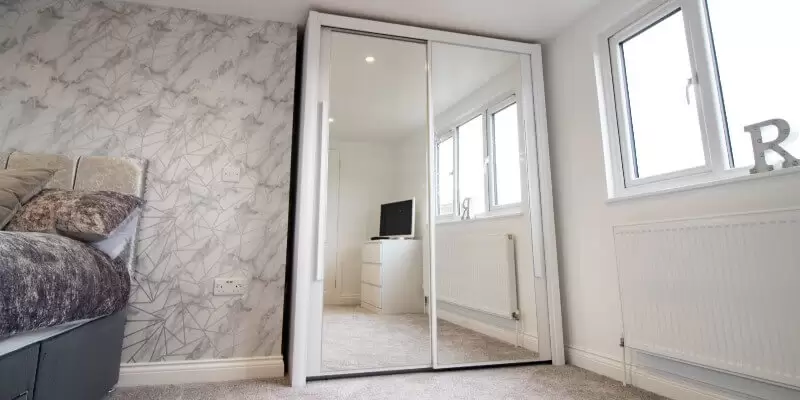 Project – Dormer Loft Conversion, Wooton
Customisable Storage
The great thing about bespoke wardrobe is that it is not just the outside design that you can personalise. The entire wardrobe can be customised to your requirements, meaning that you can design the interior of the wardrobe to suit your storage needs. For example, you can create shoe storage in the bottom of the wardrobe by incorporating racks, and you can have rails built into the wardrobe, some higher than others so that you can hang dresses.
You can also choose to have drawers of multiple sizes in the wardrobe, including a small drawer for watches and jewellery. As the wardrobes will be made to your design, the rails and draws can be installed into the wardrobe at the perfect location, creating a design that minimises wasted space and increases storage capabilities.
Fits Seamlessly
As bespoke wardrobes are designed made to measure, it means that they can fit seamlessly into any space, no matter how awkward it may be. This is ideal for loft conversions as a sloped roof is highly likely. The wardrobe can mimic the sloped roof, allowing you to use all of the space available, space that wouldn't otherwise be used. As measurements of the conversion will be taken by our team, you will be able to have your wardrobe designed and fitted by our in-house specialists, ensuring that as soon as your conversion has been complete, you can fully enjoy your new space.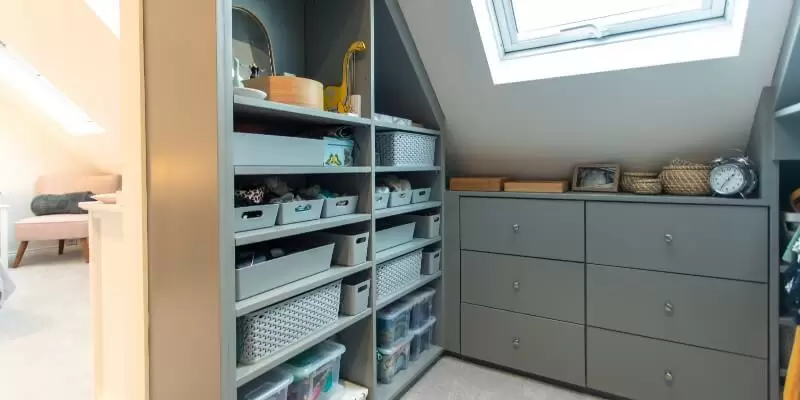 Project – Velux Conversion, Biggleswade
Before going ahead with your conversion, it is first important to think about how you are going to use the room. The reason for this is that if you decided to include a bathroom, then it is important for our team to design the layout to provide you with enough space for the bathroom as well as the bedroom. It is important to note that while you may feel that the room lacks enough space for an ensuite, that you with the magic of our specialist and experienced team, you can achieve anything. Much like your wardrobe, the bathroom can be completely customised to your personal preference, using smart solutions such as placing a walk-in shower close to the sloped roof to maximise the little space you may have.
While you may have a small space, there are plenty of ways that you can make the space feel bigger using clever, and easy to incorporate solutions. For example, you can incorporate mirrors, the benefits of which we discussed previously, and your use of colour will also have a significant impact. We would suggest using light and neutral colours for a small bathroom, adding character through pieces such as a gold shower head and taps, or by incorporating the popular white tiles and black grout feature. House Beautiful have a fantastic range of small bathroom ideas, and again, our team are always more than happy to help design loft extensions in Bedford and the surrounding areas that incorporate a bathroom.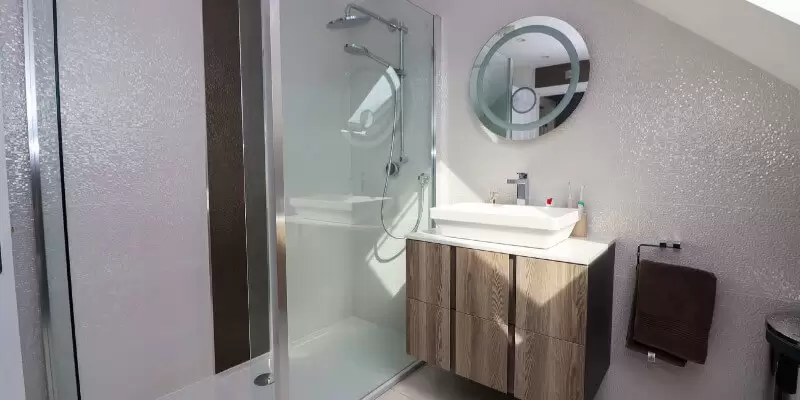 Project – Dormer Conversion, Wooton
As you will be adding stairs into your home when having a loft conversion, it provides you with a great opportunity to incorporate some more storage. There is a lot of wasted space under staircases, space that could be used for storing items that are not used every day or utility items. This can help to minimise clutter and unwanted items in the loft conversion room. For example, when the team are designing your stairs, you can choose to have draws or even a fitted wardrobe installed into the staircase, providing you with ample storage. You can choose to have the stairs the same design as your existing stairs for a coherent look, or you can choose to make a feature out of your new home addition by creating a space that allows you to add style and functionality all in one.
One of our favourite ways to add stylish storage under the stairs is to have open storage solutions, which is where you have visible shelves that add some style and modernisation to your design. For further ideas on stair storage solutions, we highly recommend taking a look at Country Living for some inspiration and top tips.
The type of conversion you have will also have an impact on your storage and the space that you are provided. For example, Velux conversions are best for those that have a lot of space, so want to flood the conversion with natural lighting through skylight design windows. On the other hand, those that do not have much space and want to create more, we would recommend investing in a hip to gable or dormer conversion. These conversion types add additional space onto your home, through head height as well as floor space. This is also ideal if you wish to incorporate a bathroom into your conversion, but there is currently not enough room for it in your loft. It is important to note that these two types of conversions, while common, can change the appearance of your home, so the team will help you to take everything into consideration before making your decision. Hip to gable and dormer conversion can give your home a modern aesthetic when done right, so why not contact our team to start designing loft extensions in Biggleswade and the surrounding areas?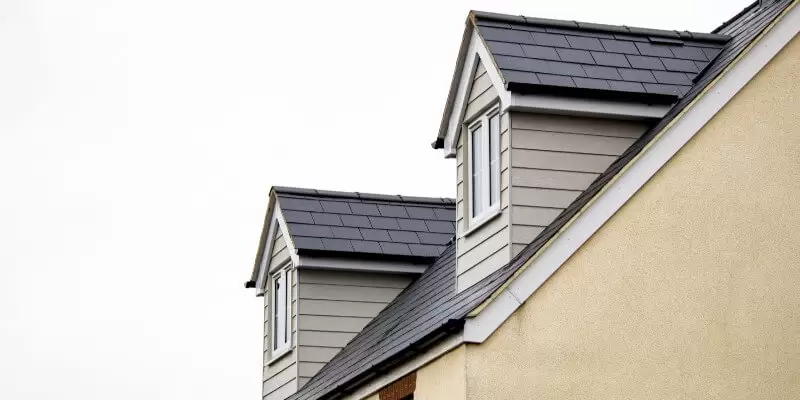 Project – Pitched Roof Dormer Loft Conversion, Cranfield
Make Your Vision A Reality
Designing and building a loft conversion can completely transform your home, from its architecture and aesthetics to storage and additional space. There are many reasons why our clients are looking to create the perfect additional space within their home, and that's why our team will always go above and beyond, providing you with specialist advice and tips to ensure that your vision is brought to life with a few extra solutions to consider. As the entire project will be bespoke to you, it means that you can include everything you require to make your new home addition as perfect and as comfortable as possible. So, what are you waiting for? Contact the team today to start designing your new venture.